The Rutgers Filmmaking Center offers a bachelor of fine arts (BFA) degree in filmmaking, an innovative program with individualized training in fiction and documentary film production taught by industry professionals. The interdisciplinary model is designed to establish marketable skills in the emerging field of digital communication blended with a wide array of liberal arts electives.
Students become technically astute filmmakers who are also intellectually informed artists. They are trained in all aspects of their craft in both fiction and documentary production by working with professional filmmakers with a track record of producing award-winning feature and short documentaries that reach broad audiences.
Recent graduates have been accepted to esteemed graduate film programs and have gained employment as associate producers, editors, and cinematographers.
Training
The filmmaking program at Mason Gross trains students in all aspects of film production, from research and treatments to cinematography, lighting, field production, directing, script writing and story boarding, editing, and post-production. Our pedagogy interweaves documentary and fiction with emerging film technologies and platforms, while providing opportunities for students to build a wide array of professional, marketable skills.
Students collaborate, take risks, and build a solid foundation in all areas of filmmaking to create original digital narratives. Upon completion of the BFA degree in filmmaking, students demonstrate technical proficiency, narrative film form, film production as educational research/team collaborative skills, creative expression through production-oriented classes, and management of complex projects—​all within a firm grounding in the humanities.
Opportunities 
Because the Rutgers Filmmaking Center is located within a major research university, our program provides students access to vast intellectual resources and opportunities for cross-disciplinary learning.
Filming Abroad
In partnership with our Documentary Film Lab, BFA filmmaking students have the opportunity to partner with departments across campus to research and document exciting stories around the globe. Past projects have taken students to Antarctica, Brazil, Greenland, Indonesia, Italy, Mexico, Thailand, and Zambia, among many other places.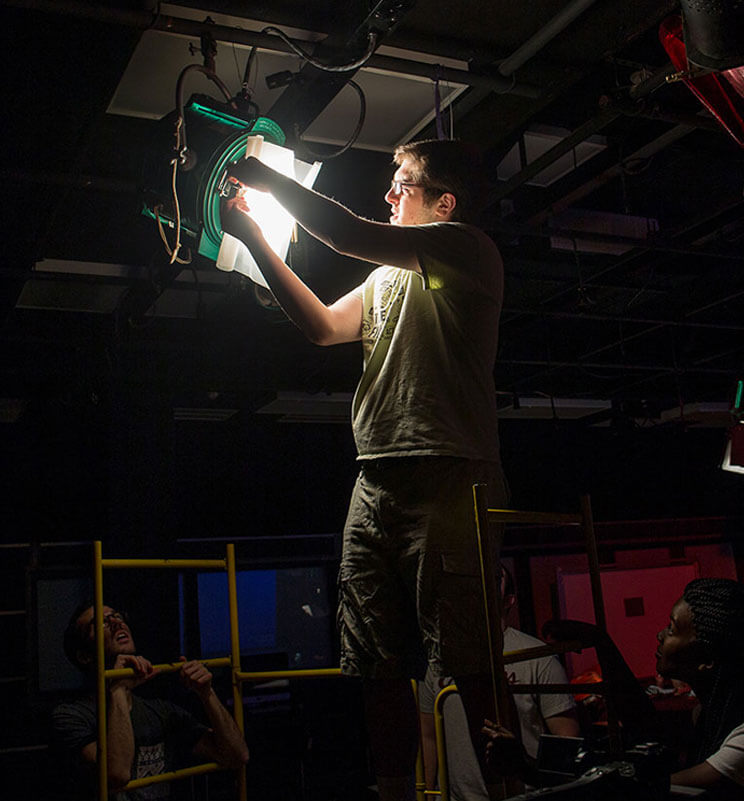 Local requests for student work on film projects also come through the Rutgers Filmmaking Center. Students are connected to these opportunities via our "gigs" bulletin board and weekly newsletters.
Students also can develop their skills at program-sponsored workshops offered throughout the semester. During spring 2020, the Rutgers Filmmaking Center offered workshops in commercial video production, color correction, and Adobe Premiere.
The Rutgers Filmmaking Center maintains an internship network for current students to create trusted relationships with organizations and companies with whom previous students have worked.Each semester, BFA filmmaking students complete internships in various areas of the film industry. Students have interned with the Academy of Motion Picture Arts and Sciences, the BBC, CBS, Center City Film & Video, NBC, Panasonic, Saturday Night Live, Sony, and the U.S. Open, among others.
Coursework
Students must take a total of 89 credits in two areas:
Production Courses (56 Credits)
Seminar Courses (33 Credits)
BFA students are required to take eight 4-credit core film production courses, which are taken in order by semester—Part I in the fall and Part II in the spring. In addition to production courses, students are required to take eight 3-credit courses that are designed to integrate theory and practice. BFA students are also required to take electives that cover such subjects as cinema studies and art and design as well as interdisciplinary courses at the university.
Film courses have an average student-to-faculty ratio of 10:1, allowing students to have many opportunities to build relationships with faculty.
Learning Goals of the BFA in Filmmaking
To expose students to a broad range of cinematic traditions and a wide array of concepts and approaches so they can become informed filmmakers that can integrate theory with practice.
To create technically astute filmmakers who understand the fundamental skills of film language, know how to work collaboratively, and have the ability to create a film from conception, through development, shooting, editing, to a finished product.  
To help students establish their unique intellectual and creative approach that can be applied to both narrative and non-narrative modes of filmmaking.
To develop the students' critical thinking skills so they can analyze their work and the work of others and be able to interpret films through a variety of aesthetic, historical, and theoretical frameworks.