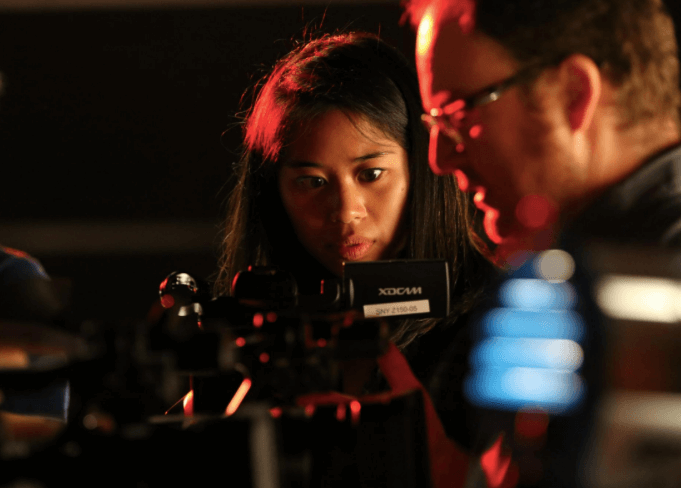 The Rutgers Filmmaking Center offers students regular access to large-sensor DSRLs and high-end digital cinema cameras with interchangeable lenses, as well as professional audio and lighting equipment. Our classrooms and editing labs include Adobe Creative Suite, DaVinci Resolve, Avid Pro Tools, and 2D- and 3D-animation software.
Facilities
Film Production Studio that allows students to work collaboratively to learn lighting, camera, frame, and screen direction with full HD projection.
Computer Lab with 21 5K iMac computers equipped with DaVinci Resolve, 2D- and 3D-animation software, and Pro Tools digital audio workstations.
4K Color Correction Suite with an iMac Pro equipped DaVinci Resolve, a Blackmagic control surface, and a calibrated OLED monitor for color grading 4K film projects.
Surround Sound Mixing Suite with an iMac Pro equipped with Pro Tools Ultimate, Avid Artist Mix Control Surface, Waves plugin bundles, LCD TV, ADR microphone, and professional studio monitors to create 5.1 surround mixes for film projects.
The Documentary Film Lab with 9 5K iMac computers equipped with Adobe Creative Suite, DaVinci Resolve, 2D- and 3D-animation software, and Pro Tools digital audio workstations.
 
Production Equipment
The following is a list of equipment available to all BFA filmmaking students to rent out for classroom-related assignments:
Canon T5i DSLR cameras with interchangeable lenses
Manfrotto fluid-head tripod systems
Tascam DR-40 audio recorders
Rode NTG2 shotgun microphones
Polsen/Samson wireless lavalier microphones
Generay/Lowell lighting kits
Dollies, monopods, shoulder rigs, boompoles, and other accessories
Advanced Production Equipment
The following equipment is available to all advanced BFA filmmaking students to rent out for classroom-related assignments:
Blackmagic URSA Mini Pro 4.6k cinema cameras
Sony Z150 4K professional camcorders
Bolex H16 RX4 16mm film cameras
Aaton LTR Super-16mm sync-sound camera package
Rokinon DS Cine prime lenses
Xeen Premium Cine prime lenses
Tokina AT-X zoom lenses
Manfrotto/Sachtler fluid-head tripod systems
Zoom F4 multitrack field audio recorder
Rode NT4 stereo field recording microphones
Rode NTG2 shotgun microphones
Arri 650W Fresnel lighting kit
Dracast S-Series bi-color LED panels
Aperature Amaran LED lighting kit
Fiilex P360 LED light kit
Dana Dolly profession dolly system with rails
Shoulder rigs, matte boxes, pistol grips, c-stands, flags, boom poles, and other accessories
Civic Square Building
33 Livingston Avenue
New Brunswick, NJ 08901
Downtown New Brunswick
The Civic Square Building is primary hub for the Department of Art & Design. Students have access to spacious, fully equipped studios for painting, design, drawing, computer art, and performance art, including production studios for film and video, darkrooms for photography, a woodshop, lighting studio for photography, and the Rutgers Printmaking Collaborative which includes stone lithography, etching, relief, silkscreen, letterpress, artists' books, and paper making.
Mason Gross Galleries, located on the first floor, offers ample public exhibition space in the heart of the city's arts district for students, faculty, staff, and visiting artists. The building also houses the Mason Gross Dean's Office.
Facilities highlights:
33 shared and private studio spaces
dedicated critique room
iMac computer lab
Imacon film scanner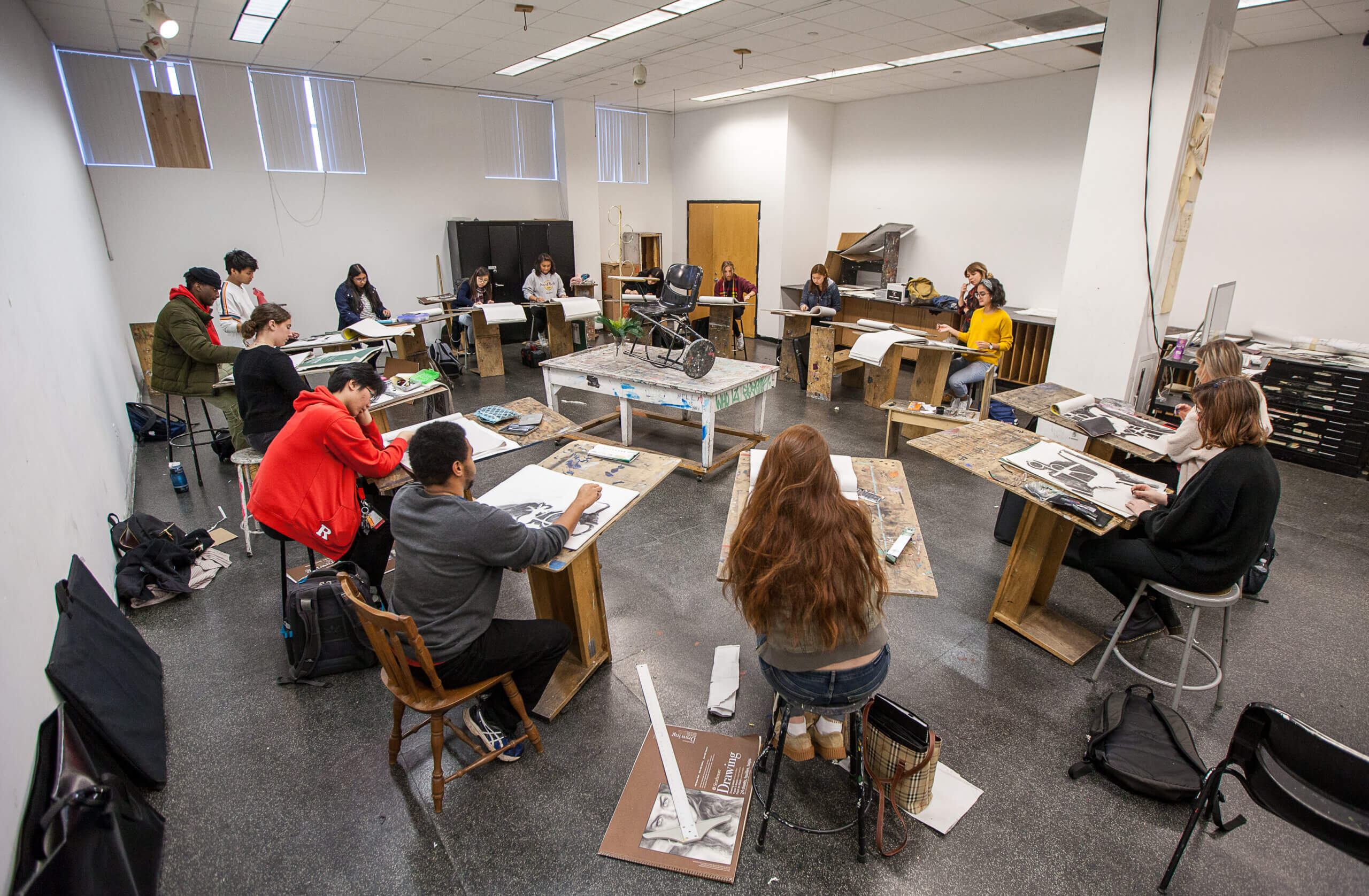 Mason Gross Galleries
Mason Gross Galleries at Civic Square is a 4,200-square-foot venue in the heart of New Brunswick's arts district exclusively dedicated to showcasing graduate and undergraduate student work. The space features up to 10 exhibitions each year, all free and open to the public. The gallery acts as a laboratory for new work across media and concentrations, providing a platform for expression and experimentation.
Contact: Richard Siggillino, Interim Gallery Director and Head Preparator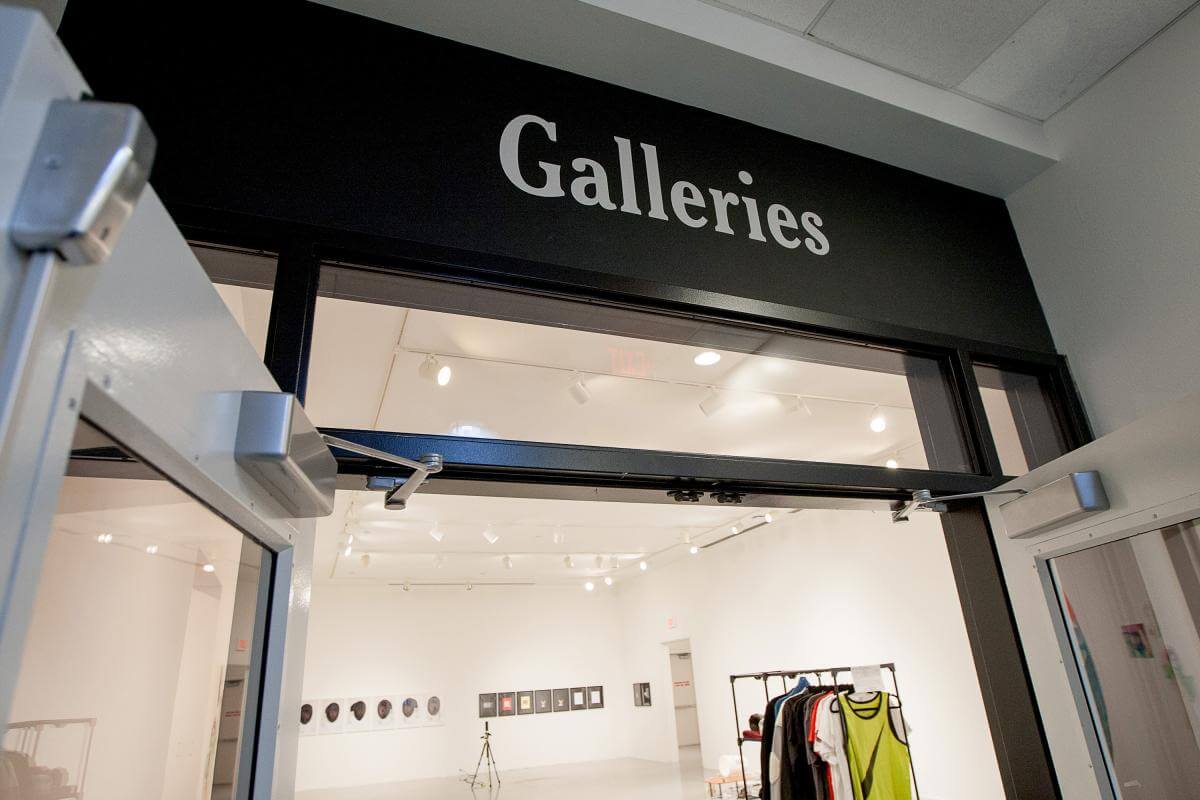 Performing Arts Library at Douglass Library
8 Chapel Drive
New Brunswick, NJ 08901
Douglass campus
The Mabel Smith Douglass Library houses the university's fine arts collection and features exhibition space for student and faculty work as well as for invitational exhibits.
The Blanche and Irving Laurie Music Library contains approximately 31,000 books, 46,000 scores, and 40,000 recordings, as well as an extensive spoken-word collection.
The Media Center archives more than 22,000 recordings and has playback facilities for a variety of media formats. The nearby graduate seminar room has quality playback equipment.
The Sharon A. Fordham Multimedia Lab Classroom is a joint venture between the Music Department, the Dance Department, and the Library. The lab houses 17 iMac workstations (16 for students and one for an instructor) with a wide range of hardware and software for music/video production. The Multimedia Lab Classroom is open the same hours as the Media Center and is available for public use whenever classes are not being held. Additionally, the library has created the new Fordham Commons, which houses 13 Mac Pro workstations and is available for use whenever the library building is open. It provides the same software and hardware as the computers in the lab.