Andrew Bambridge
When Andrew Bambridge received acceptances from both the acting and music programs at Rutgers' Mason Gross School of the Arts, a rarity for the school, he faced a tough decision.
Bambridge, who was born with achondroplastic dwarfism, felt lucky to have had some acting breaks. In 2015, he played the younger self of Game of Thrones star Peter Dinklage in the movie Pixels, also starring Adam Sandler, and later that year appeared in a minor role on the TV sitcom Happyish.
Nevertheless, he knew from experience people with dwarfism have a hard time getting auditions in the professional acting world.
So he chose music. Bambridge studies music composition and percussion performance, playing everything from the marimba, xylophone and other keyboard mallet instruments to the snare and bass drums in university bands and orchestras.
"The great thing about music is that it's not about how you look but how the music sounds. Is the melody emotional? Does the piece have meaning?" said Bambridge.
Read the full article from Rutgers Today on Andrew Bambridge
Sana Colter
When flute performance major Sana Colter met dancer Ariana Speight at Douglass Residential College, the two students connected right away. That rich friendship eventually yielded C.R.E.A.T.E., Cultural Rhythm Expressing Art To Empower. The student group aims to integrate various art forms at Rutgers University—dance, music, theater, film, visual arts, and music technology—and to more adequately acknowledge Black and Latinx artistic influences.
"For years, being an artist and seeing the number of people who look like me diminish, it was always trying to find where I fit in. I realized over time that what made me unique was the fact that I fit 'out.' I looked different than everyone else, and that was OK. I want to encourage more people not to try to find a way to fit in." – Sana Colter 
Learn more about Sana Colter in an article from Rutgers Today and listen to her episode on Work Of Art: The Mason Gross Podcast.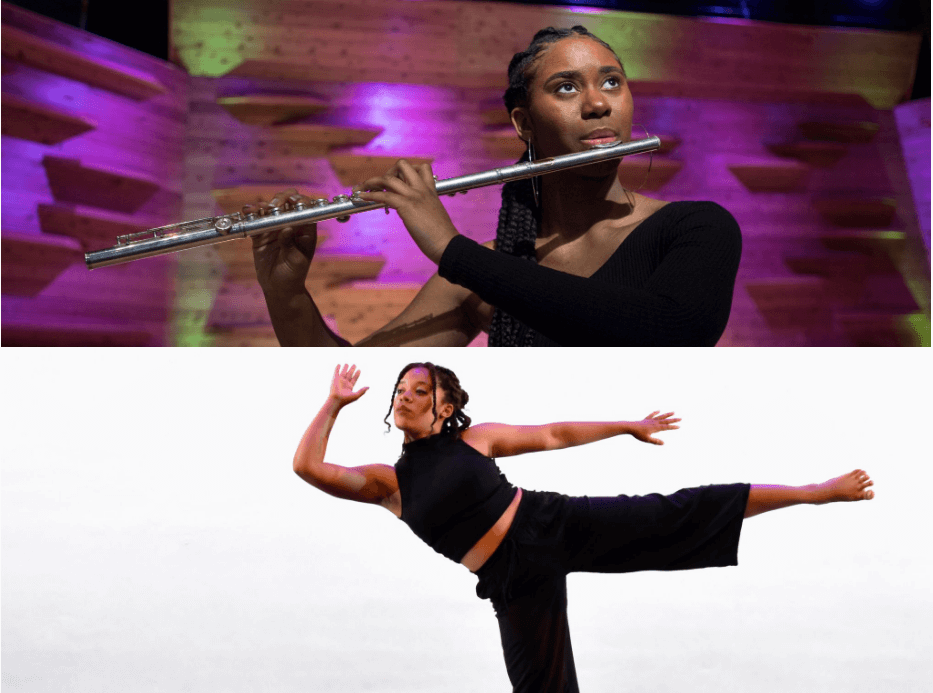 Dancer Ariana Speight and flute performance major Sana Colter met as Douglass Residential College students. That rich friendshi... Listen Now