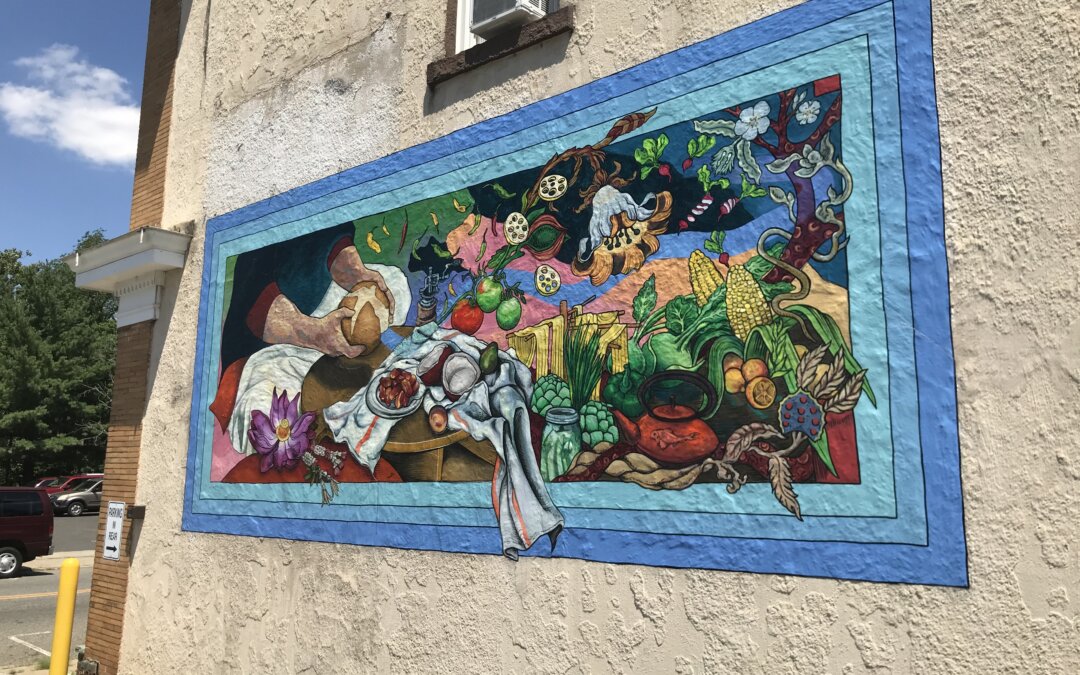 To Break Bread, Raul Ayala, 18-feet-by-9-feet, acrylic paint on Polytab. Photo Credit: Raul Ayala

In the sweltering heat of late July, MFA Art & Design grad Raul Ayala scaled a ladder erected outside a two-story building and realized a long-standing goal: installing his mural To Break Bread on an exterior wall of Robert's Florals in Highland Park, NJ. The boldly fashioned array of plants and vegetables, as well as a pair of hands splitting a rustic loaf, manage to inject the otherwise-nondescript stretch of Raritan Avenue with a vibrant shot of Caribbean color.
Ayala, an Ecuador-born artist, has said that he began drawing as a child in order to combat the hallucinations and panic attacks that plagued him at night. He has said that his decision to create murals emerged as he worked with prison inmates in Ecuador. He's been immersed in the art form for nearly a decade.
"I see walls as the ideal canvas­—they are a metaphor for separation—all kinds of separations…social, economic, physical," he told Street Art NYC.
Ayala actually completed To Break Bread during the fall 2019 semester, with assistance from a trio of Mason Gross undergrad artists. The Highland Park Arts Commission asked Ayala to create a piece of public art on the building's exterior to celebrate multiculturalism, asking him to highlight plants and foods representing the various cultures residing in the borough.
What excites you about painting a mural, something so public that people will pass by every day?
It creates a direct line of communication between artist and audiences. I initially got interested in murals because of the long tradition of social movements using this genre to engage with history. Nowadays I feel it is a way for me to understand the place I am living in and to amplify narratives of communities living in a specific place that often go unnoticed.
You'd originally planned to install in the spring. Then Covid-19 intervened. How did you feel about having to delay?
Mural projects normally get delayed for many reasons, so for this specific project the pandemic only delayed the installation date. I was lucky enough to be able to finish the piece in my Rutgers studio while finishing my MFA. [Ayala used acrylic paint on Polytab, a relatively light material akin to canvas, and employed an adhering agent called Polygel so that he could complete the 18-by-9-foot mural in his New Brunswick studio.] I also got to work and mentor great young artists, Katherine Gonzalez, Krishna Schroth and Angel Duran [BFA Class of 2020 students]. They assisted me in the fabrication.
Given all that's brewing right now—the BLM movement, the impending presidential election, a pandemic—how does this atmosphere affect your thoughts about the power of art?
Art for me constantly challenges power structures, whether they are tied to social, political, or personal relationships and dynamics. Mural-making is tied to reflections about place, and it has to be made in a very intentional way so it does not cause more harm to communities of color. I feel the political shift happening in the United States is very needed, and I would like to reflect on it in my practice. Art can also be part of a very unjust, racist structure, and it is imperative for me to start rethinking the ways I could make work that has integrity from its conception to its completion.
 What do you see as the role of the artist at this time?
In my opinion, artists need to identify what is at the center of their practice so they can deepen their processes while also identifying things that can shift or even completely change, because these times are asking us all to do that. For me, art and culture are an integral part of my understanding of mutual aid and a holistic perspective of health, that also considers our relationships with non-human life forms.
Why did you decide to get an MFA—and why Mason Gross?
I wanted to give myself time and space to deeply reflect on my practice. I wanted to unpack and deconstruct my ways to do things so I can look for other questions to and possible answers relating to my art practice. I chose Mason Gross because it is an ideal place to do that and because it gave me the opportunity to keep expanding my role as an arts educator while doing it. Another big reason is that I believe it is a very rare example of public education that doesn't cripple you with debt.
View To Break Bread on the exterior of Robert's Florals, 114 Raritan Avenue (northbound side), across the river from the Rutgers–New Brunswick Campus in Highland Park, NJ. Ayala received installation assistance from Art & Design undergraduate program advisor and Highland Park Arts Commission board member Amee Pollack, Highland Park Arts Commission Deputy Chair John Marron, and Karina Cunningham, MFA Visual Arts Class of 2019.
By Laurie Granieri
.