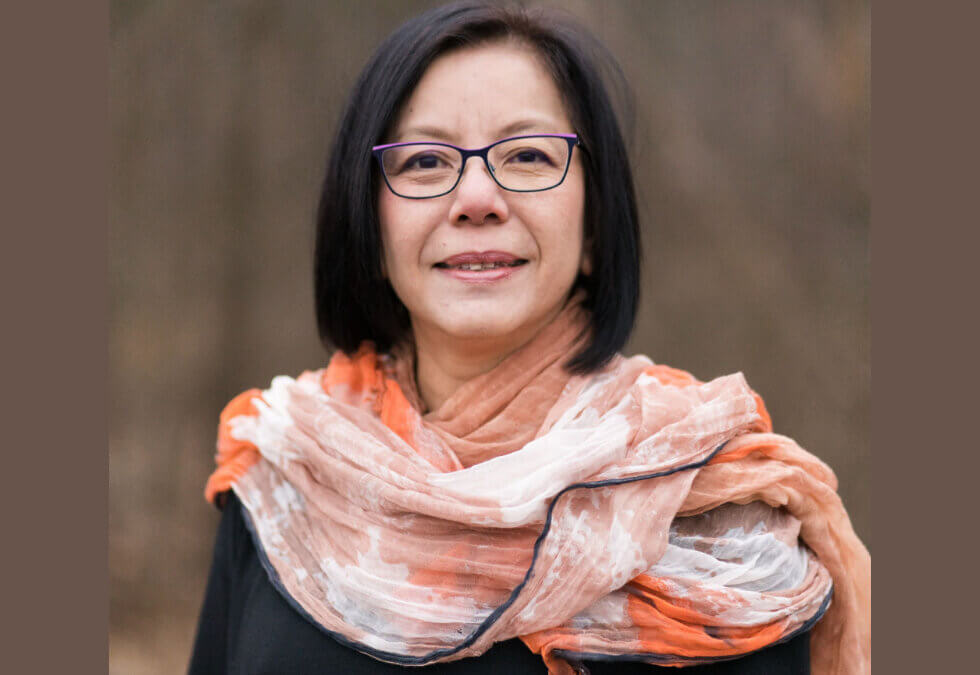 "I am concerned with the historical processes, both visible and invisible, that shape performance traditions, musical imagination, and compositional strategies, as well as theoretical inquiries."
Dr. Nancy Yunhwa Rao is a music theorist and musicologist who serves as chair of academic studies in the Mason Gross Music Department. Rao has been the recipient of major awards and grants from the American Musicological Society, the Society for American Music, the Association for Asian American Studies, and the National Endowment for the Humanities. In 2021 she was recognized by Rutgers University with the Board of Trustees Award for Excellence in Research.
What is your research all about? Why is it important?
I am a music theorist and historian. I have engaged actively in three areas of research: (1) analysis of American modern music of the 1930s; (2) the transpacific history of American music; and (3) analysis of contemporary composers of East Asian heritage. Though they may seem distinct, these three areas are, in fact, interrelated. This is because my work examines musical composition and performance in various cross-cultural situations. You might say that I use music analysis and genre as lenses to consider the transnational networks of Chinese sonic culture. My work has integrated thinking from Chinese history and philosophy, performance studies, linguistics, and cultural studies to shed light on musical ideas and interpretation, and to recover histories that were scarcely recorded in archival documents. I am concerned with the historical processes, both visible and invisible, that shape performance traditions, musical imagination, and compositional strategies, as well as theoretical inquiries.
In my work I have advanced analytical approaches in music that engages calligraphy, the concept of shi in Chinese aesthetics, embodied gestures, rhythmic topoi from Peking opera percussion, intonation in the Chinese language, and the materiality of sonic imagery. I write in both English and Chinese, and I incorporate ideas from fields such as ethnic studies, legal studies, visual arts, classic Chinese literature, Sinophone studies, and theater studies. Engaging in music scholarship that connects a broad range of fields is one of the most gratifying aspects of my experience as a scholar. As a writer in both English and Chinese, my research targets a wider audience here and abroad.
In 1999, my article "Racial Essence and Historical Invisibility: Chinese Opera in New York, 1930" brought Chinese opera to the prestigious Cambridge Opera Journal, prompting the first image of Chinese opera performers on the journal's cover. In fact, this was the first time that the journal featured articles on non-Western operas at all. The article opened the door for inquiries and extensive research that eventually led to the publication of my book, Chinatown Opera Theater in North America, in 2017. While Chinatown Opera received many accolades, that it received top prizes for American music from two leading music scholarly organizations was particularly meaningful since the book seeks to strip the veneer of exoticism from Chinatown theater, placing it firmly within the bounds of American music and showing that it represents a profoundly American experience. I am gratified that the book has received 17 significant reviews from a variety of disciplines, which worked to amplify the impact of the book and bring it into further dialogue with studies of imperialism, performance studies, migrations, and global history.
Recognizing the transpacific history of American music is extremely important.  It is also timely because we are now faced with an epidemic of anti-Asian hate crimes. One of the reasons for anti-Asian racism is related to history: The historical invisibility of Asians in the U.S. cultural imagination has worked to reinforce the notion of Asian Americans as foreigners. For some people, such stereotypes are justification for hate and violence. Expunging such stereotypes is crucial to addressing anti-Asian hate and violence and to creating a more just society.
Read Dr. Rao's blog post on music and anti-Asian hate, written for the American Musicological Society.
Please share a vignette or a case study from your work and explain what lessons you draw from it.
Growing up in Taiwan, I was trained in Western art music, receiving an undergraduate degree in vocal performance, and then pursued postgraduate degrees in music theory in North America, with a focus on 20th-century American music. I use archival research in my works on American ultra-modern composers, such as Ruth Crawford, Henry Cowell, and Elliott Carter. When I first became curious about the topic of Chinese American music history, I used similar research skills: I consulted music bibliography and reference books, and I visited music archives and special collections in major libraries around North America, looking through card catalogs and finding aids for names of Chinese American composers, compositions, musicians, and performing groups. Yet this was a futile attempt; the project stalled. These mainstream music archives do not have the materials I needed. In other words, archives or performing arts libraries that gathered the documents of composers, concerts, musical institutions, and organizations did not deem Chinese immigrants' musical activities or organizations worthy of collection. Meanwhile, when I went to archives and special collections of major East Asia libraries on the East Coast, I was told that their collections are only concerned with materials from Asia, so Asian American materials are not part of their collections. This situation put me in a bind. It would be all too easy to imagine that a missing archive meant that the history itself did not exist.
However, both by broadening my idea of music archives and by using my Chinese-language skills, I was able to redress the knowledge hierarchy evident in music archival collections. First, following my interest in Chinese American history, I was led to the treasure trove of materials on Chinese opera troupes in the Chinese Exclusion File at the U.S. National Archives in Washington, D.C. Second, I began looking for archives with Chinese language materials about Chinese opera, and I was lucky to find historical Chinese-language newspapers published in the United States in public libraries. And I went to sound archives to explore historical recordings of major US record labels, some of whom recorded Chinese opera in the United States for their "ethnic labels." Then I learned to reimagine an archive of my own out of immigration documents, memorabilia, museum artifacts, community centers, deserted corners in cities, and so on.
What does artistic or arts-based research mean to you?
Though a historian by choice, and a music theorist by training, in all my work I have been driven by the firm belief in the significance of sonic expression, and of activities engaging with creating and listening to music. For me, listening to music is itself an active engagement with music making. Music fans are not passive listeners, and they have an important part in the making of music history. For example, when I write about early Chinese opera theater in America, I always have vivid images of audiences mesmerized by the musical and theatrical performances, such as children who hang onto the edge of the stage to watch the performances of their favorite stars, young women who were moved to tears by the heart-wrenching songs depicting the predicament of the roles they identified with, opera fans who carried lyrics in their pockets, and house servants who finished their days of chores and rushed to the theater for the performance of the finale. These opera performances were the glue of the community. In gathering, people sang opera arias and enacted stage scenes regardless of their level of performing skills. Operas were enjoyed differently by many different types of people in the society, from young to old, from the wealthy to the commoner; it was a cultural practice and way of life. The artistry of the performers, the innovative approaches of the playwrights/directors, and the mesmerized audiences—the magic of Chinatown opera theater was their creation.
How does your work as a researcher inform your teaching?
Music analysis can be intimidating for students. This is often because the misconception that music analyses must be concerned with technical details, or must reflect the composer's intention, or that there could be only one correct answer. Just as my research on analytical approaches in music engages calligraphy, embodied gestures, language, etc., my teaching methods are influenced by a wide range of approaches. I encourage students to find their own voice. By introducing students to different modes of analysis and asking them to pay close attention to their experiences of listening and performing music, I encourage students to engage with music analysis in intuitive and original ways, and from their personal experience. I encourage students to pay attention to parameters often ignored in music theory textbooks, such as timbre, instrumental tessitura, imagery, embodiment, etc.