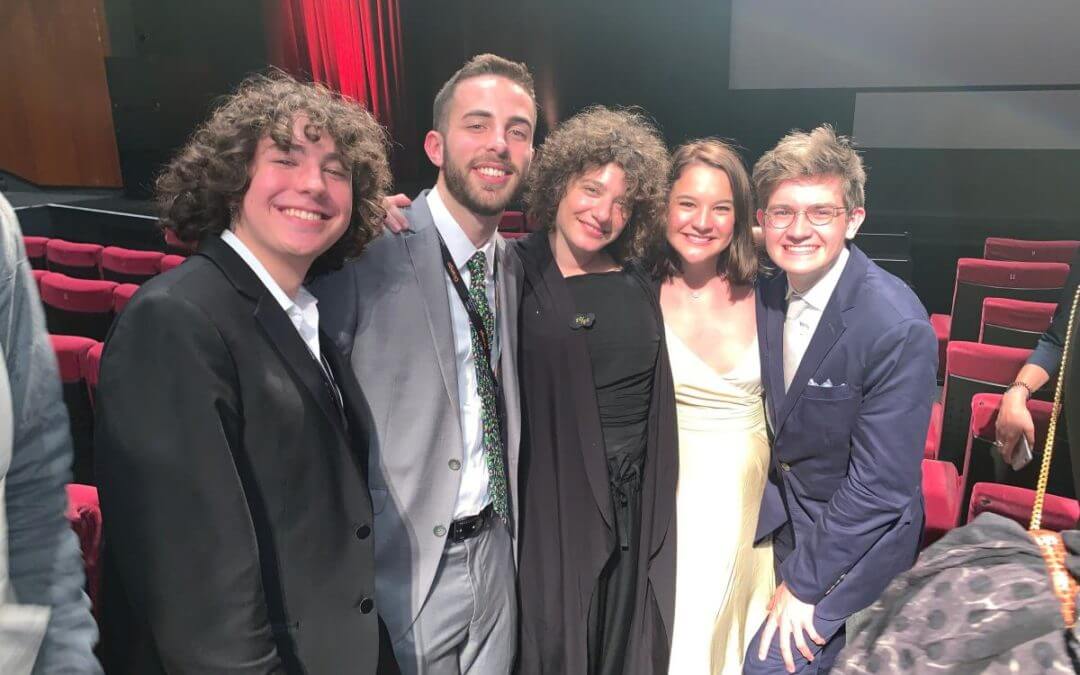 Left to right: Robert Rackmil, Charles de Agustin, Filmmaking professor Danielle Lessovitz, Kirsten Pasewaldt, Finley King
For graduating Filmmaking BFA and Honors College student Charles de Agustin, the summer of 2019 was a series of intensive and inspirational experiences in film, from Cannes and Telluride to the Flaherty Film Seminar and a film programming internship at UnionDocs Center for Documentary Art in Brooklyn.
De Agustin recently shared a bit about his filmmaking experiences over the summer, which included a trip to the Cannes Film Festival in France, a film internship, and a trip to the Telluride Film Festival Student Symposium in Colorado, where he was one of 50 college students from around the world.
"When it came time for college, nothing made more sense than the filmmaking program at Mason Gross, which has been complemented wonderfully by my second major in philosophy," he says.
"While I don't know what being a professional in my field means for me yet, I do try to seize every opportunity I can, inside and outside of the classroom. This summer [I had a] variety of inspirational experiences, starting with the Cannes Film Festival in May. Last summer, when I was a pre-production intern on my filmmaking professor Danielle Lessovitz's feature film Port Authority, I never expected that I would be invited to attend its premiere at one of the most prestigious festivals in the world. Actually, being at Cannes pulled back a bit of its mystique; perhaps it isn't such an impossible goal for my own work. Danielle was incredibly generous with making sure that her students at Cannes were soaking in as much as possible, from screenings to how she was navigating the festival herself."
Read more about Charles de Agustin's filmmaking experiences this summer