Art & Design and Film events are free, as are live-streamed concert views.
All programming information is subject to change. Fees may apply.

MFA Visual Arts First-Year Exhibition: "Sublime Periphery"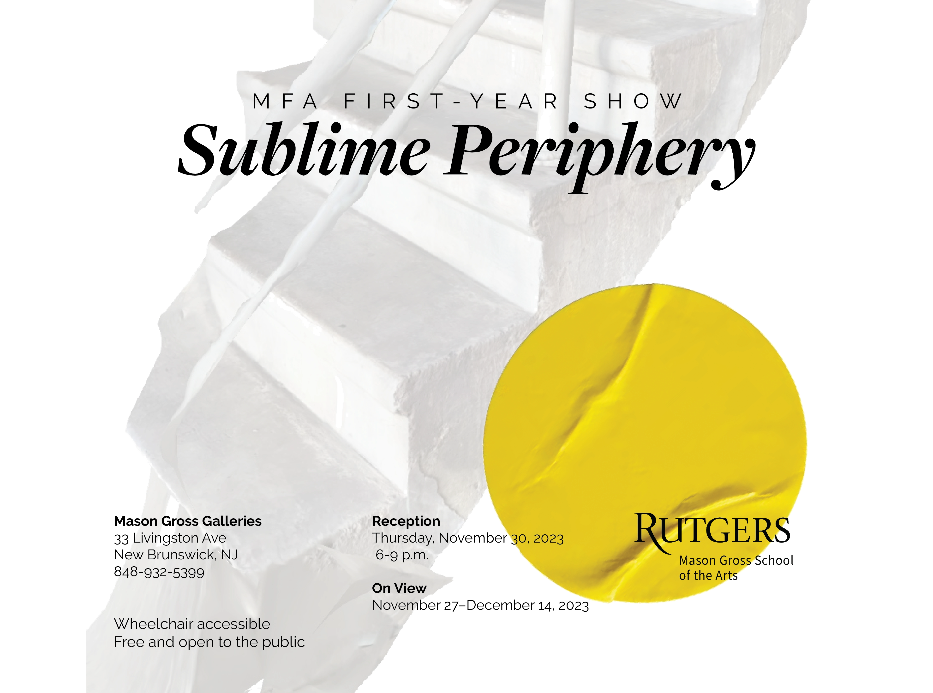 On view: November 27–December 14, 2023
Reception: Thursday, November 30, 6–9 p.m.
Graduate students present early bodies of work during their first semester in the MFA Visual Arts program at Mason Gross.
Featuring work by:
Sophia-Yemisi Adeyemo
Ian Byers-Gamber
Francisco echo Eraso
Harley Hollenstein
Quinton Isaacs
Dan Lucal
John de Leon Martin
Ariana Martinez
Emily Drew Miller
Rachel Mulvihill
Pachi Muruchu
JaLeel Marques Porcha
Natalie Romero
Alisa Sikelianos-Carter
Johnathan Wilborn
Feyaz Yusuff
Free
Photos by Kairullah Rahim MFA '22.
Gallery Hours:
Mondays 10:30am–5pm
Tuesdays 10:30am–4pm
Wednesdays 10:30am–7pm
Thursdays 10am–8pm
Fridays 10:30am–5pm
Saturdays 10:30am–5pm