Mason Gross Class of 2020 & Class of 2021 Celebration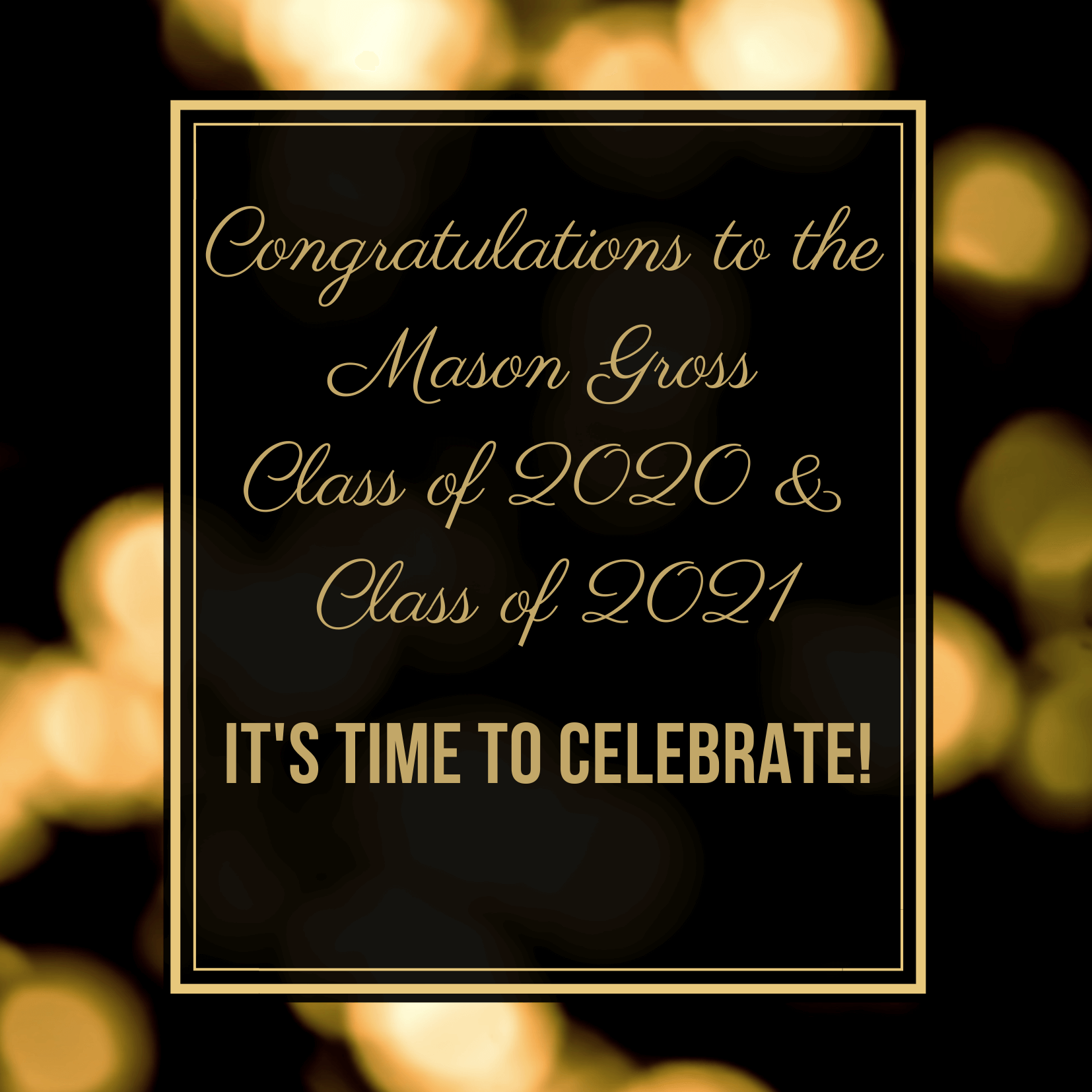 GRADUATION CELEBRATION
Join us for a live in-person event to celebrate our Class of 2020 & Class of 2021 graduates!
When: Sunday, October 24th
Time: 10:30 a.m. (doors open at 9:45 a.m.)
Where: Nicholas Music Center – 85 George Street New Brunswick, NJ 08901
TICKETING & NICHOLAS MUSIC CENTER
Registration closed on Friday, October 1st. Please see the below for information for ticketing & FAQs for Nicholas Music Center:
How many guests can I invite to the ceremony?
The maximum number of tickets allowed per registered alum is 4.
Will this informational email admit my guests to the ceremony?No. Your guests must have tickets in hand or will not have access to the ceremony.
How do I get tickets for my guests?
Call the Main Ticket Office at 848-932-7511 during our regular business hours to set up the tickets. Regular business hours are Monday–Friday 10 a.m.–5:30 p.m. and Saturday 12.–5:30 p.m. We'll check that your name is on the list of registered alums provided by the Mason Gross Dean's Office and how many tickets you have yet to order. Tickets must be ordered by 5:30 p.m. on Friday, October 22.
When you call, we'll need your name, contact info including email address and the number of tickets you want to order (not to exceed 4). Please only order the number of tickets that you are planning to actually use.
How do I receive my tickets?
The tickets will be print-at-home and emailed to you. Each ticket requested will be sent to you, the alum, as a separate email so you can forward the tickets to your guests no matter how you need them broken down. Each print at home ticket can only be scanned once so you should keep track of which email you have forwarded to someone already. Each email will have a separate order number in the body of the email for reference. We will process tickets as promptly as possible and they are usually delivered within a half hour. If you do not see the ticket emails in your inbox, please check your Junk/Spam folder. If you still don't have them, call the ticket office and we'll look into it.
Can I have tickets held for pick up at the ceremony?
No, it is your responsibility to order and distribute the tickets to your guests. Tickets cannot be held at the door.
Can guests bring an infant or small child?
All infants and small children will be expected to be able to sit quietly or you will be asked to leave the ceremony. Please make arrangements for child-care if your infant or small child cannot sit quietly for 2 hours. Strollers are not permitted in the seating area and must be left in the lobby.
Do I need a ticket for a lap-sitting infant or small child?
Due to fire code regulations, and for the safety of all in case of emergency, every guest entering the seated area of the theater must have ticket. No exceptions.
Will additional tickets be available at the ceremony for last minute guests?
No. Please do not bring extra guests for which you do not already have ticket.
Will my guests have assigned seats?
Seating for the ceremony is general admission. This means seating is on a first come, first served basis.
What time should my guests arrive at the Nicholas Music Center?
We will open the building at approximately 9:45 a.m.
Are masks required for the ceremony?
Masks are required inside all indoor Rutgers spaces at all times. See https://www.masongross.rutgers.edu/news-events/health-safety/ for more information.
Are food, beverages, or bottled water permitted in the ceremony?
Food and beverages are not allowed in Nicholas Music Center lobby or seating area.
Can my guests bring flowers or balloons into the ceremony?
No.
Can I meet my guests in the seating area after the ceremony?
It is respectfully requested that families arrange to meet each other at the reception outside Nicholas Music Center. The seating area closes directly after the ceremony ends.
Where are bathrooms located?
Bathrooms including an accessible bathroom are located in the lobby of the Nicholas Music Center. The lobby will remain open for a ½ hour after the ceremony ends.
Additional non-accessible bathrooms are located on the second floor of Rehearsal Hall over the Main Ticket Office entrance.
Parking
Parking registration is not required. All guests will be permitted access to the lots on the day of the event.
Guests should utilize lots 79, 79A, and 74A, the closest lots to Nicholas Music Center. Please see a campus map HERE.
Dress Code/Academic Regalia
Academic regalia is encouraged, but not required for returning alum.
Doctor of Musical Arts graduates, there will be a hooding ceremony during the event. For this reason, academic regalia is very strongly encouraged.
Attire: If not wearing academic regalia, the required attire is semi-formal. Please refrain from wearing jeans, sneakers, or flip flops. Recommended attire: dress slacks, button-downs, dresses/skirts, dress shoes.
Academic Regalia: Academic regalia ordering closed on Friday, October 1.