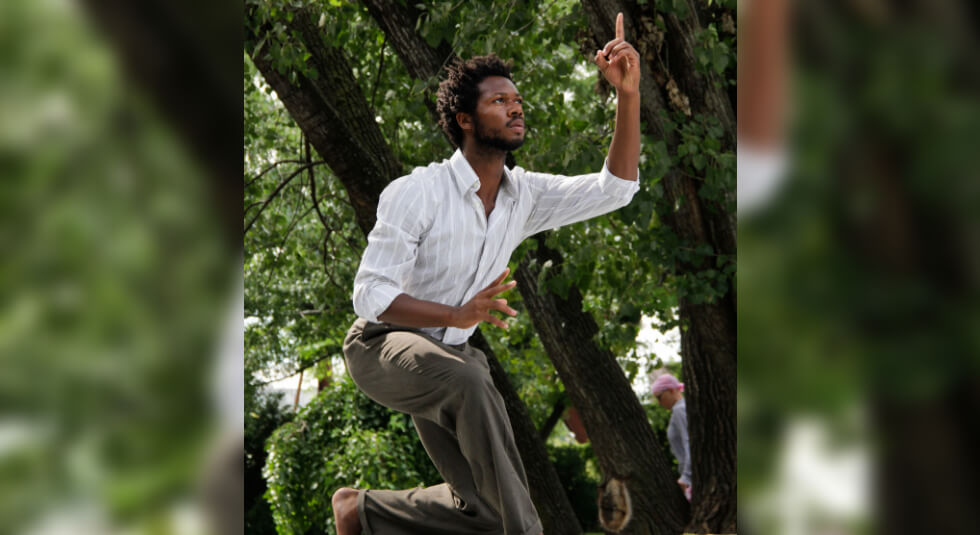 "The daily rigor of dancing teaches me to work with or without the spark of inspiration. The process of art making is a cyclical exchange of energy. It is only by doing that something happens." – dance alum Kyle Marshall
Choreographer and BFA '11 dance graduate Kyle Marshall received the 2018 NY Dance and Performance "Bessie" Jury Award and is a New Jersey State Council on the Arts Individual Artist Fellowship Award recipient. He was profiled in The New York Times in December as he presented two works, Colored and A.D., at the Next Wave Festival at BAM Fisher. Here, Marshall details a typical work day, from morning rituals to five-hour rehearsals.
7:30 a.m. Wake Up, Catch Up
My morning starts with an alarm and my cat Moan meowing for attention. After washing up and making the bed, I like to listen to WNYC to catch up on recent headlines and local reports. A usual breakfast consists of oatmeal, two eggs, and coffee. After the morning ritual of emails, I pack my lunch and dance clothes, camcorder, and iPad for my rehearsals. I am out the door by 9 a.m.
9–10 a.m. Commute: JC → NYC
I walk from my home in Jersey City to the Journal Square PATH station every morning. Today, I take the train to World Trade Center and transfer to the R uptown to Canal Street. Transit is time for process: reading, writing, or listening to music. It gives me space to collect my thoughts before entering the city.
10–10:45 Kickstarter Meeting: Le Pain Quotidien, SoHo
A few months ago, I got an email from Jessica about how Kickstarter can help with fundraising for my dance company. Today is the manifestation of our communication. Over tea, we discuss my company's plans over the next couple of months. I told her about the new work I am developing, which will premiere at The Shed this August. She informed me how she helps support Kickstarter projects all over the world. We both agreed a fundraiser would be helpful as I continued my process. A follow-up meeting is scheduled.
10:45–11:30 a.m. Warm up for Rehearsal with Trisha Brown Dance Company
I try to give myself 30 to 45 minutes to warm up before the start of a rehearsal day. We work in Trisha Brown's personal loft at 541 Broadway. It is a clean, white, open space with a Rauschenberg silkscreen boldly displayed in a corner. There is a deep sense of ritual and history in the room. Decades of dances were made, maintained, and taught in this place. It is both humbling and energizing.
11:30 a.m.–5:30 p.m. Reconstructing with Reverence
I have been dancing with the company for three years. When we are working, it is a full-time commitment: five days a week, five hours a day. We are preparing for a month-long tour to France in March and a New York season at The Joyce Theater in April. We are working on four dances: Foray Forêt, Groove and Countermove, Working Title (Lateral Pass), and Astral Convertible. Trisha's work is reconstructed the way it was made: methodically. We work in silence in order to find a group sense of the phrasing. Videos of the original rehearsals and performances are used as references. A grid of tape on the floor marks where in space we should be. There is a sense of detail, focus, and precision in the studio that does not waver. The work is a test of both physical and mental stamina.
6:30–8:30 p.m. Rehearsal for Kyle Marshall Choreography
I'm off to the Actors Fund Arts Center in Brooklyn for my company's rehearsal. This evening, Mimi Gabriel [dance BFA '14] and I are working on a new duet called Horizon. This work is interested in the dynamics of an interracial relationship and the aesthetics of "postmodern" New York dance. It premiered in January at the Morris Museum in Morristown, New Jersey, but I felt like the work needed more time to develop. Our show in Albany, New York, this upcoming weekend will be a good opportunity to try some new ideas. We discuss how we can deepen our relationship within the material, play with some new staging, clarify movement qualities, and do a run. After a brief warm down and chat about Mimi's new film production company, we commute back to Jersey City.
9:30–12 a.m. Chill, Cat, Community
After a long day of rehearsals, there is nothing better than coming home to unwind. Moan greets me at the top of the stairs with a purr and a demand for food. Some nights I decompress by cooking while fellowshipping with roommates, other nights it's Netflix and a glass of whiskey. This particular night, my roommate Myssi Robinson [dance BFA '12] is working on some new drawings and collages for her upcoming gallery show. It is a treat to see her work and to be among her materials. I am energized by the community of artists around me.
The daily rigor of dancing teaches me to work with or without the spark of inspiration. The process of art making is a cyclical exchange of energy. It is only by doing that something happens. The past nine years of working has taught me to trust the daily hard work in order to root my artistry.
Photo Credit: Steven Speliotis
Interview conducted and edited by Risa Barisch