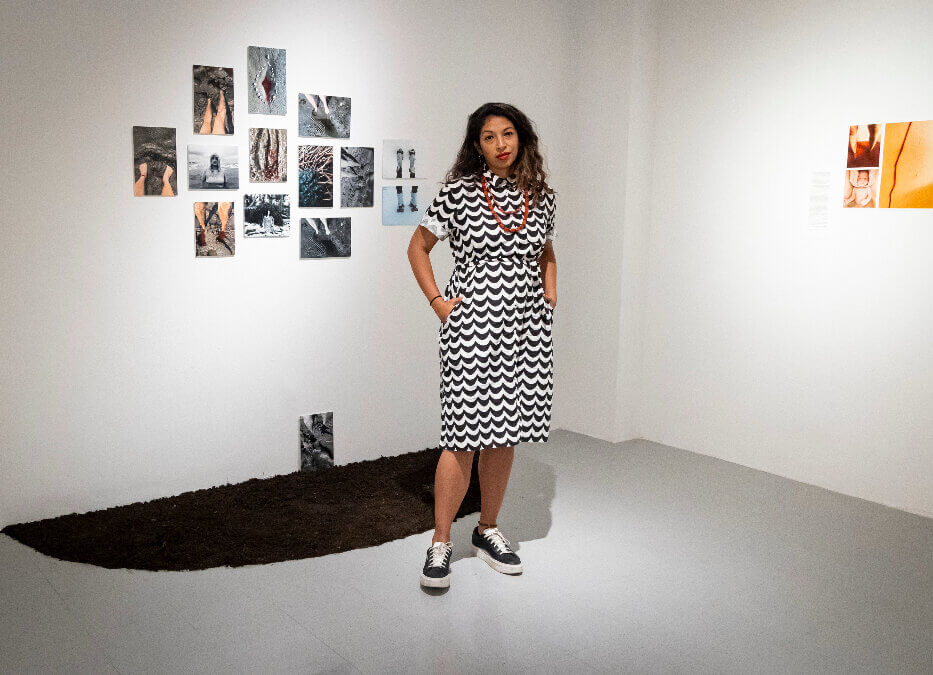 Why I Made This is an occasional series featuring MGSA student artists discussing their "Why": Why they are moved to create, to take what they see, read, hear, experience, remember, or imagine and transform these impressions into a work of art. If you're an MGSA student, and you want to be a part of Why I Made This, email us.
Filmmaker, media, and performance artist Natalie Romero's photo series Transitions I, II, and III, made in collaboration with CUNY theater and performance PhD student Melissa Flower-Gladney, explores the connection between humans and the natural world. Photos are arranged on a wall above a semicircle of fresh soil. The images depict fallen trees and free-flowing hair; subjects stand with their feet in the sand or in a bathtub. One photo was taken in the wake of the devastation that Hurricane Maria wrought upon Puerto Rico; another was taken moments after the birth of Flower-Gladney's child. 
Transitions I, II, and III was presented as part of the 2023 Co-Cureate exhibition, which ran through October 17 in the Mason Gross Galleries.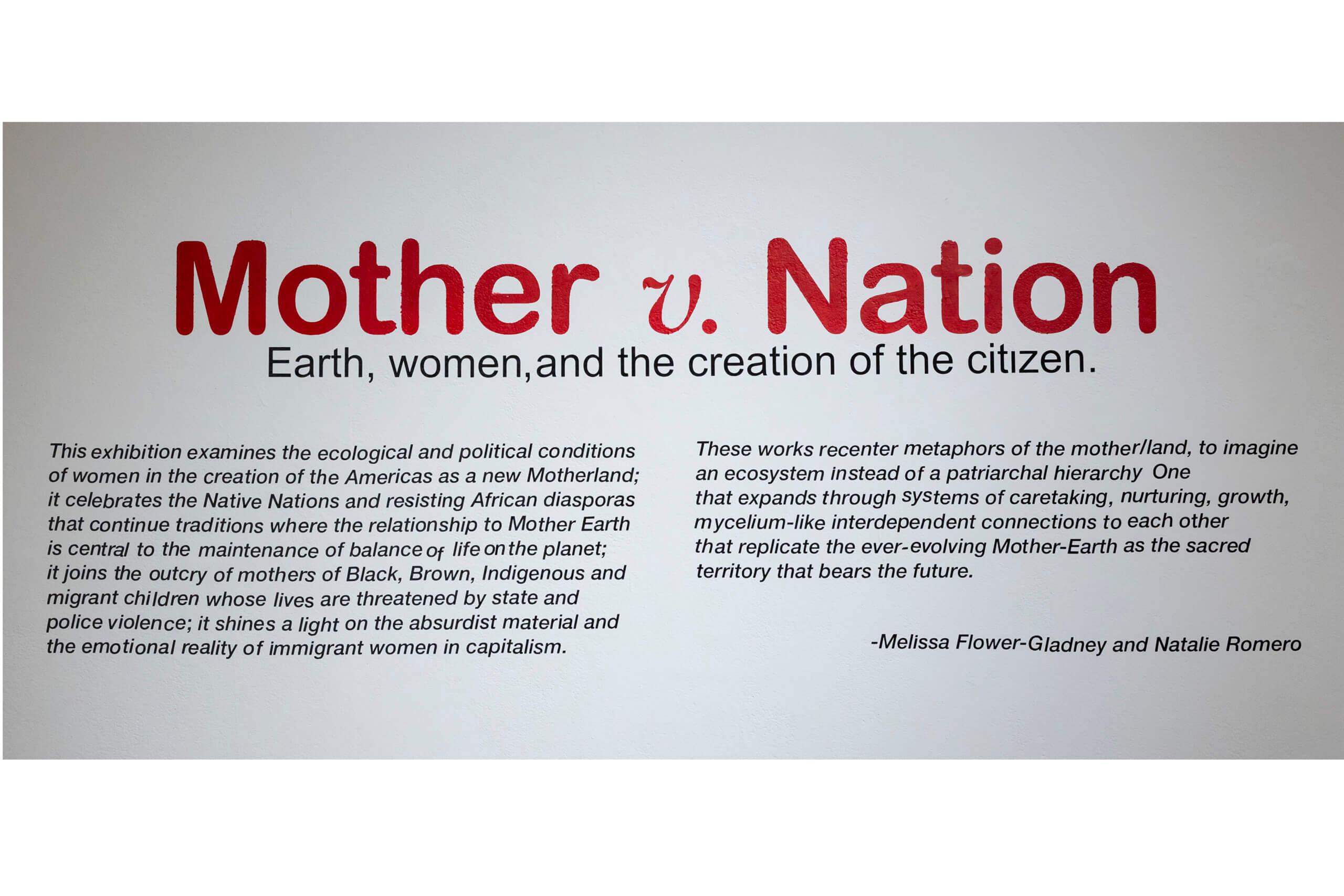 Where did the idea for Transitions I, II, and III come from?
Melissa and I met in a moment where we were both researching. Melissa was researching the sterilization of women in Puerto Rico in the '50s and reproductive rights of women, and I was thinking a lot about how women relate to blood, you know? What it means to bleed every month, what that experience is.
A semi-circle of soil is arranged beneath the photos. One photo rests on the ground. 
The pieces, [I feel] they're alive, and when I brought these images here and [was] thinking about how I wanted them to be, one of them fell on the floor. And I felt that there was something about the ground, and the earth, and I thought, We need soil here, to make it even more relatable and closer to the experiences we were having while doing these performances. The soil has the shape of what I thought was a womb, and so we were thinking about the womb and [about] Mother Earth, as a great example of how to be a woman, how to embrace our sacred feminine, teaching us how to be abundant, how to be bountiful, how to be graceful, how to be strong. How to be powerful and mystical, and She is definitely our inspiration for this piece.
How do humans and nature relate to one another in these photos?
You can see how some of the palm trees in these pictures [of Puerto Rico] have fallen down, reminding us of the cycles of life and death, and the resilience of people and the earth, as well. When you look at the soil, when you look at the ocean, when you look at the sky, even the snow—when you're really taking in the experiences [of being] here on this earth, you can really notice how alive everything is.
Transitions III depicts a newborn baby, legs standing in a bathtub, and a trickle of blood against skin. How does this relate to the nature photos in Transitions I and II?
This is right after [Melissa] gave birth to [her] baby, Asa. [Melissa was documenting her] natural birth, and she was in Texas. At that moment, the immigrant caravan was arriving at the Mexican-American border, and a lot of children were held in cages, and women were giving birth at the border, in very inhumane and deplorable conditions. And so we were documenting her own experiences and [thinking of] these other women who were so close to her at that moment.
Conversation condensed and edited by Emily Soper.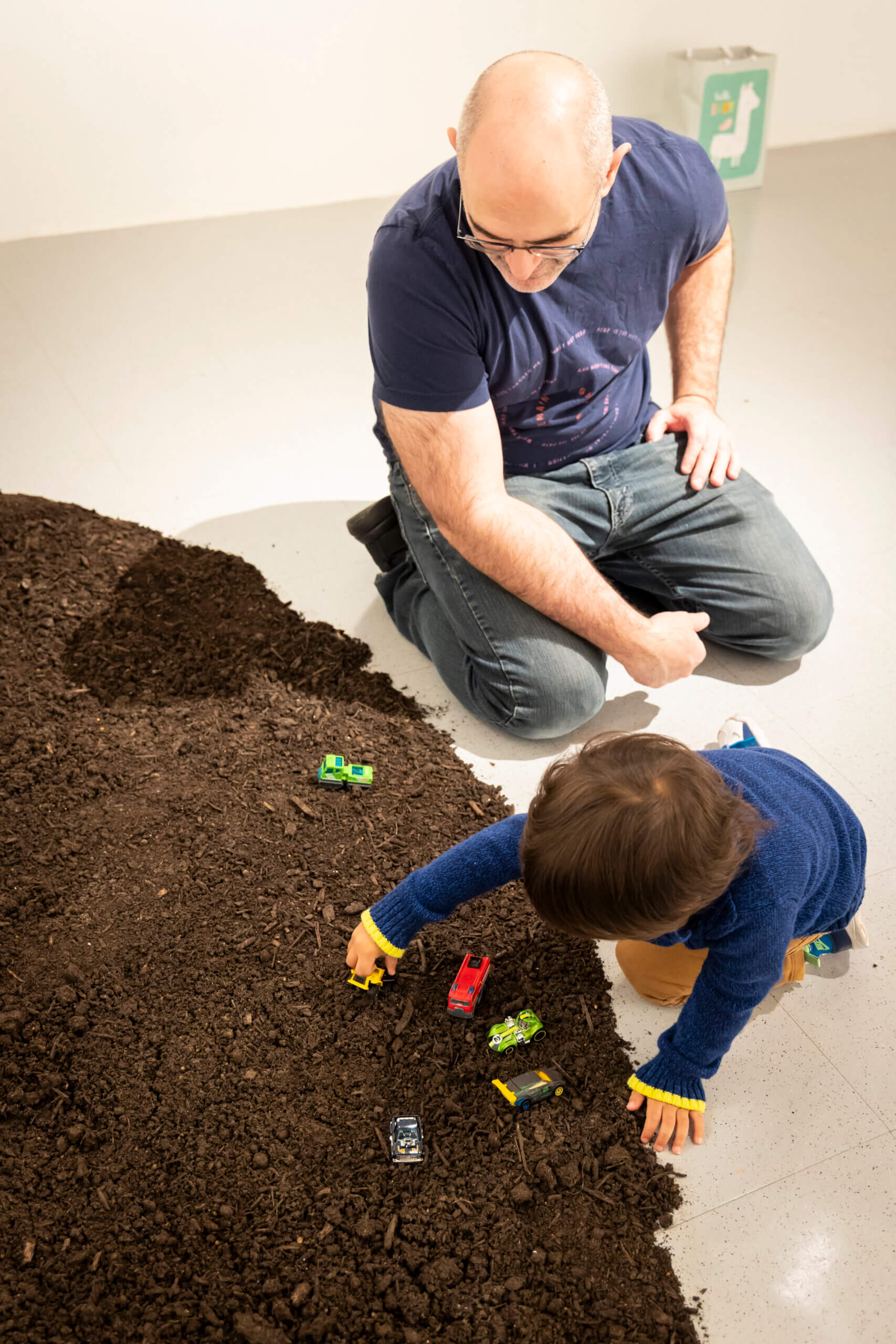 Flower-Gladney's son Asa, now a toddler, plays with toy trucks in the soil beneath Transitions I and II at the Co-Cureate Opening Reception. 
Image Credits: Lynne DeLade