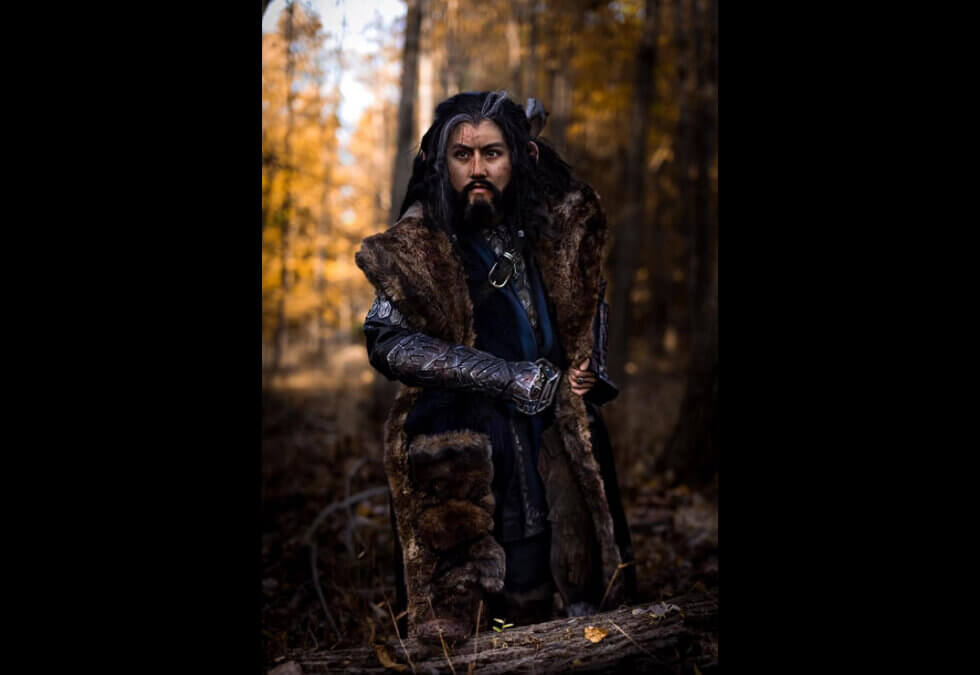 Photo Credit: Christian J. Kong
Costume design student Ashley Kong has been named a grand-prize winner of the 2020 CosBond Creator Contest for her cosplay replica of the costume worn by the character Thorin Oakenshield in Peter Jackson's The Hobbit film trilogy.
As Kong explains it, cosplay (costume + play) "involves dressing up as a fictional character," a hobby with origins in Japan that has spread around the globe and encompasses characters from TV shows, movies, video games, and books.
"However," Kong says, "it's definitely different than dressing up for Halloween."
Kong, who is wrapping up her final semester at Mason Gross, says she mainly cosplays film and comic book characters, but the Peter Jackson adaptation of Thorin Oakenshield has been her "dream costume project since 2012," the year the first film in the trilogy came out.
The Oakenshield replica took Kong six months to complete, and included an armored tunic layer of tiny diamond-shaped plates that required 57 hours of work. The entire costume took just over 234 hours to create, using materials including faux and real leather, faux fur, fabric and spray paint, foam, Velcro, caulk, and fake blood for distressing.
"I make most of my costumes from scratch, so it's a lot of work to fully realize a piece: researching and gathering reference images/ designing, gathering materials, sewing the garment, crafting the props, distressing, making or gathering the prosthetics, styling the wig, applying the makeup, etcetera," says Kong. "And considering my major is in costume design and I hope to work in the film/opera/theater industry, it's wonderful practice for me."
The contest was sponsored by CosBond, a company specializing in adhesives designed for the theater industry, including cosplayers, builders, and prop makers. In addition to receiving CosBond products, Kong will be featured on their website and in a highlight reel.
Photos below courtesy of Ashley Kong