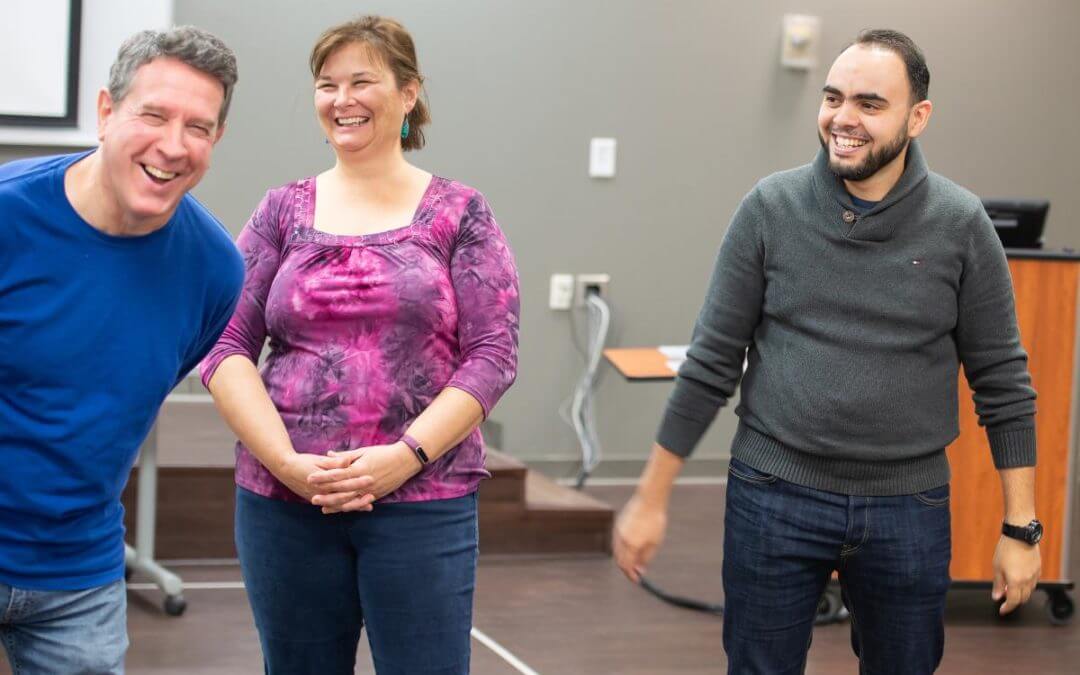 Photo of David Dannenfelser (left) with Charlene Wetterstrand and Andrew Abdou by Keith Bratcher.
Andrew Abdou was in the middle of giving a presentation at the annual conference of the American Congress of Rehabilitation Medicine in September when he noticed audience members growing restless and bored, and some even leaving.
Abdou was speaking about vision assessment after acquired brain injury, which he admits is a "very dry neuroanatomy topic," but it's one he's passionate about as a rehabilitation physician and post-doctoral researcher in stroke rehabilitation.
He realized in that moment that he needed to learn ways to better tell his story.
"Improv to Improve," a four-day workshop offered through Rutgers' New Jersey Medical School (NJMS), was created for scientists and researchers like Abdou who have valuable information to share, but may need a boost in their communication skills.
The workshop is directed by Nicholas Ponzio, a cancer immunologist and professor of pathology and laboratory medicine at NJMS, and David Dannenfelser, a director, playwright, and member of the theater faculty at Mason Gross School of the Arts.
Using storytelling and theater techniques, participants develop presentation skills to engage audiences, no matter how complicated the information. Among those who signed up this fall were an engineer, a surgeon, a biologist, and an immunologist—smart people, Dannenfelser says, who don't necessarily know how to speak publicly about what they study.
"Communication is an important part of researchers' jobs, but most don't train for it at all," says Dannenfelser. "The focus is more on their research—mostly they like to work with their science, and the fact that they then have to share it with somebody else can be pretty anxiety producing for a lot of them."
To work through some of that anxiety, Dannenfelser introduces role-playing and playwriting methods to organize talking points, keeping in mind that most participants have no theatrical experience.
Interactive games serve as the ice breaker, including pretending to be a time traveler who has to explain a cell phone to someone living in the 1800s, an exercise that imparted a valuable lesson to Abdou.
"The activity demanded that we explain the technology with the language and references used in that time period," says Abdou. "It was challenging, but forced us to describe a complicated thing in simple terms. It made me realize how powerful simple explanations can be."
Speaking simply and completely about their research isn't just about a scientist keeping an audience's attention—it can also be a necessity as they compete for funding, says Dannenfelser.
"If you can talk about your science in such a way that more people can understand it, more people are willing to fund it," Dannenfelser says. "It will mean something to them, and they'll want to get behind it."
The workshop, a streamlined version of a semester-long course in scientific communication that Ponzio and Dannenfelser have twice taught at Rutgers, focuses on four goals: identifying and distilling the message, knowing your audience, building a narrative, and personalizing the message.
Ponzio and Dannenfelser's efforts are an expansion of a program they attended at the Alan Alda Center for Communicating Science at Stony Brook University. Alda, perhaps best known for his role in the TV series M*A*S*H, became interested in bettering scientists' communication skills as a host of the PBS series Scientific American Frontiers.
"He discovered that a lot of the scientists on the show had a difficult time talking about their work in a way that was accessible" to general audiences, says Dannenfelser, who attended a boot camp at the center. "That spurred him on to start using theater techniques, mostly improvisation, to get them to loosen up a little bit and help them in communicating."
The workshop caught the attention of Charlene Wetterstrand, a biomedical science graduate student who is working on a thesis as the first person at Rutgers to use 3D imaging equipment so new that it does not yet exist in many other locations. She signed up for the workshop in anticipation of being asked to present her research.
"I do not have many opportunities to speak, and I wanted constructive feedback on my skills," says Wetterstrand, who hopes to work as a medical communicator after she graduates. "The class was fun and not threatening at all, and the games helped us to relax and become comfortable with speaking in front of everyone."
Anxiety about public speaking is a challenge that Dannenfelser and Ponzio keep top of mind when teaching the workshop, and something they work to alleviate throughout each session by emphasizing practice and preparation, and offering common-sense tips like getting enough sleep and avoiding too much caffeine.
"I make the analogy of a performer or an athlete—you can practice all you want in a room, but until you get on stage, until you get up to give a lecture in front of people, it's not the same," says Ponzio, who spent six months at the Alda Center as a visiting professor. "It's all about confidence. You're the only expert in the room that knows what you're talking about to the degree that you do, because this is what you do for a living."
Dannenfelser and Ponzio are very clear with participants that the goal of the workshop is not to "dumb down their science, but explain it in terms that a college-educated but not scientific audience can understand," says Ponzio.
"Most scientists are just in that science-speak mode, using abbreviations and jargon," Ponzio says. "There's a language barrier, and if you lose an audience from the beginning, it's hard to recapture them."
The most compelling lesson of the workshop, according to Ponzio, is making the message personal.
"Why do you go to work every day and spend countless hours over test tubes or whatnot?" says Ponzio. "You can't get up there and show table after graph without explaining why people in the audience should care. If people can understand why it's important to you, maybe it will point out why it should be important to them."