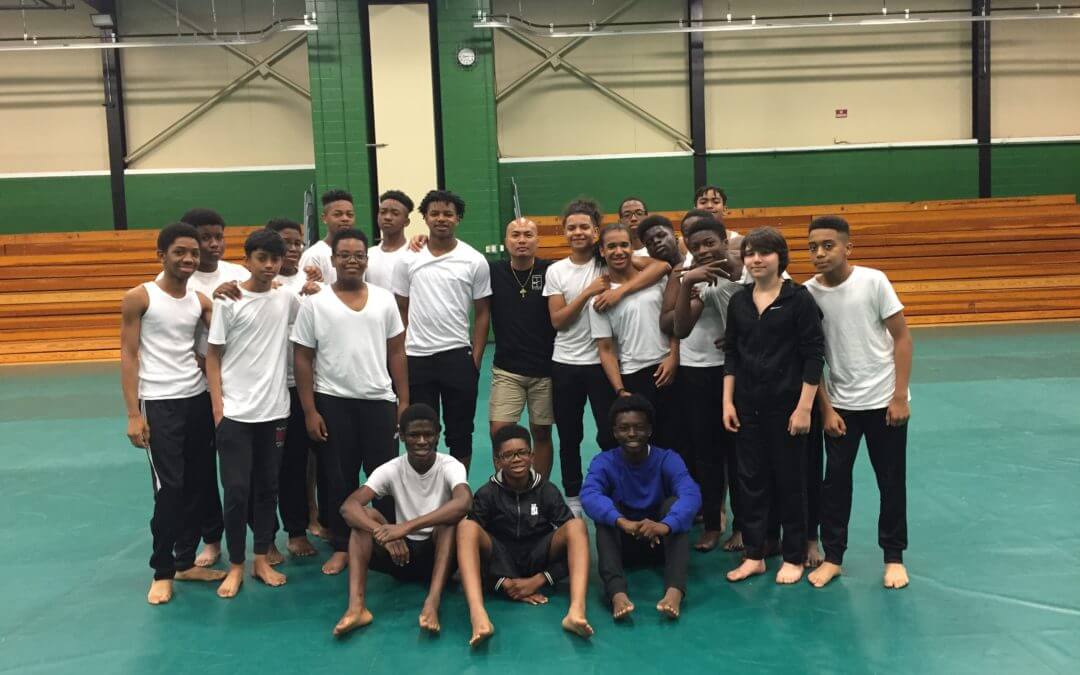 Dance alumnus Aaron Ramos, center, with some of his young students. Ramos says he believes part of his job is to help his students to "respect each other and each other's struggles and stories."
As a dance teacher, Aaron Ramos doesn't allow himself to get too comfortable.
Five years ago, Ramos had gotten to a point where he could teach "in his sleep," he says, so he began challenging himself—one major goal each year at Franklin Middle School in Somerset, New Jersey, where he has taught for over a decade.
This year, Ramos says, his aim has been to teach his students "how to be human beings, how to love, how to respect each other and each other's struggles and stories. I'm getting the kids to think about subjects and topics that they may not be well aware of, or they may not be too comfortable with. To me, dance should be pushing envelopes, getting people to talk and converse."
In the several classes he teaches at Franklin— one with all girls, one with all boys, and one mixed—Ramos is working on dances that he says "people need to see and hear," with subjects including immigration and the #MeToo movement.
Tackling these topics through dance may sound a bit advanced for 7th and 8th graders, but Ramos says his students can handle it.
"These kids may be in middle school, but they're old enough and smart enough to know what to do," Ramos says. "You just have to give them that chance and the opportunity, because they are capable."
Franklin Township Public Schools is one of just a handful of districts nationwide that teaches dance from elementary school all the way to high school, which caught the attention of producers at NJTV's State of the Arts. Ramos and his all-boys 8th-grade advanced dance class were featured on the program last year.
Before filming began, Ramos decided that he and the boys needed to do "something special," he says, and so together, they created a dance centered around social justice.
"With what's going on in our nation with Black Lives Matter, I thought, let's see if we can deal with a topic that's big," says Ramos. "Our demographic is mostly African American and Hispanic, and I thought, these boys need it. They're the ones who are going to be either changing what's happening or letting it continue to happen."
To create a framework for the piece, Ramos found a spoken-word poem, "Black Boys Die Easy," by Akeem Olaj, and asked the boys how they felt about it and if they thought they could choreograph a dance to accompany the words.
"Some kids were crying," says Ramos. "Some kids were quiet for a while—and that never happened before. These boys have so much energy."
Ramos freely expresses his emotions with students, and encourages them to do the same through dance. This is especially valuable, he says, when creating choreography.
"I want the students to feel it, because they're the ones dancing it," says Ramos. "You can't fake movement."
The dance, Black Boys in America: Kings, premiered at the districtwide curriculum showcase last January, and brought the packed auditorium to tears, says Ramos, who at first worried that the performance may be too controversial.
"At the end, though, African-American fathers came up to me and thanked me for it," says Ramos. "Just to have their voice be put out there, that meant a lot to them. I've never seen so many fathers cry. That's what dance is about. It's supposed to change lives."
Ramos says he draws from his own experience as a young immigrant to the United States from the Philippines who found it challenging to prepare for a college education.
"I'm the first generation to go to college, so I did not know anything about it—I didn't know the process, I didn't know how financial aid worked," Ramos says. "I had to figure it all out for myself."
He credits the Educational Opportunity Fund, which provides financial assistance and support services to New Jersey students from educationally and economically disadvantaged backgrounds to attend college in the state, as well as supportive Mason Gross dance faculty and classmates, for helping him complete his BFA degree.
"I know the importance of having that person who can guide you in the right direction," says Ramos.