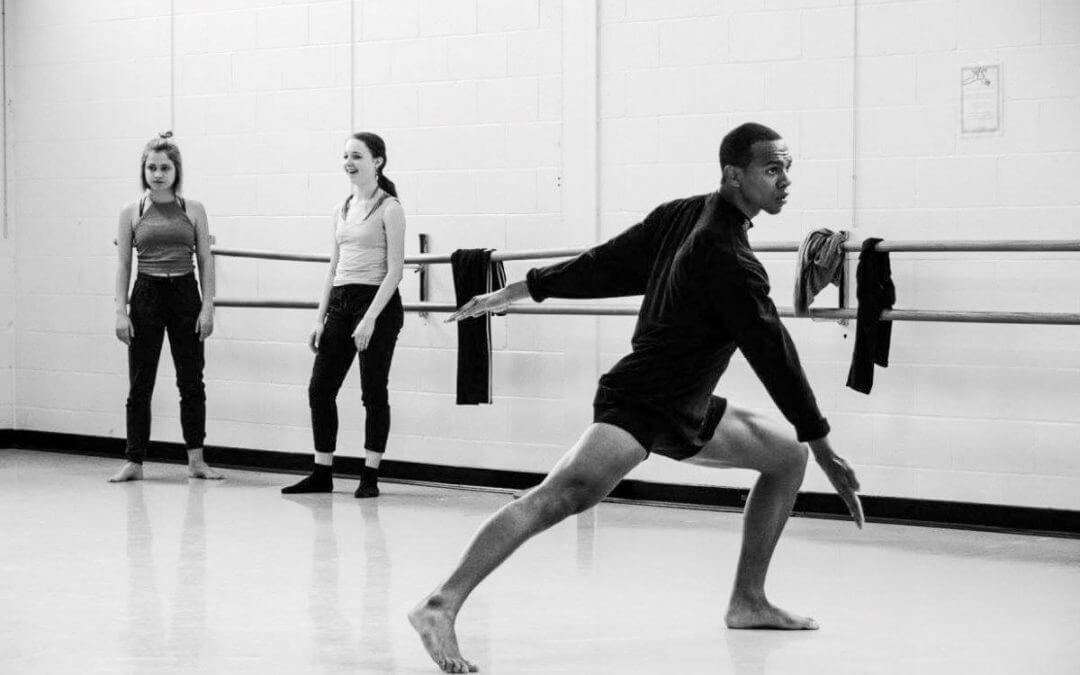 Art & design student Aaron Lewis had zero dance training— but he chose to transfer to the dance program anyway. On Lewis's second try, he made it.
Why did you start out in visual arts?
I remember falling in love with being in the darkroom and developing 35-mm film rolls; the process always felt intimate to me.
I only stayed in the program for my first year before dropping all of my visual art courses for dance classes. I spent the following year in the School of Arts and Sciences as a BA dance major while taking photography, dance, and liberal arts classes.
Why did you make the switch?
Dancing was a way for me to connect to myself, something I felt I always understood. In the moments it would find me, I always felt liberated. Grappling with my sexuality in high school and playing sports didn't make it easy to even entertain the thought of dancing. My queerness isolated me, which led to a need to repress my individuality, ultimately halting my pursuit of dance while in high school. After my first year at Mason Gross, I remember spending my summer evenings in the studios of Nicholas Music Center. I had no clue what I was doing, and I aimlessly improvised for hours trying to make sense of my infatuation for improvisation. Spending all that time in the studios reassured me that leaving the Art & Design program was what I wanted to do. I had never taken any classes in dance prior to making my decision, but I knew dancing would allow me to be the full person I wanted to be.
When I first auditioned for the dance program, I didn't get accepted. I trained for another year, taking as many classes as I could over the summer and during the semester to be more prepared for what would be my last shot to get into the program… After my second audition, I was accepted into the dance program.
Personally, I see my switch from visual art to dance in a larger context than a change in mediums. Dancing was a part of me that I never allowed to exist. Switching mediums was a way for me to be honest with myself, and to no longer let opinions and judgment dictate the way I lived my life.
How does your background in visual arts inform your work in dance?
When creating a dance, I always think about spatial structures before developing movement. How does the physical space inform choices that are made? What needs to happen in one quarter to relate or contrast to what's interacting in another? I see creating a dance as no different than setting your focus on a camera, or laying down grids for a design. Every choice has an intention that informs the next.
What was it like to enter the dance program later?
I always felt behind the eight ball, like I was playing catch up. Here I was, as a 20-year-old who just started dancing, trying to keep up with people who have been dancing since they were young. I always felt challenged, and at times intimidated. It raised the [feeling] of inadequacy, and no matter how much time and effort I put in, I felt I would never amount to anything as a dancer—no matter how much I loved it. The conflict between a love for dance and a search for liberation persists as I approach my third year dancing. It's a pendulum that pertains to life just as much as it does to the studio. While I still encounter struggles in dance, I wouldn't know how to navigate life without it.