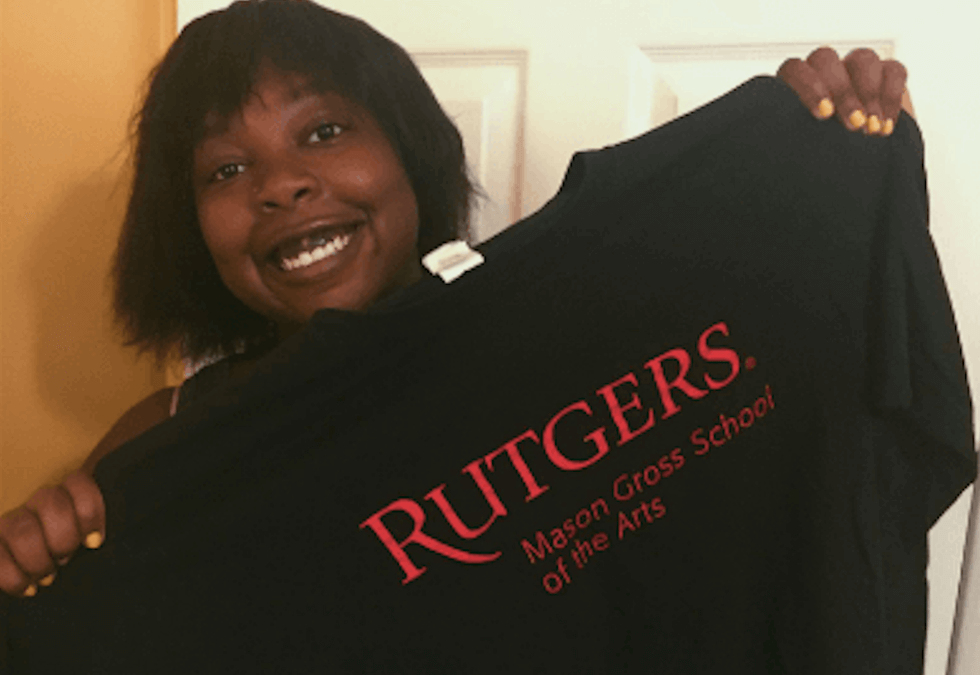 Just as the COVID-19 pandemic shut down the Rutgers–New Brunswick campus in mid-March, the Mason Gross Student Governing Association (MGSGA) was preparing for its annual apparel sale at Admitted Students Day scheduled for April. The organization suddenly found itself with a surplus of inventory, tucked away in boxes in the darkened Civic Square Building downtown.
A few months later, student government president Kira Harris received a text message from a high school friend who was coming to Mason Gross as a fellow music major and wanted to borrow one of Harris's T-shirts to wear in a social media post.
"She didn't have any apparel, because we had been off campus for so long and hadn't been selling," says Harris. "It got me thinking, for students who might want apparel, who knows the next time they'll be able to buy some?"
At the same time, the MGSGA began to explore options for online sales, which would require them to get rid of some of their old stock.
As Harris and the MGSGA executive board—vice president Michael Cappabianca, secretary Johanna Cordasco, and treasurer Molly Weidmaier—contemplated what to do with the apparel, Harris got an idea. What if they sent each incoming student a piece of swag to welcome them to Rutgers during an unusually tough time?
"Being a continuing student is hard right now, but especially starting out at a brand-new school and not being able to go there is probably really hard," says Harris, a third-year cello student. "We were also thinking of ways to connect with incoming students, since we usually have a new-student social at the beginning of the semester—since that's not going to be possible, we were trying to think of ways to make them feel welcome."
But first, Harris and the board needed to ensure they had enough inventory, so Weidmaier, with the permission of Mason Gross administration, visited campus over the summer, packed up her car with boxes, and took everything home to sort and count.
"It is a lot of stuff," says Harris. "And it's all different kinds of stuff, so I give Molly huge kudos for going through everything and counting all the types of apparel, all the different sizes, and setting up a very extensive Excel sheet. It's all very organized."
The MGSGA determined they had more than enough hoodies, shirts, and sweatpants for the roughly 280 new undergrads who will begin studying at Mason Gross this fall. Harris and her team created a form to send to students to indicate their size and choice of apparel.
A few members of the student government—"as few as possible," Harris says—will get together in a socially distanced setting to package up the swag and mail it out by the beginning of September.
Aside from creating a sense of community among students scattered across the country, Harris wants the freebies to be an introduction to the MGSGA and how it serves students by promoting the arts, building a connection to faculty and administration to address student concerns, and organizing programs and events.
"For a lot of incoming students, this will be their first interaction with student government, so along with the apparel, we're sending a letter introducing ourselves and explaining what we do," says Harris. "The goal is to foster some connection, so at least students know we're here, even if they might not be able to see us in person for some time."
Giving the apparel to incoming students, she says, is a great way to put the inventory to good use while setting the framework for a strong community when students can meet face-to-face.
"We thought this would be received better than an email," says Harris. "And also help students feel more excited for the eventual return back to campus—something to hold them over until things go back to normal a little bit."
By Risa Barisch