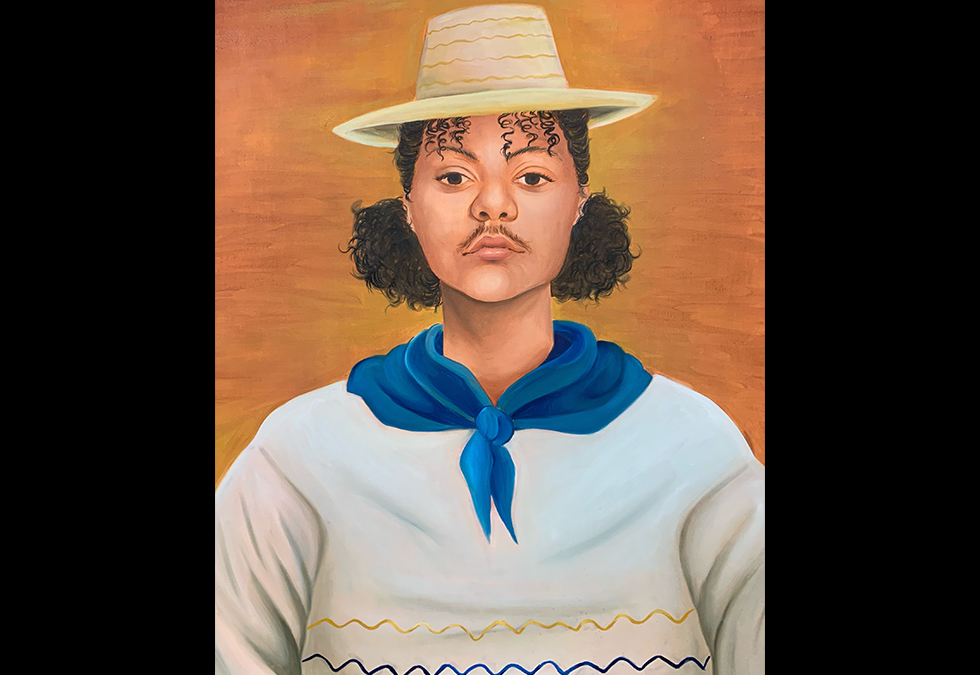 Who I Am? by Elena Escobar | Oil on canvas, 36 x 48 inches
Welcome to Your New Home, an exhibit on display at the Mexican Consulate in New Brunswick
Artwork by five Mason Gross Art & Design BFA students is featured in an exhibition at the new home to the Mexican Consulate in New Brunswick–its first headquarters in New Jersey. Located at 390 George Street in a historic building that was once Chase Bank, the consulate will provide a range of services from passports and voter ID cards to assistance with civil rights and labor disputes.
The exhibition, titled Welcome to Your New Home, includes work by undergraduate students Elena Escobar, Maurice Gordon, Beatryz Mendes, Rosiris Ramirez, and Amanda Spinweber, all of whom answered an invitation to participate from Cassandra Oliveras-Moreno, Administrator, Communications & Collaboration, in the Department of Art & Design.
Oliveras-Moreno reached out to students who had expressed interest in public art displays and showing their work in the community, many from across the Latinx diaspora.
"The opportunity to have a presence in this space that provides essential support to the Mexican community and the consular employees who serve them is very meaningful," says Oliveras-Moreno, a graduate of Rutgers-New Brunswick. "Our students are honored to have their personal and cultural expressions on view."
For fourth-year visual art student Beatryz Mendes, the chance to have her work seen outside of a formal gallery is an opportunity for a fresh viewpoint.
"I love the idea that the people looking at my work will be looking at it with open minds rather than from an artist's perspective of critiquing," says Mendes. "I wanted to participate for exposure but also in hopes of having my work touch a larger group of people than it would in an art gallery or solo show."
Mendes's oil paintings, The Paradox of Self Love and Mother and Me, are portraits that tell stories of herself and her family, which she thought might resonate with visitors to the consulate.
"I hope [viewers] feel some inkling of familial ties to these works, or that they remind them of their own families and homes," Mendes says.
Fellow Rutgers alumnae Tracey O'Reggio Clark and Sarah Ferreira, of both the New Brunswick Cultural Center and the Arts Institute of Middlesex County, were the catalysts in connecting the consulate to Mason Gross during planning meetings for the consulate opening held on September 23.
"We work so closely with Mason Gross for Windows of Understanding, with high-quality visual arts and speaking through a social justice lens," says O'Reggio Clark, referring to the annual public art initiative that she co-founded with Oliveras-Moreno. "It's an intentional collaboration, and it so fits New Brunswick—all of these organizations work together so well. It's where arts meets culture meets government meets community."
Fourth-year visual art student Maurice Gordon submitted images from his photobook A Quiet Embrace: Norte, a reflection in black and white on the turmoil of the Covid pandemic and the recent national and governmental interest in UFO activity. The photos chronicle the odyssey of a fictional alien visiting Earth and question the alien's motive and agenda, with ample room for viewer interpretation.
Gordon shot the photos in Chile, where his maternal family lives—a place where "UFOs are practically an obsession," he says.
"The countless remote locales and incredibly arid climate throughout much of Chile provide stargazers unparalleled views of the heavens, encouraging the imagination to run wild," Gordon writes in his artist statement. "The photobook explores the very human qualities of curiosity, fascination, allegiance, individuality, fear, and primal survival instinct."
Although Gordon's subject matter may seem otherworldly, his motive to participate in the consulate exhibition is quite conventional.
"My artwork represents my love of Chile, and any time I can display it, I know it will be loved and respected," says Gordon. "I really appreciate that."
Welcome to Your New Home is a public art initiative in partnership with the New Brunswick Cultural Center and the Arts Institute of Middlesex County.