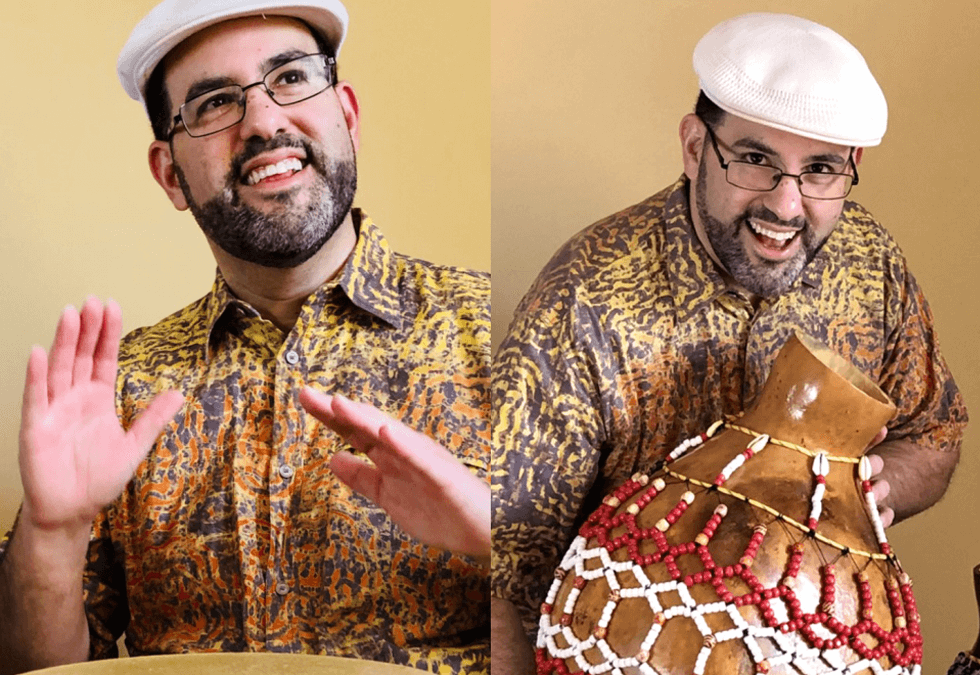 Photos courtesy of Javier Diaz
Percussion instructor Javier Diaz originally was tapped just to play rehearsals for one of the most iconic scenes in Steven Spielberg's acclaimed West Side Story remake.
But Diaz – who has wowed audiences of philharmonic orchestras, Broadway musicals, Afro-Cuban street bands, salsa nightclubs, and worked with other musical greats including Lin-Manuel Miranda – caught the attention of the famed director. Look for Diaz playing congas during the "Dance at the Gym" mambo number that relies on dance more than dialogue to foreshadow the impending bloodshed between rival street gangs – the Jets and the Sharks.
Spielberg felt Diaz's playing was so integral to the authenticity of the scene that he asked him to stay on to record the soundtrack with the New York Philharmonic Orchestra and play a drummer during filming.
While playing West Side Story rehearsals eight hours a day, six days a week for three months, Diaz was also working on Broadway's Ain't Too Proud, recording Lin-Manuel Miranda's In the Heights soundtrack and teaching at Mason Gross. Throughout the process, Diaz shared his experiences on set with his students.
"I want my students to be better than me and dream opportunities I never dreamed of," he said. "What I tried to communicate to them about this experience is the passion I was putting into my rehearsals. The oomph I was bringing to the process is the same as when I'm playing a batá session in the Bronx or with my Broadway show, Ain't Too Proud, or with the Orchestra of St. Luke's at Carnegie Hall. It's all part of the same continuum."
Read more on Rutgers Today.