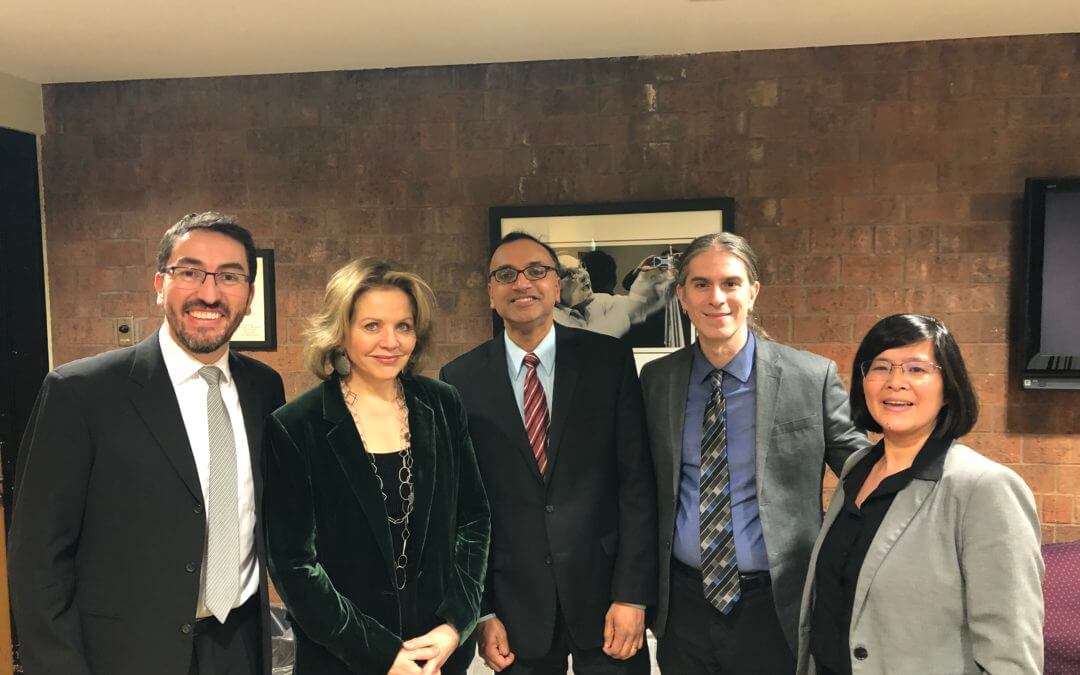 From left, Eduardo Herrera of the Music Department, who moderated the talk; opera star Renée Fleming, Sunil Iyengar of the National Endowment for the Arts, Daniel Schneider, medical director of the Robert Wood Johnson Deep Brain Stimulation Clinic, and Wendy Su of Novartis.
Courtesy of Renée Fleming
During a panel discussion at Nicholas Music Center on February 26, celebrated opera singer Renée Fleming spoke about the power of music as it relates to health and the brain. Fleming's presentation, Music and the Mind, is inspired by her Sound Health initiative, which encourages research into the links between music and wellness. She and scientific researchers discussed how our brains process music, and how listening, performing, or creating music can contribute to better health.
Featured panelists included Daniel Schneider, director of the Rutgers Dementia Clinic and medical director of the Robert Wood Johnson Deep Brain Stimulation Clinic; Wendy Su, lead medical director of neuroscience at Novartis; and Sunil Iyengar, director of the Office of Research & Analysis at the National Endowment for the Arts.
Fleming discussed the roots of her interest in the relationship between physical health and music.
"I developed—not only performance anxiety—but somatic pain," Fleming said. "My thinking was, 'If I suffer, I'll allow myself to do well on stage.' This, in turn, got me very interested in the mind-body connection, which wasn't very much acknowledged by medicine in the early part of my career. And it got me noticing that scientists were studying music. And I thought, 'Gosh, why are they studying music? I mean, I know what I think about it.' "
When Fleming met Francis Collins, director of the National Institutes of Health, at a dinner party attended by U.S. Supreme Court Justices Ruth Bader Ginsberg, Anthony Kennedy, and Antonin Scalia, as she tells it, she said, " 'You know, I'm interested in all this press about neuroscience. What would you think about collaborating with the Kennedy Center?' He was enthusiastic! …And so Sound Health, Music and the Mind, was born."
Many people who are part of the health research community, like Collins, are exploring the possibilities of non-pharmaceutical methods of treatment for issues like multiple sclerosis, Parkinson's, and Alzheimer's thanks to the efforts of Fleming's initiative. Since 2017, Fleming has presented in over a dozen cities around the country in an effort to bring awareness to the discoveries being made linking music, health, and neuroscience.
"From offering relief to people suffering from dementia and strokes to Parkinson's disease and even in lowering the rising suicide rate in adolescents, music is proving to provide mental relief that has always been known in our hearts, but now science is backing it up," Fleming has said.