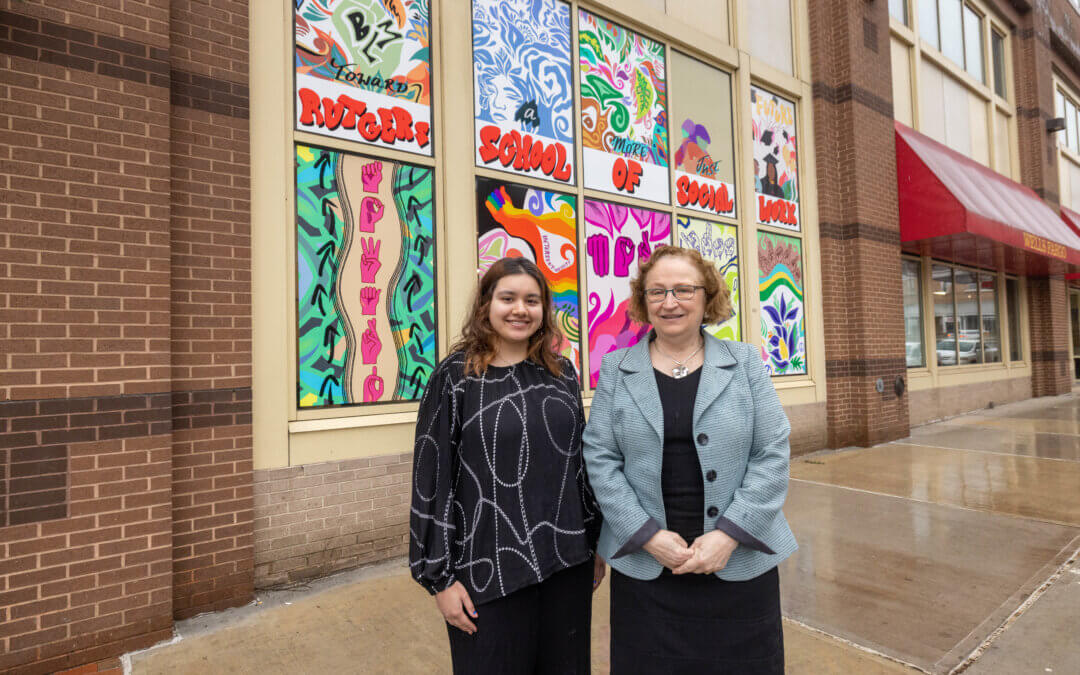 Art & Design student Ria Monga has created a 10-panel vinyl installation in the first-floor windows of the Rutgers School of Social Work building in New Brunswick, which sits at the intersection of George and Albany Streets.
Monga was chosen from a pool of candidates to design the project, which aims to share the school's mission and vision with campus and community members.
In Fall 2020, the School of Social Work set forth its strategic plan, Toward a More Just Future, to guide its work over the next five years. The plan envisions a future for our country and our world that is grounded in justice. To that end, the school commits to leading for justice, through a focus on innovation, excellence, collaboration, and community. Deeply grounded in inclusion, intersectionality, diversity, equity, and advancement, the plan focuses on core elements of the school's mission as a leading school of social work.
"I believe that art is not just a reflection of our community, but a tool to shape it," said Monga, who is earning a BA in visual arts and minor in human resource management. "For me, the process of creating the artwork has been an exploration of emotions and pursuit of truth. Cultivating the designs required an understanding and drive to learn more, all in the service of shedding light on important issues and inspiring positive change."
Cassandra Oliveras-Moreno, the Department of Art & Design's administrator of communications and collaboration, helped coordinate the project.
"Opportunities like this to activate, disrupt, and collaborate, fuel us in Art & Design," Oliveras-Moreno says. "Seeing the work of our students extend far beyond the comfort of their studio walls is a great reminder of their agency. This installation at the intersection of Albany and George sits also at the intersection of art and social impact."
Read the full story on the School of Social Work site.
Photo by John O'Boyle