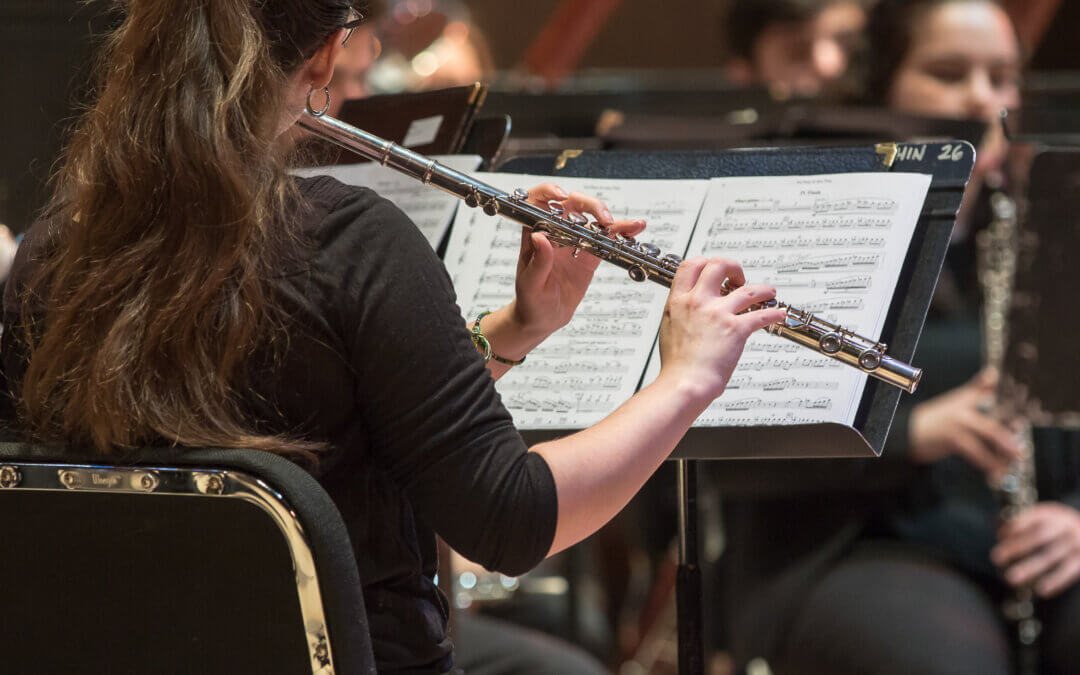 Mason Gross School of the Arts is partnering with the Rutgers School of Environmental and Biological Sciences and the Rutgers School of Engineering on a multimedia concert event, Deep Blue: The Beauty of Our Water World, set to debut 7:30 p.m. Friday, December 9, 2022, at Nicholas Music Center. The concert will feature the Rutgers Wind Ensemble, made up of 54 undergraduate and graduate wind, brass, and percussion students from Mason Gross.
The multimedia experience will blend live music, video, still photography, lighting, live commentary from Rutgers researchers, and other elements to communicate the dangers of microplastics in our waterways. On the program, curated and conducted by Kraig Alan Williams of the Music Department: Earth by Philip Sparke; Depth by Alex Shapiro, The Flying Dutchman Overture by Richard Wagner, Hubris by John Mackey, High Water Rising by Sally Lamb McCune, and Water by Philip Sparke. All Deep Blue compositions meditate on the idea of water as "a source of inspiration and fascination," Williams says.
Williams, an avid kayaker, says he was inspired to initiate the collaboration when he noted an increase in debris covering the riverbanks he was exploring.  
"It finally dawned on me that what starts here might very well end up in the ocean," Williams says. "To what effect? What happens then?" 
When Williams realized that researchers like Nicole Fahrenfeld of the civil and environmental engineering faculty at Rutgers, and Robert Chant, a faculty member in the Department of Marine and Coastal Sciences, were diving deep into this very topic, he envisioned an event that would bridge what's often regarded as a divide between art and science. Ideally, the project will reach a wider audience than scientific research alone would tend to draw, Williams says. 
Fahrenfeld agrees.
"In our labs, we've been working to tackle questions about the sources, fate, and transport of plastics in our waters," Fahrenfeld explains. "We've been inspired by Kraig's musical selections and vision for this concert, which serves as a unique opportunity to share some of our findings while weaving in fun tales from the field, and, perhaps, to correct a few common misconceptions about plastic pollution issues. 
"Of course, there is no better place to do this than along the banks of the Old Raritan, which was home to the first plastics manufacturing facility in the United States," she adds.
And the collaboration has a more practical function, Chant points out. 
"We hope that these broader–impact activities will strengthen the public support for the use of taxpayer money to continue to fund scientific research," he says.
Tickets are $15 for the public, $10 for Rutgers employees, alumni, and senior citizens, $5 for students with valid Rutgers ID. Purchase tickets online. Register for parking. 
Can't make it into New Brunswick? Catch the concert live and online by visiting masongross.rutgers.edu/nicholas-music-center-stream