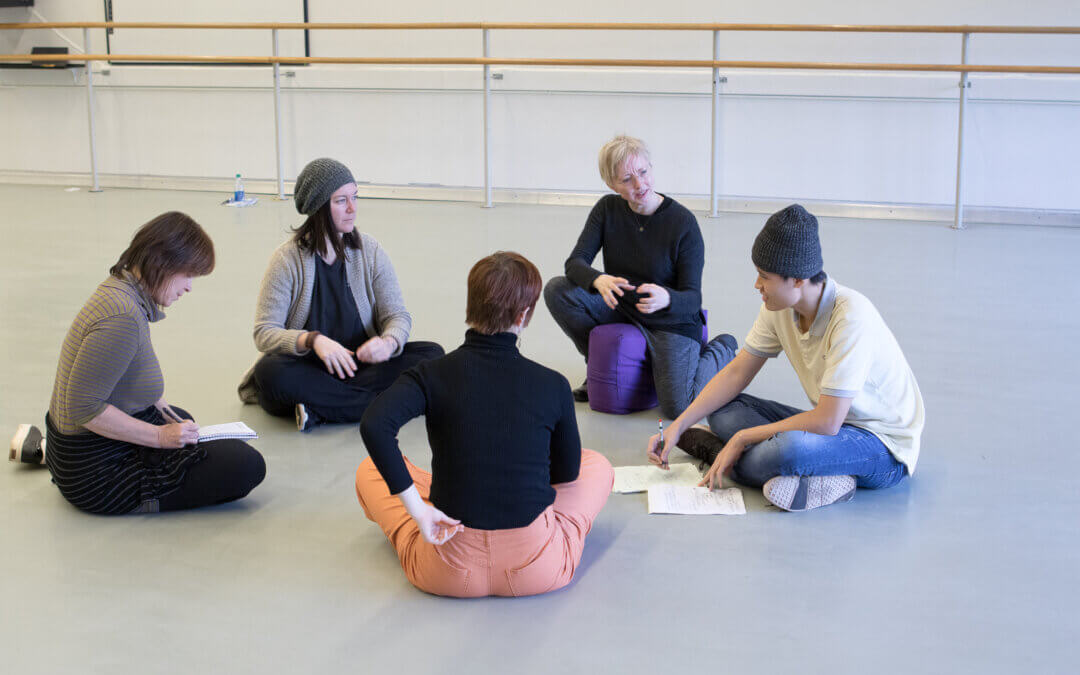 Photo credit: Keith Muccilli
In the calm and quiet of winter break on campus, Dana Caspersen encourages students to "step into messy situations" in the light-filled Nicholas Dance Studios on the Douglass Campus.
Caspersen, a professional dancer, choreographer, and conflict specialist, is teaching "Conflict Resolution: Artistic Tools & Action-Based Approaches," a two-week intensive about using choreography-based ideas in challenging interpersonal situations—anything from family gatherings to political protests.
Employing creative tools used by choreographic thinkers—including intent, timing, rhythm, emotion, and sequence—students learned about the impact of real-time decision making, and how to work toward constructive outcomes in situations where they—or others—may find themselves stuck.
"Dancers develop their ability to be conscious of where their body is, where it wants to go, to be able to differentiate between actions," Caspersen says. "In the field of conflict resolution, you're also making these decisions of where you're putting your attention. How do I create situations where people are more likely to step into a conversation or an interaction where they're focused on interests rather than strategies?"
The key, says Caspersen, is presence and curiosity.
"Move into any situation with the intent to find out what's going on with the other person, what's going on with you, even if you're in disagreement," Caspersen says. "It becomes a question between you, rather than who is right or how I'm going to punish you. There's strength in stepping into a messy situation and saying, 'What's going on?'"
Rethinking Resolution
Sarah Redheffer, a Mason Gross dance student, signed up for the intensive for professional research, as she works on her honors thesis about dance as a protest strategy, as well as for personal enrichment.
The class helped Redheffer realize that her own conflict strategies were emotionally based, which "usually escalates conflicts instead of fostering constructive conversations," she says.
"We all have conflict in our lives, but are so very inept at dealing with it," says Redheffer. "So often I feel like I go to two different extremes when dealing with conflict—I either fiercely stand my ground without hearing the other, which usually leads to a blowout or stalemate, or I completely give in to the other as a means of resolution, leaving me dissatisfied and unheard."
Caspersen's approach encourages Redheffer to consider opposing perspectives, allowing all voices to be heard and acknowledged while respectfully holding one's ground.
"You do not have to give in to deescalate," Redheffer says. "In practice, this still proves really difficult and unnatural, especially when emotions are involved, but it really shifted my thinking in my approach to dealing with conflict."
The practice of meeting in the middle can help people develop a robust curiosity about themselves and others while staying connected to what really matters, Caspersen says.
"What do you care about? What do I care about?" asks Caspersen. "If I hold those things together, what does that show us might be possible?"
Choreography as Conversation
Caspersen stresses that choreographic modes of thinking can be used by people from all backgrounds, not just movement-based artists, to navigate conflict and communicate effectively.
In fact, the class included students in engineering and medicine with no dance experience, who, Caspersen says, were inspired to apply her ideas to group leadership and project management—any situation where people are interacting with each other.
Caspersen has spent 40 years as a professional performer and choreographer, notably as a primary collaborator of choreographer William Forsythe and a member of Ballet Frankfurt and The Forsythe Company.
But it wasn't until she earned a master's degree in conflict studies and mediation that she started to see choreography and performance differently.
"Choreography is how we organize ideas physically. Conflict engagement is also about how we organize ideas, and it often takes a physical form, even though we're not always conscious of it," says Caspersen. "I bring the two to together because when there's a physical component, it's easier for people to notice the impact of their actions or to engage in some kind of conversation. The single body can become a place of reflection and of noticing."
In a time when disagreement has broken down public dialogue and the art of debating an opponent is all but lost, thinking like a performer seems more timely than ever.
Best of all, Caspersen says, is that her ideas aren't complicated—the practices she teaches are simply "ways to think."
"What students come to realize is that they're already making choices in all of these categories," Caspersen says. "They then have much more power and freedom to shape situations when things feel stuck."
By Risa Barisch
Updated November 3, 2020
Rutgers Community Arts in partnership with the Dance Department is again running this six-week synchronous course during the spring 2021 semester. This course is open to undergraduate and graduate students for 2 credits, and is available as a non-credit course to the public as well as Rutgers faculty and staff.