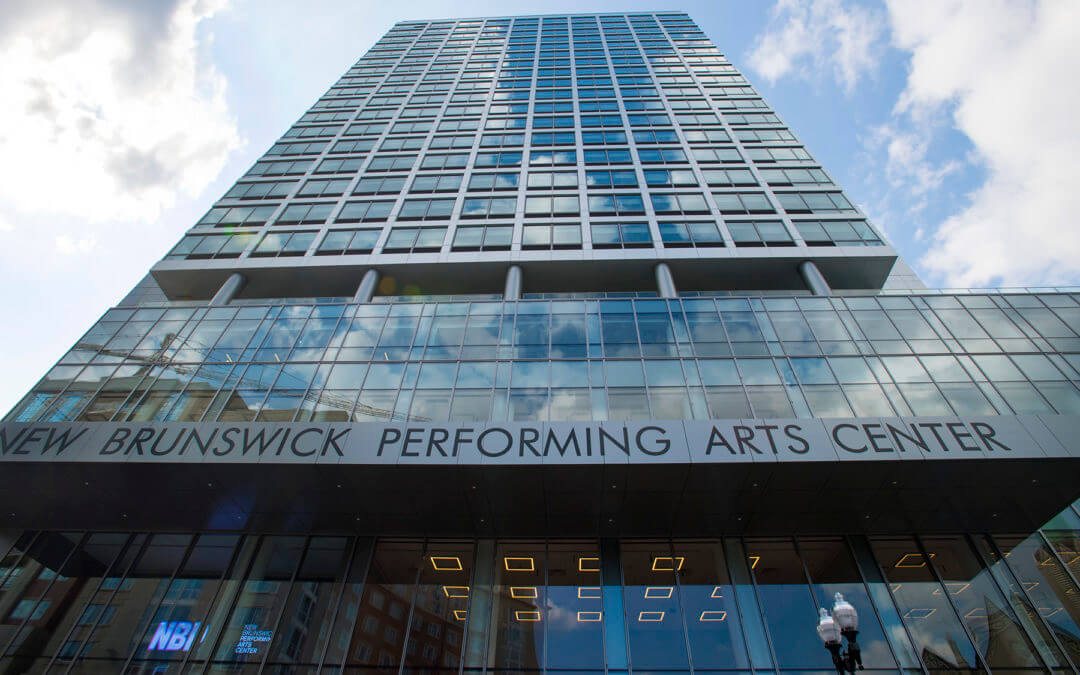 Photo Credit: Keith Muccilli
By Risa Barisch
A Downtown Debut
When the Rutgers Jazz Ensemble made its debut last fall at the New Brunswick Performing Arts Center (NBPAC) in downtown New Brunswick, the experience, says musician Saul Dautch, was "electrifying."
"You could feel the energy throughout the band," says Dautch, a graduate student who plays baritone saxophone. "It was an incredible opportunity to be able to play on stage [there]. NBPAC is a quality venue with style and character."
With its sleek interior dressed up in blues and purples and trimmed in stainless steel, the $172 million project, of which Rutgers is a 28% owner, is indeed a modern and stylish addition to the Hub City's downtown arts and cultural district.
The two performance spaces within the venue provide expanded space for student and school events: a 463-seat theater to accommodate musical theater, orchestral, dance, opera, and theatrical productions, and a smaller 252-seat theater for film screenings, lectures, master classes, and intimate dance and theater performances.
The state-of-the-art facility offers the kind of perks that musician Ashley Miley had hoped for as a first-year graduate student.
"I was looking for a school that provided me greater opportunities to build my career while helping me see myself as a professional as I polish my craft," says Miley, an oboe student who performed with Rutgers Symphony Orchestra in their debut at NBPAC last September. "Having access to various performance spaces is one of the ways that Mason Gross provides its students with a professional-like experience."
Space to Showcase
The Jazz Ensemble and Rutgers Symphony Orchestra performances were two of six events presented by Mason Gross at NBPAC during the fall semester, which included dance and theater performances and several film screenings. (The spring semester lineup included a music event and several film screenings and festivals, which were all canceled as the university shut down in mid-March over COVID-19 concerns.)
NBPAC opened its doors just 23 months after an October 4, 2017, groundbreaking ceremony on the site where the George Street Playhouse and the Tony-winning Crossroads Theatre Company, both founded in the 1970s by Rutgers grads, had stood on Livingston Avenue.
The new building was unveiled at a gala event on September 4, 2019, that featured Mason Gross dance students and alumni performing Heaven on One's Head, a work by faculty member and acclaimed choreographer Pam Tanowitz, along with performances by NBPAC member companies American Repertory Ballet, George Street Playhouse, and Crossroads Theatre Company.
Aside from the extra performance and rehearsal space, NBPAC opens doors for student-artists to work with professionals and showcase their craft in the heart of the city, says Gerry Beegan, interim dean for Mason Gross.
"This partnership is an extension of our commitment to nurturing the arts in New Brunswick," Beegan said in Rutgers Today. "NBPAC presents an opportunity for us to bring a slate of enjoyable and thought-provoking performances and films to a wider audience. We expect that this will provoke dynamic creative exchanges between our theater artists, musicians, dancers, and production designers and a range of new collaborators."
Reaching Out
For Timothy Bright BFA '20, who performed in Rutgers Theater Company's Sense and Sensibility in October, it was a "delight" to help fulfill the school's mission to broaden its outreach in Central New Jersey, he says.
"While we were on stage, we could recognize that there were many members of our audience who [weren't] 'Theater Appreciation' students or even our own family and friends, but were, in fact, members of the New Brunswick community," Bright says. "To get to share such a lively and joyful story with them was a kind of gift that many students don't often get to have in their time at school."
Miley, too, is enthusiastic about varied performance opportunities available to her while she earns her degree.
"I'm excited to think about the other kinds of ways that NBPAC will become a bridge between the community and Mason Gross," says Miley, who adds that's she's poised to join with fellow student-artists to "build the art scene in New Brunswick."
For Bright, performing at NBPAC during his last semester was a highlight of his undergraduate career.
"It was an opportunity to be a part of something completely new and have the support of the school's community, being that NBPAC is so intertwined with New Brunswick," Bright says. "Any arts student would be extremely privileged to get to have an experience like this."
View images from Mason Gross's first season at NBPAC below.