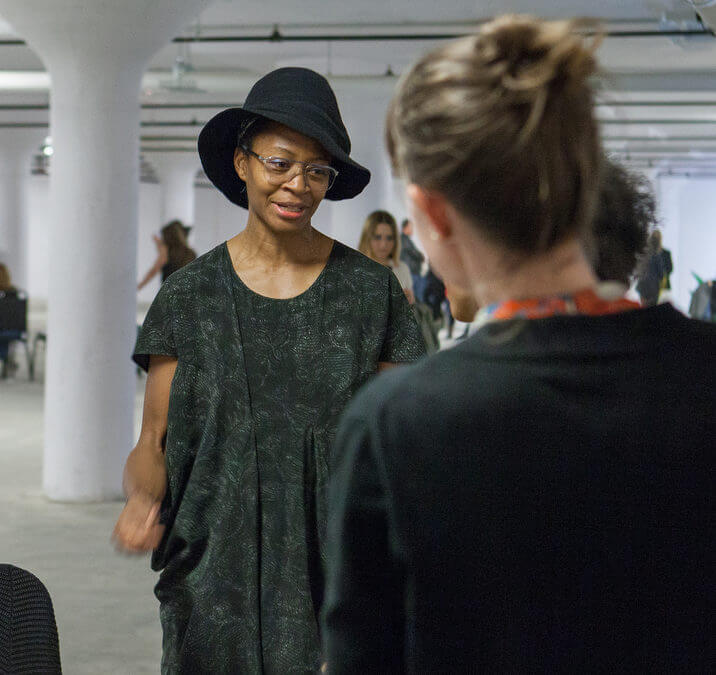 Opening of Kara Walker presents "The Colossus of Rutgers" at the Brooklyn Army Terminal. May 11, – May 25, 2019. Keith Muccilli Photography, LLC
As a culmination of her four-year tenure as the Tepper Chair in Visual Arts with the Department of Art & Design at Mason Gross School of the Arts at Rutgers University, Kara Walker presents an exhibition of works by current MFA students and recent Rutgers alums who have embarked on an investigative journey with her around themes of Memory, Memorials, and Monuments (MMM). The Colossus of Rutgers show, featuring more than 25 works in a variety of media spread out over 72,000 square feet, runs May 11–25, 2019, at Brooklyn Army Terminal and is part of NYC X Design 2019.
Reflecting on the experience of working alongside Walker, Graduate Program Coordinator Daonne Huff notes: "These last three years have been about unpacking, what is a monument, how do you memorialize a person, place, or thing, and then how do you remember it? For this culmination, to have a full floor, two football fields, the space itself becomes a monument, and it's our challenge to see how much space we can fill—or not."
The MMM research has brought Walker and the Rutgers artists to Atlanta, Georgia; New Orleans, Louisiana; and, most recently, to sites around their home base of New Jersey. Jersey-native Robert Smithson acted as the group's spirit guide this year: The artist's trenchant 1967 photo-essay, "A Tour of the Monuments of Passaic, New Jersey," served as a guidebook for how the students might begin to engage with their own surroundings. Throughout this academic year, each member of the 2019 MMM Cohort fanned out across New Jersey and surrounding environs, presenting to the group their encounters with what some might view as unlikely monuments—roadside markers, parking lots, suburban tract houses. Walker elaborates, "I asked the 2019 cohort to embody this task…and to (dis)locate the monuments and memorials already peppering our immediate landscape; some small and forgotten, others enormous, and begin to navigate one's own personal and perhaps hubristic connections with place, landscape, history, memory, and form. To begin to try to link up our experience and our art with the colussus of our particular moment in time."
Cassandra Oliveras-Moreno, Communications and Collaboration Administrator in the Department of Art & Design, adds: "What I've witness is Kara Walker not only pushing herself during her time here, but she's pushed her students to consider what monumentality means. She's coaxed them to probe deep into their own sense of memory and history and context, and, at the same time, to step out of themselves—and she's physically transported them to these sites to do that."
The opportunity to delve into such timely themes of Memory, Memorials, and Monuments in recent years (the group visited New Orleans right around the time several Confederate monuments were removed) with an artist known for grappling with issues such as race and violence in a series of monumental works, shaped the work of many Rutgers MFA artists, past and present. First-year graduate student Jonathan Santoro says: "Working with Kara Walker throughout the year was insightful in considering the intersection between cultural memory and historical horror." Several artists mention that they continue to integrate these concepts into their practice years after graduation.
MFA alumna Yu Rim Chung will contribute a sculpture titled What rises must fall, referencing the role of water in New Orleans.
"My practice focuses on symbols as they construct and inform physical space," she says. "Since our trips to Atlanta and New Orleans, I've continued to think further about how that physical space shapes the bodies that move through it, and how we chronicle disaster and recovery. How does water act as life-giver and -taker in a city that has long had to contend with the question of whose bodies and whose suffering matter? The title, of course, can also refer to the taking down of monuments, as New Orleans did with its Confederate statues."
The Colossus of Rutgers is meant to serve as a large-scale reflection on Kara Walker's encouraging and nimble nudges to explore vast environments and the residues of history that each one holds.
Click here for more information on the exhibit.