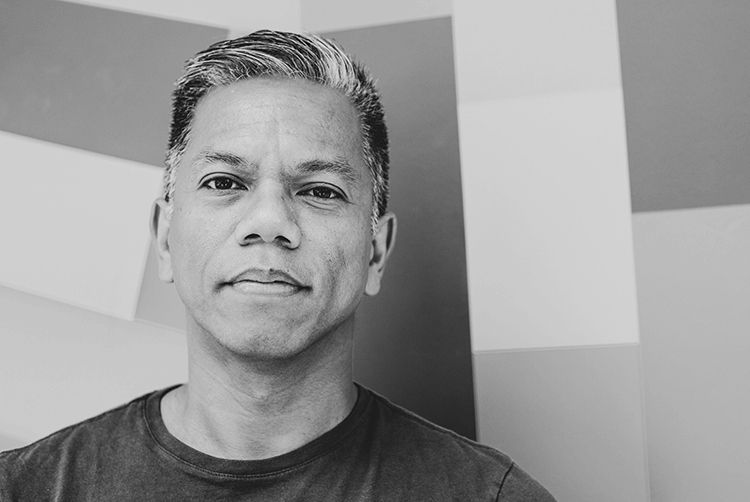 Photo credit: Katherine Helen Fisher
Bessie Award-winning dance artist Gerald Casel has been named professor and chair of the Mason Gross School's Dance Department.
Casel comes to Rutgers from the University of California, Santa Cruz, where he currently serves as provost of Porter College, associate professor of theater arts, and director of graduate studies.
For more than two decades, Casel has served as the executive artistic director of GERALDCASELDANCE, a Bay Area company centered on racial equity. GERALDCASELDANCE has been presented by Maggie Allesee National Center for Choreography, National Center for Choreography Akron, Kuan Du Arts Festival, ODC Theater, Yerba Buena Center for the Arts, Danspace Project at St. Mark's Church, Movement Research at Judson Church, and Jacob's Pillow (Inside/Out), among others.
Casel says he is eager to collaborate with Mason Gross students, faculty, and staff especially now, as various institutions undergo a period of self-reflection and attempt to nurture communities that embody inclusivity.
"At this unique moment, we have an opportunity to reimagine systems and ways we operationalize equity so that our students, faculty, and staff have a felt sense of deep belonging," Casel says.
Grappling with issues of equity is nothing new to Casel, who has long committed himself to this work in the classroom, onstage, and out in the wider community: His research interests include somatic-based movement practices, critical dance and race studies, and U.S. post/modern dance. In 2018, he initiated and facilitated a yearlong community-engagement residency in the Bay Area known as Dancing Around Race, which involved engaging people in frank conversations about race and the dynamics of equity in the dance world. Casel's company regularly delves into questions around colonialism, collective cultural amnesia, whiteness, privilege, and implicit and explicit power structures.
In addition, Casel says he's eager to deepen the department's ties to the vibrant dance community in New York City and beyond.
"I am excited to see how we can integrate our students within established networks of creative practice, critical dance research, and emerging technologies through performance," says Casel, who served as principal dancer of the Stephen Petronio Company from 1991 to 2004 and has performed with the Lar Lubovitch Dance Company, the Metropolitan Opera Ballet, and the Zvi Gotheiner Dance Company, among others. He holds a BFA degree from The Juilliard School and an MFA degree from the University of Wisconsin–Milwaukee.
Mason Gross School dean Jason Geary says he expects that Casel will bring crucial on- and off-stage experience to enrich the department, whose alumni include the Bessie Award-winning Kyle Marshall and the Drama Desk Award-winning Stephanie Klemons, original dance captain of the Tony-winning Broadway musical Hamilton.
"Gerald's distinguished career as a dancer and choreographer, his extensive administrative experience, and his proven commitment to fostering inclusivity in the field will be vital in helping the program attain ever higher levels of excellence and visibility," Geary says.