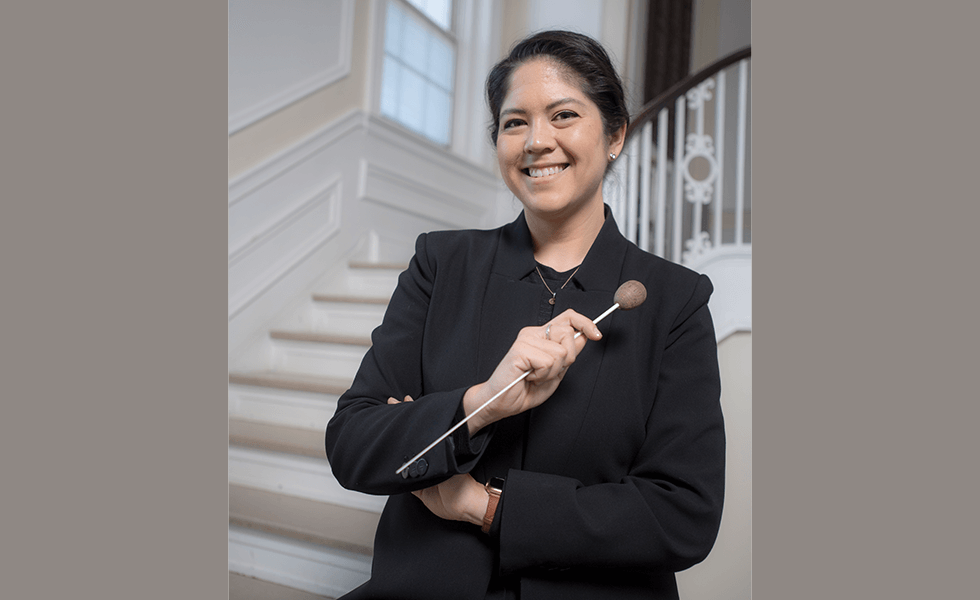 Last July, Julia Baumanis, assistant director of bands and director of pep bands, became the first woman band director at Rutgers University in the school's 255-year history. According to her research on programs accredited by the National Association of Schools of Music, male collegiate band conductors outnumber their female counterparts 9 to 1.
Of that narrow margin, women conductors of color are even more rare, said Baumanis, which makes the first-generation Filipina-American a "bit of a unicorn" among her peers.
But from her platform at Mason Gross School of the Arts – where she serves as the assistant director of the Marching Scarlet Knights, conducts concert ensembles and teaches courses in instrumental music – Baumanis is actively working to level the playing field for those who follow her.
"The goal is for there to be so many of us that we no longer talk about firsts anymore. A lot of it is because we don't have someone who looks like us in this role. If there is no rubric for what is going to be on the test, then how do we study for it?" said Baumanis, who also mentors women students and conductors and serves as design editor of The Woman Conductor for Women Band Directors International.
Baumanis is just as comfortable conducting the Rutgers Symphony Band on classical arrangements in the formal Nicholas Music Center as she is leading the Pep Band through chants and modern medleys from the raucous student section at Jersey Mike's Arena – with Rutgers men's basketball up by only one point on Senior Day.
"I've had some experience doing this before, but it was no way at all like Jersey Mike's Arena. It's so boisterous and loud," she said, noting all those "R-U!" chants and heckles originate with the Pep Band. "It is the most fun thing to do because I see how incredibly spirited my students are. They will do this whether we are the worst team in the world or the best team in the world."
Read the full story on Rutgers Today and watch a video of Baumanis in action leading the Pep Band at Jersey Mike's Arena.