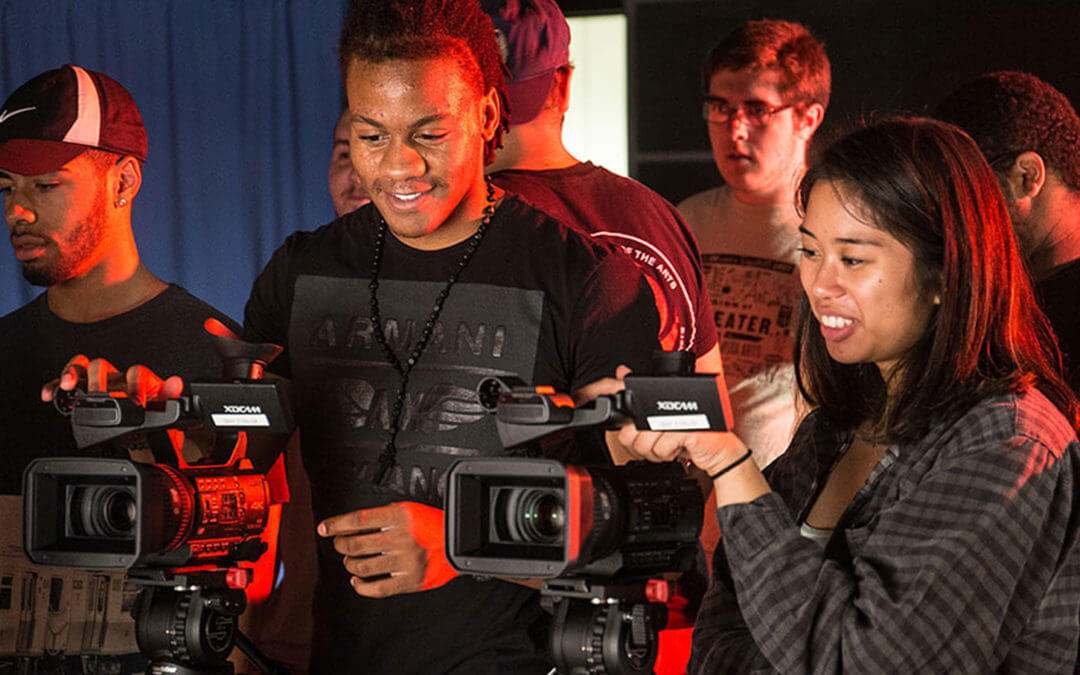 Robert Rackmil chose to study filmmaking because "it seems like the most direct and interesting way to study human life," he says. "I like being able to then relay what I find in an emotional way to an audience."
Rackmil is a second-year BFA major at the Rutgers Filmmaking Center, which this fall continues its growth as the home of the interdisciplinary film production program at Mason Gross School of the Arts. On the agenda: a change in leadership, a focus on industry experience for students, and expanded opportunities for students to show their work.
Faculty member Patrick Stettner has seen the film program evolve from a certificate program to a full-fledged degree, a 121-credit BFA major that trains students in the many facets of filmmaking: research and treatments, cinematography, lighting, field production, directing, script writing and story boarding, editing, and postproduction. The program will graduate its first class of BFA majors in the spring.
Stettner has been named the new director of the Rutgers Filmmaking Center, succeeding Nicolás Pereda, a 2018 Guggenheim Fellow who returns to the Mason Gross faculty. The filmmaking BFA has become increasingly competitive since its introduction in 2015, with an application pool that grows about 30% each year. But one thing that hasn't changed is the program's equal emphasis on fiction and documentary filmmaking as well as collaborative projects with Rutgers artists, researchers, and scientists.
"We're continuing the vision we've always had, to help students discover their unique creative voice as filmmakers," says Stettner. "One of the things that distinguishes us from other filmmaking programs is that we don't silo our students—we want them to do every aspect of filmmaking."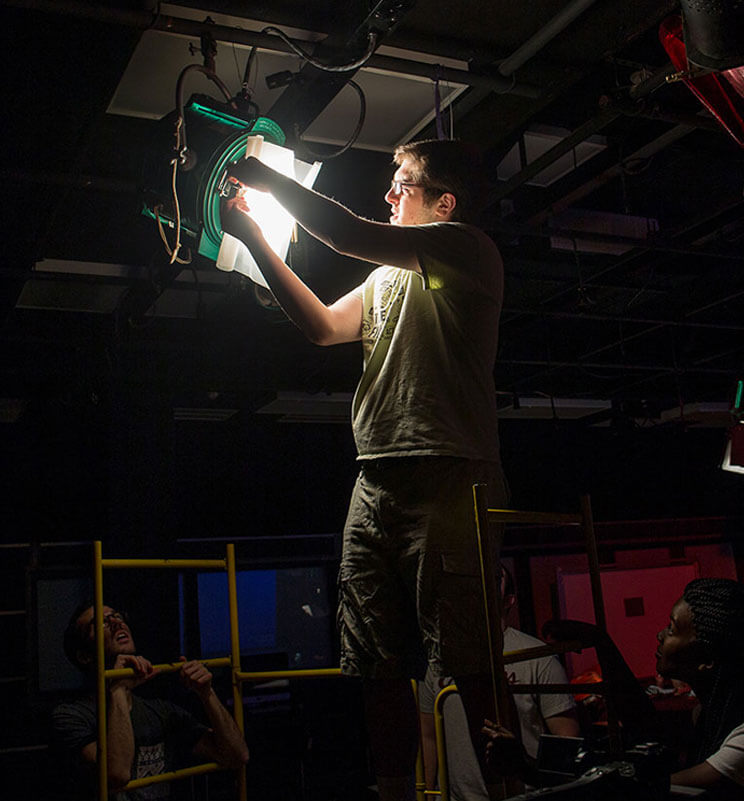 Reaching Out
Students have opportunities to gain professional experience and production credits through the center's Documentary Film Lab, which has produced research-based films in locations including Thailand, Mexico, and Antarctica.
Thomas Lennon, an Academy Award-winning documentary filmmaker, joins the lab as its head this fall, bringing commitment to Rutgers-based productions and "a lot of energy" to the film program, says Stettner, who adds that Lennon has already reached out to potential university collaborators in search of grants and projects.
Lennon takes over for faculty member Danielle Lessovitz, who last spring offered a "larger-than-life" project, says Rackmil, with an independent study class through the bureau.
Lessovitz's script for Port Authority, a feature-length film then in an early draft stage, provided the framework of an exercise in the fundamentals of directing. The film was subsequently picked up by Martin Scoresese's Sikelia Productions and is being produced this fall.
In the independent study, students analyzed scenes and then had the opportunity to try their hand at directing, using classmates as actors. The experience provided an inside look at the preparatory work required by a director before shooting begins.
"I was surprised at the range of interpretations we each had from scene to scene," Rackmil says. "This exercise taught me a lot about the role of the director, and the kind of invisible agency they exert between script and filming. Not to mention, working with a script that was about to be produced was exciting."
The class opened the door to a fall internship on Port Authority for Rackmil and classmate Finley King, among other students, to learn even more about how production works on a narrative feature.
"We don't silo our students—we want them to do every aspect of filmmaking." – Rutgers Filmmaking Center Director, Patrick Stettner
"Growing up in a small town in New Jersey, I never had the opportunity to be on the set of a feature film," says King. "With this internship, I'm working in New York City—without Rutgers, I would've never had this amazing opportunity."
Other internships this year include The Rachael Ray Show, Saturday Night Live, Panasonic, NBC, and at the Academy of Motion Picture Arts and Sciences in Los Angeles, where junior Kirsten Pasewaldt spent the summer assisting in the preparation of events and screenings.
Pasewaldt also participated in the Academy Gold Internship Enhancement program, an eight-week educational initiative that offers panels, hands-on technical production workshops, access to membership screenings, and networking opportunities.
Experiences like these are invaluable to a filmmaker just starting out, when making connections can be imperative to success after graduation.
"In the film industry, it is all about who you know," Pasewaldt says. "By getting this internship, I have made connections with industry professionals who would normally be completely untouchable. I now have a better chance at making sure my résumé gets seen wherever it is I apply to next."
Screen time
Connecting students to national film festivals is another way to get industry exposure—and to achieve national recognition for the film program, says Stettner.
The challenge is to match "the right kinds of films with the right kinds of festivals," Stettner says, so the Rutgers Filmmaking Center created an initiative to help students navigate the submission process. Faculty members, all of whom are working filmmakers, have been guiding the winners of last spring's New Lens Film Festival, an annual on-campus showcase of student work, to submit their pieces across the country.
The center also continues to add to its cutting-edge facilities, which includes a film studio, by increasing its collection of professional-grade equipment. Recent purchases include both sound-mixing and color-timing stations, and digital cameras with the capability to shoot in 4.6k cinematic-quality resolution.
These upgrades contribute to the quality of films—and filmmakers—getting better every year, Stettner says.
"They're taking risks and challenging themselves, and within that we're seeing a broad range of films," says Stettner. "We're really proud of where the students are going."