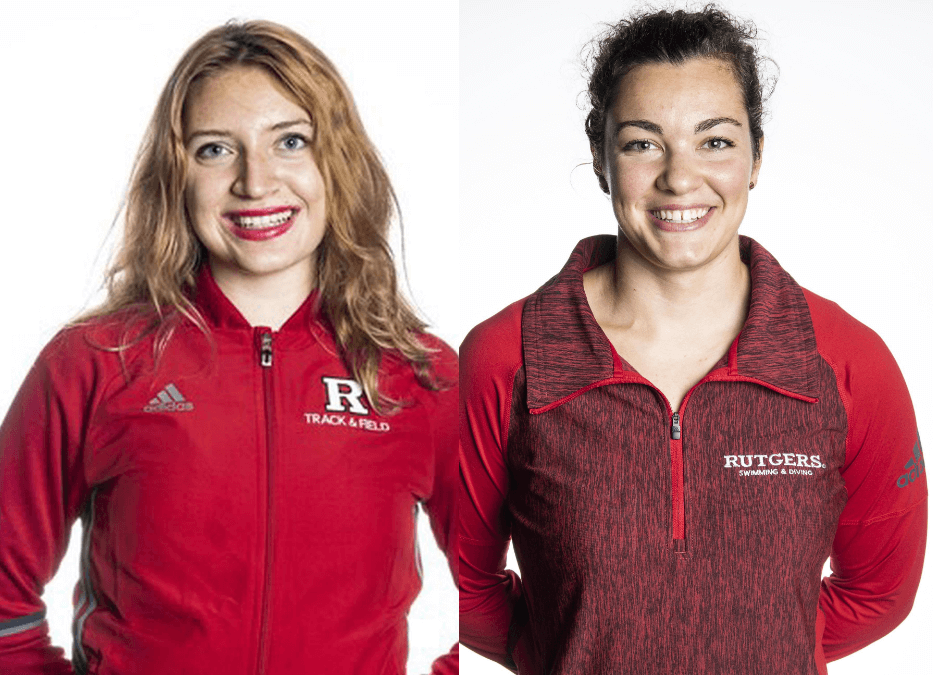 "A lot of inspiration should come outside of the studio. I think being in one space is not healthy at all for art. That's why I'm always thankful to have running, because it helps me so much." – Martin (left)
"Not having a lot of time is actually better. I work a lot better under pressure and when I'm running out of time." – Stoppa (right)
Check out the latest episode of Work of Art: The Mason Gross Podcast. Every other Tuesday, we'll speak with Mason Gross student, faculty, and guest artists, discussing what fuels their curiosity, their passion, and their impulse to make. This week, we sat down with art & design students and athletes Olympia Martin and Francesca Stoppa. Both were named Big Ten Distinguished Scholars for the 2018-19 school year.
Olympia Martin, Painting and Cross-Country
Painter Olympia Martin of Ridgewood, New Jersey, is a member of the Rutgers Cross-Country team. In July, the Big Ten Conference recognized her as a 2018-19 Distinguished Scholar.
"Olympia's work stood out immediately by an acute and expressive sense of energy," says Marc Handelman, one of her painting professors. "Fresh, gestural, and calligraphic, her largely figurative works merged the sensibilities of drawing and painting floating bold-sketched bodies over high-octane fields of Pop-like color. I recognized immediately how deeply these works were embedded in a rich history of negotiating abstraction and the figure. Formally astute, and yet raw in their execution, Olympia's enigmatic paintings, which can feel like our experience of memory, often walk a tight rope between fleeting apprehension, and bold graphic propositions."
Francesca Stoppa, Design and Swimming
Francesca Stoppa is fast—very fast, but she's also thoughtful.
Stoppa, from Trento, Italy, is a standout athlete and star student. As a swimmer, she holds the school record in the 100 and 200 Butterfly and the 200 and 400 Medley Relay; before arriving at Rutgers, she was ranked third in Italy in the 200 LCM fly. Stoppa's proudest achievement in the pool is her bronze medal in Februrary at the Big Ten Conference Swimming and Diving Championships in Bloomington, Indiana. Earlier this year, the Design undergrad was recognized for the third time by the Big Ten Conference as a 2018-19 Distinguished Scholar for maintaining a perfect 4.0 grade-point average during the previous academic term.
"She has a lot of technical skill as well as a thoughtful, strategic approach," says one of her professors, Jacqueline Thaw. "From early on, Fran's work was grounded in structure and showed a deep understanding of something central to design practice: how self-imposed limitations can open the door for creative expression."