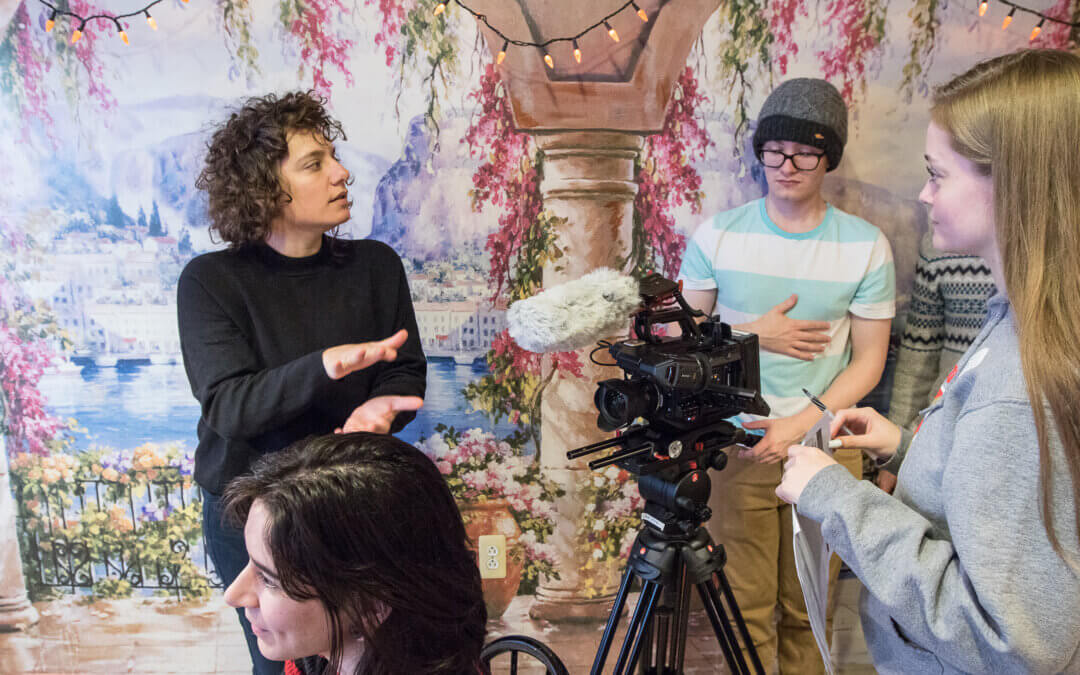 Photo: Danielle Lessovitz with filmmaking students during Fall 2018 semester. Keith Muccilli Photography, LLC.
"It's just a process of wanting to connect and finding that in films and in stories we can sometimes talk about ourselves and our lives and our experiences in a coded way that allows for us to connect with the experiences of others and for others to connect with us." – Danielle Lessovitz
Check out the latest episode of Work of Art: The Mason Gross Podcast. Every other Tuesday, we'll speak with Mason Gross student, faculty, and guest artists, discussing what fuels their curiosity, their passion, and their impulse to make. This week, we sat down with Filmmaking faculty member Danielle Lessovitz. Lessovitz premiered her film Port Authority at the 2019 Cannes Film Festival.
Danielle Lessovitz is a San Francisco-born writer/director in film and advertising. She is based in New York City and works internationally in countries such as Italy, Ecuador, Brazil, and China. Trained in documentary film at Northwestern's prestigious Annenberg School of Communications she discovered a passion in screenwriting and directing through her documentary work. She is a recipient of the Ben Wasserman fellowship for her studies in the graduate film program at NYU's Tisch School of the Arts and is MacDowell Fellow. Learn more about Danielle Lessovitz