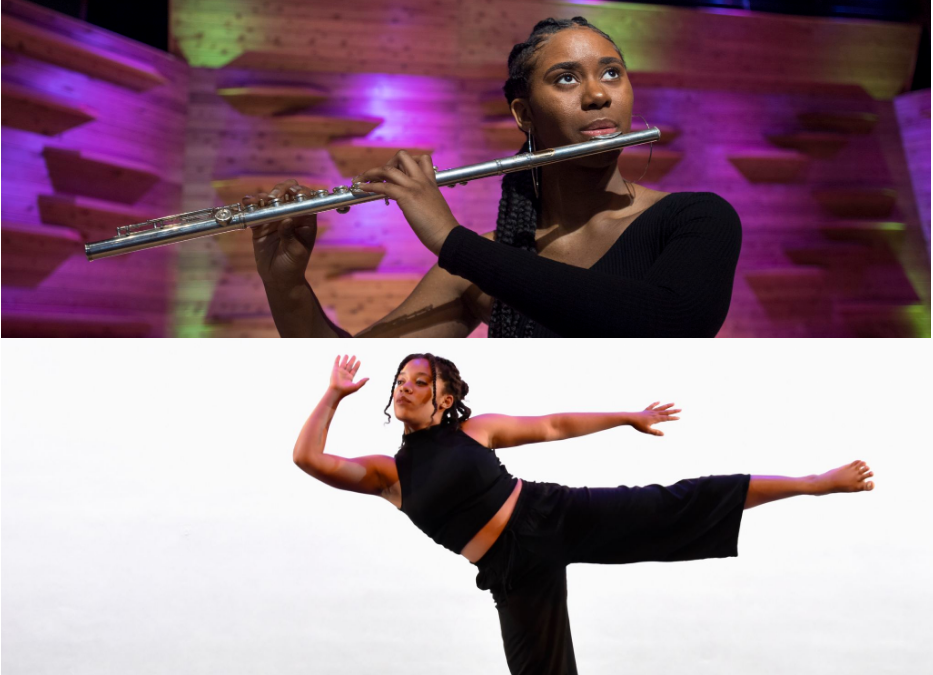 "For years, being an artist and seeing the number of people who look like me diminish, it was always trying to find where I fit in. I realized over time that what made me unique was the fact that I fit 'out.' I looked different than everyone else, and that was OK. I want to encourage more people not to try to find a way to fit in". – Sana Colter (top)
Check out the latest episode of Work of Art: The Mason Gross Podcast. In each episode, we speak with Mason Gross students, faculty, and guest artists, discussing what fuels their curiosity, their passion, and their impulse to make. This week, we sat down with music student Sana Colter and dance student Ariana Speight.
When dancer Ariana Speight and flute performance major Sana Colter met as Douglass Residential College students, they connected right away. That rich friendship eventually yielded C.R.E.A.T.E., Cultural Rhythm Expressing Art To Empower. The student group aims to integrate various art forms at Rutgers University—dance, music, theater, film, visual arts, and music technology—and to more adequately acknowledge Black and Latinx artistic influences.
Note: This podcast was recorded in advance of the university's directive to cancel in-person instruction and events through the end of the spring 2020 semester.