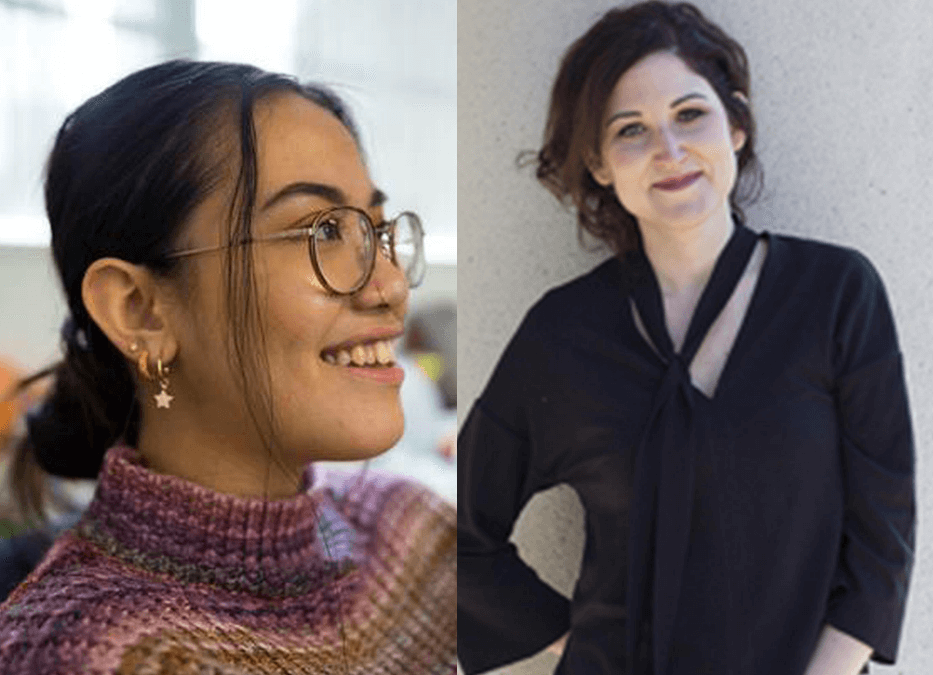 "Windows of Understanding are the difficult conversations, the concessions being made, the awareness of certain things we didn't know before—those are Windows of Understanding." – Cassandra Oliveras-Moreno (right)
Check out the latest episode of Work of Art: The Mason Gross Podcast. In each episode, we speak with Mason Gross students, faculty, and guest artists, discussing what fuels their curiosity, their passion, and their impulse to make. This week, we sat down with founder and Art & Design administrator Cassandra Oliveras-Moreno and Art & Design student Krishna Schroth about the annual Windows of Understanding public art project. Eleven Rutgers students and alumni are among the artists exhibiting work in window displays in New Brunswick and Highland Park, championing social justice issues, including food insecurity; immigration; LGBTQA+ issues; mass incarceration and human trafficking; mental health; and violence.
Krishna Schroth is an undergraduate artist passionate about bringing people together in the face of adversity and institutional transgressions. Born and raised in Pequannock, NJ, she was an avid member of her high school art programs, and sought to pursue a career in art. Now completing her final year in the Mason Gross Fine Art program, she strives to continue her freelance practices while also contributing and being a part of more public art projects.
"It was heartbreaking to hear all the stories about students coming in and asking for food [at the Rutgers Student Food Pantry]… [Food insecurity] is not distant to us. It's the person sitting next to us." – BFA art student Krishna Schroth (left)
Learn more about the pantry, open to all students with an Rutgers ID, at ruoffcampus.rutgers.edu/food, or call 848-932-5500.