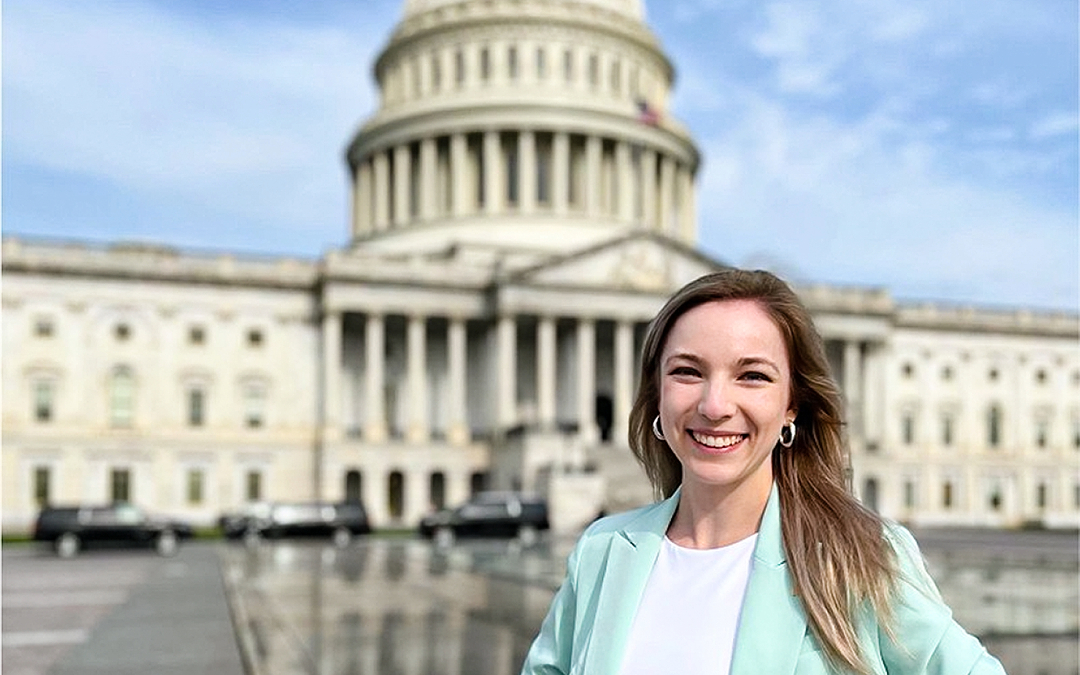 "Employers like my dance background with political science. That background showed I could multi-task and acclimate to different things."
By Debbie Meyers
Keeping on your toes; remaining flexible; learning to pivot; landing on your feet, with grace.
Megan Amen has translated the skills she mastered as a dancer at Mason Gross, and the knowledge she gained from her Rutgers political science classes, into a job as a congressional staffer for Rep. Joe Wilson (R-SC). Amen recently was promoted to the position of executive assistant and legislative aide.
"My friends here ask, 'Why dance?' " she says. " 'What does that give you?' And I say, it makes me think in a different way. For example, problem solving: In dance, you would be in the most awkward positions on the floor. How do you get out of this twisted pretzel? You'd have to think of multiple ways. Spatial awareness: I definitely have it."
For Amen (BFA'20), dance first converged with political science during her high school years in Goodyear, Arizona. While participating in dance competitions, she also took an AP American Government class, sparking her interest in politics. After high school, eager to travel to the East Coast, she began her college career at Rutgers, majoring in dance and political science.
As a Mason Gross student, she attended a one-year program at Trinity Laban Conservatoire of Music and Dance in Greenwich, England. During Amen's free time, budget allowing, she traveled throughout Europe, to places like Austria, Scotland, France, Italy, and Ukraine.
Living abroad for her junior year is "what made me fall in love with international relations, because I had the opportunity to travel the world," she says. The world "was in my backyard. It was that easy. And dance on top of that—I had teachers from all over the world. I didn't want to leave."
While abroad, Amen suffered a concussion and then, back home, underwent hand surgery. She also pulled both hamstrings; they still give her problems. Ultimately, she gave up the idea of dance as a profession.
"I do still dance—I stretch all the time, use it as exercise, and just for my own personal fun," she says. "Growing up, I was school-dance-school-dance all the time. Now, I love dance because it's a hobby. It's not something I have to do; it's something I want to do."
After graduating from Rutgers, Amen entered a new online program to earn a master's degree in international affairs at Arizona State University, while interning at a law firm and working part time. Then a professor recommended her for the job in Washington, D.C., which involved scheduling, communications, and social media. She interviewed, and two weeks later she got the job.
Amen says her biggest fear upon arriving in D.C. was making a good impression. After all, her first day at work was also her first time meeting Rep. Wilson and his chief of staff.
"I knew I wasn't going to be perfect. But I wanted to fit in with the office atmosphere," she says. "And I got lucky, because I did."
Amen describes the initial experience as "otherworldly."
"I could walk into the Capitol whenever I want, because I have a badge," says Amen. "And I felt like that was the coolest thing at the time."
It's also hard work and long hours. During session weeks, she says, you never know when the day starts and when the day ends.
As a result, Amen says, on the weekends, she makes sure to unplug.
But she remains ambitious to climb the D.C. ladder. For her next move, Amen is considering working with the State Department as a foreign service officer, or possibly with the Department of Defense, or the CIA or FBI.
"Employers like my dance background with political science," she says. "That background, that I've traveled abroad, that I danced for a long time—it showed I could multi-task and acclimate to different things."