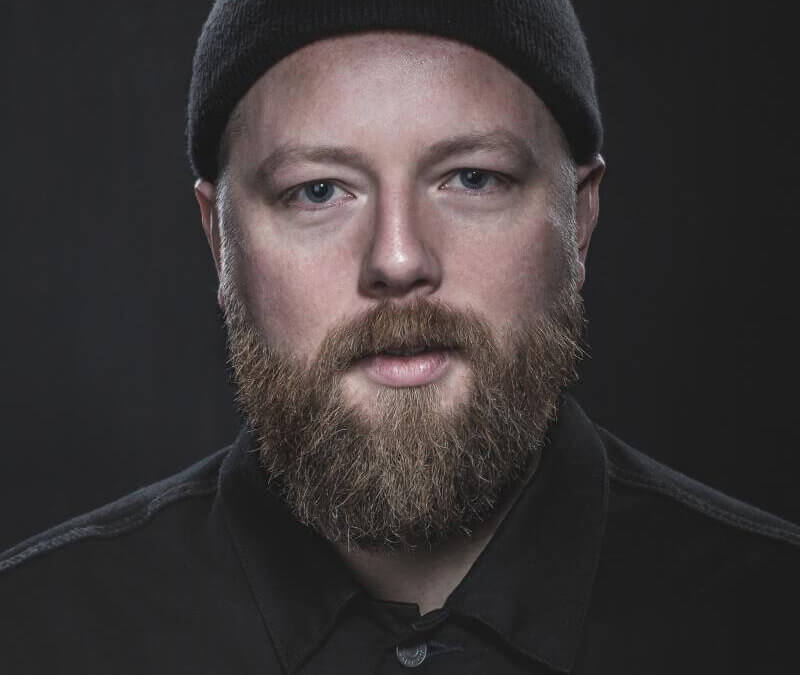 William Robinson, Photographer: Meghan Tansey Whitton
Recent MFA graduate artist Will Robinson devoted approximately three months to planning, building, and installing his sculpture, The Conversation–Brutalist Song III, on view through October 1 on Voorhees Mall as part of an outdoor MFA public sculpture show, What Use Are Flowers? Two muscular pieces set on a plinth angle toward each other as if straining to listen, projecting both monumentality and grace.
Creating the two-piece sculpture, directly inspired by a 1960 photo of a collection of bulky instrument travel cases, proved to be no small task, literally and figuratively: The Conversation weighs in at a whopping two tons and is more than 8 feet tall. In early May, a crane-operated truck transported The Conversation from Livingston Arts Building in Piscataway to the green outside Milledoler Hall on College Avenue Campus.
Robinson, a native of Canada, says he soaked up a variety of influences to make the work, most notably the blockiness and stripped-down materials emblematic of the mid-20th-century Brutalist architecture movement; the massive scale of Neolithic monuments; and even those concrete slabs known as "Jersey Barriers."
But he's also initiated a dialogue of sorts. The Conversation may convey heft, but the work also seems concerned with something more elemental, in what can't be measured: the quality of an authentic exchange, a moment of intimacy unfolding in the public square.
Here, Robinson talks about how, and why, he made The Conversation.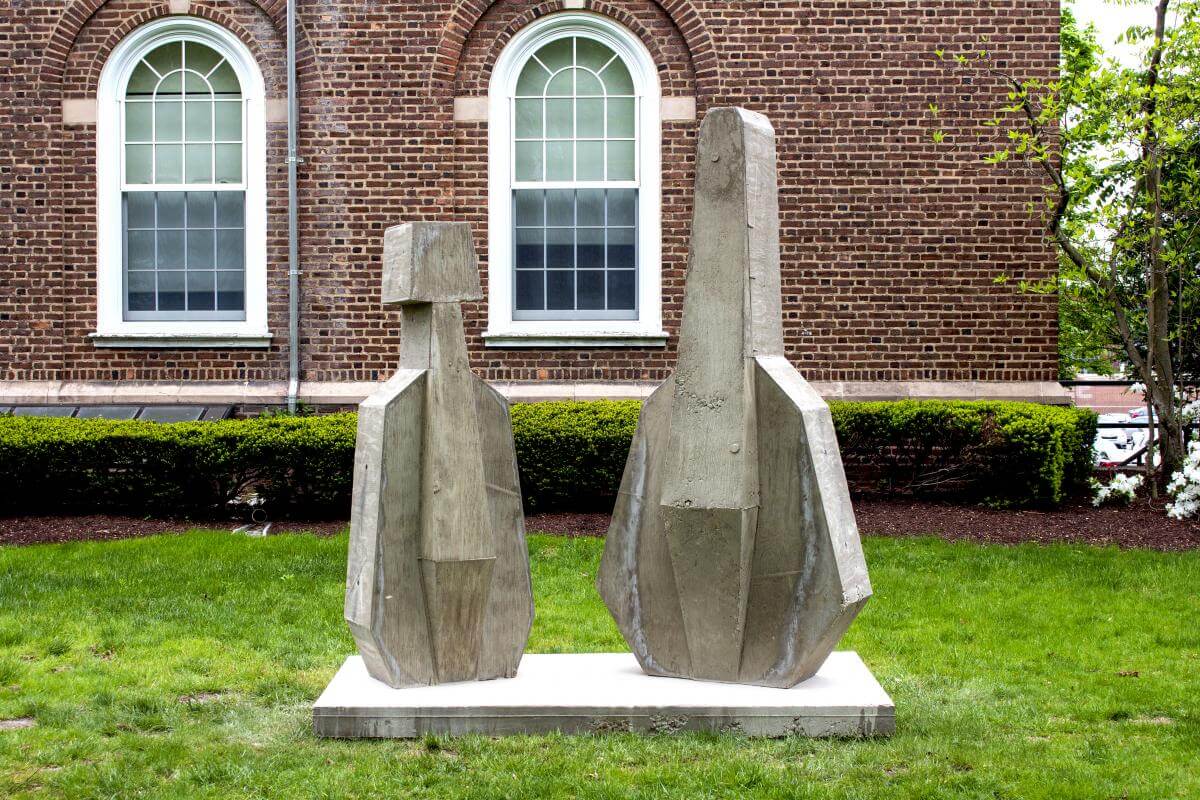 The Conversation–Brutalist Song III 2019
Concrete, plywood, Styrofoam, steel, cassette tapes (180 minutes)
Overall dimensions: 93 inches (width) by 101 inches (height) by 45 inches (depth
What inspired you to make this piece?
The idea was conceived years ago after stumbling upon a photograph entitled Igor Markevitch, Départ pour l'Amérique Paris (1960) by Italian photographer and designer Willy Rizzo. Rizzo's black-and-white photograph portrays Russian avant-garde composer Markevitch posed amongst his symphony's instrument travel cases. The various 1960-style instrument travel cases—blocky and anthropomorphic—are theatrically arranged upon a wooden stage and framed by a dark curtain. I envisioned the various instrument cases depicted in Rizzo's photo as cast concrete sculpture. Patrick Strzelec and Ohad Meromi's spring 2019 MFA graduate seminar, "Sculpture II: Site Specific," afforded me the opportunity to finally materialize an initial iteration of this sculptural idea, which resulted in The Conversation–Brutalist Song III. This piece is based on the 1960s-style cello and double bass travel cases represented in Rizzo's photo. I also consider this work to be part of a larger and ongoing body of work entitled Brutalist Songs—the general ethos of Brutalist Songs being, to paraphrase Goethe: "Architecture is frozen music, music is liquid architecture."
How did you plan it out?
I first designed the shapes of the sculptures on the computer in the software program Adobe Illustrator. From these pre-visualized computer designs, templates were printed. These printed templates aided in the construction of MDF (Medium Density Fiberboard) models of the sculptures. The MDF models were extremely helpful in determining how the final cello and double bass sculptures might be positioned together upon a unifying base.
When the models were made, I proceeded to construct two molds for the sculptures out of plywood and lumber. The dimensions for the actual sculptures and molds were also determined beforehand in Adobe Illustrator.
When the molds for the sculptures were finished, internal cavities were constructed out of plywood and Styrofoam. The internal plywood and Styrofoam cavities floated inside each of the molds and secured with Rebar and threaded steel rod. The internal cavities allow for each sculpture to be only approximately three inches thick and hollow inside, therefore reducing the amount of concrete used and lowering the overall weight of each sculpture. The molds were laid horizontal and leveled on the ground with the open back of the mold exposed to the sky.
Before pouring the concrete, an audiocassette tape was placed and secured inside each of the plywood box cavities. Concrete was poured into the molds until the internal cavities became submerged and the concrete reached the top horizontal edge. The top exposed layer of concrete was troweled smooth.
Adding the cassette tapes felt like an interesting way to extend the piece's primary function as a sculptural object, by also making it a time capsule. As a format, using cassette tapes seemed fitting to further manifest the work's relationship to capturing or distilling time's passing, sound and music, and nostalgia. I'm also interested in the idea of oral histories, ethics of secrecy, and analog audio recording formats/methods used to capture conversations/audio synonymous with Cold War-era surveillance. Only one person, one of my professors, knows what is on the tapes. They now carry the work with them in a different way, as a gatekeeper of obscure/absurd information.
What materials do you tend to work in, and why?
I often create installations that combine a variety of media and materials. This work is a commemoration of Rutgers University's rich musical and artistic academic history, as well as a nod to figures such as Jacqueline du Pré (Cellist: 1945–1987), Charles Mingus (Bassist: 1922–1979), and Lina Bo Bardi (Architect: 1914–1992). I'm interested in the history of university campuses in North America constructing Brutalist-style buildings approximately from the late 1950s to the late 1970s, due to their low cost and ease of construction and celebrity/aura from Europe.
What do you like about the fact that this show is outside?
I'm often intrigued in developing and presenting site-specific projects/works existing outside and in the public realm. It's exciting for my work to be in direct physical communication with the elements and aura of a certain public site/environment. It's gratifying to experience the piece outside in Voorhees Mall and in dialogue with my fellow classmates' ambitious sculptures, previously commissioned sculptures/monuments, the landscape, and built environment.
Click here for details about the What Use Are Flowers? exhibit.
See pictures from start to finish in the gallery below.