All programming information is subject to change.

Visiting Artist Lecture Series: Cindy Ji Hye Kim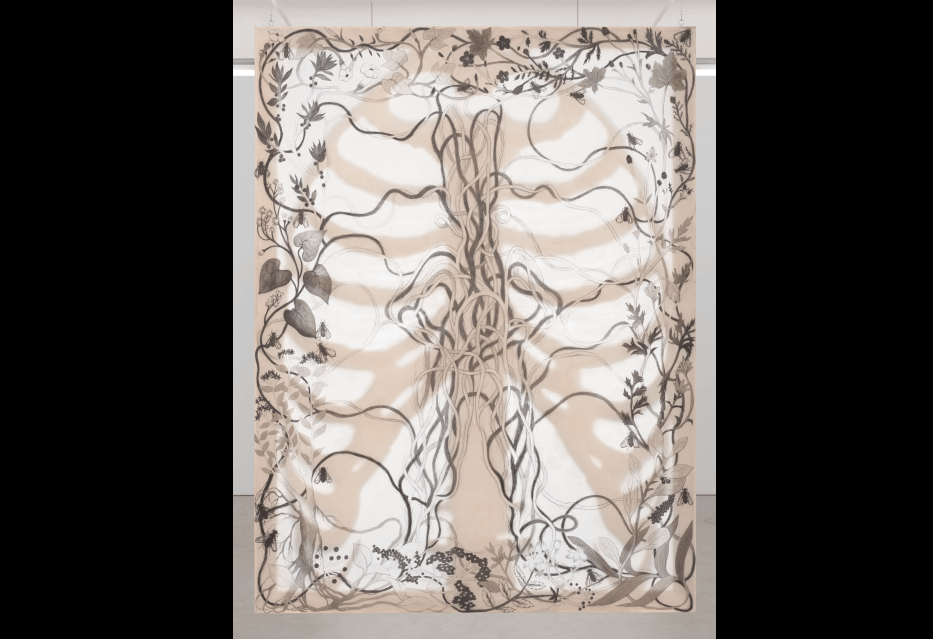 Photo by Lance Brewer
This lecture is presented as part of the Spring 2021 Visiting Artist Lecture Series. Please email art.design@mgsa.rutgers.edu for zoom link.
Cindy Ji Hye Kim utilizes a rich grayscale vocabulary in iconic representations of the body under duress. Synthesizing influences as disparate as early animation, construction scaffolding, pests and flora, medieval torture devices, and Korean folk arts, Kim's depictions of the contorted human form speak to the limits not only of the body but also of the sayable. Language acts as a powerful undercurrent in the work, illuminated in bodies twisted into the Korean hangul alphabet or school girl figures gently toeing the blank pages of an open book. Recurring characters such as a father figure wearing a wide-brimmed hat or a beehive-sporting housewife—each presented as a looming silhouette—haunt the works as menacing superegos. In her practice, which extends through drawing and painting to installation, sculpture, and animation, Kim marries a playful tangle of visual information with a foreboding sense of what lies beyond the surface, beyond the body, beyond the word itself.
Cindy Ji Hye Kim (Incheon, South Korea, 1990) lives and works in New York City. She received her B.F.A. from the Rhode Island School of Design in 2013 and her M.F.A. from the Yale University School of Art in 2016. Solo exhibitions include: "Cindy Ji Hye Kim," MIT List Visual Art Center, Cambridge, MA (2020); "Riddles of the Id," Rodolphe Janssen, Brussels (2020); "Verses from the Apocalypse," Helena Anrather and Foxy Production, New York, NY; "The Sword Without, The Famine Within," François Ghebaly, Los Angeles, CA (2019); "The Celibate Machine," Interstate Projects, Brooklyn, NY; "The Sow is Mine," Cooper Cole, Toronto, ON (2018); and "Tick," Helena Anrather, New York, NY (2017). Selected group exhibitions include: "Xenia: Crossroads in Portrait Painting," Marianne Boesky Gallery, New York, NY (2020); "Condo Shanghai," Antenna Space, Shanghai, China; "On Pause," Art Gallery of York University, Toronto, ON (2019); and "Mature Themes," Foxy Production, New York, NY (2018).