Effective October 1, event attendees will no longer be required to show proof of full vaccination or proof of a negative PCR or antigen test for entry into any Rutgers venues. Face masks will be welcomed but are no longer required. Details on this requirement are available at: https://coronavirus.rutgers.edu
Proof of vaccination is not required to attend a performance at NBPAC. Beginning August 1, 2022, face masks will be welcomed but are no longer required. Details are available at: https://nbpac.org/covid-health-safety/.
All programming information is subject to change. Fees may apply.

Mason Gross Dance Presents Kinetic Light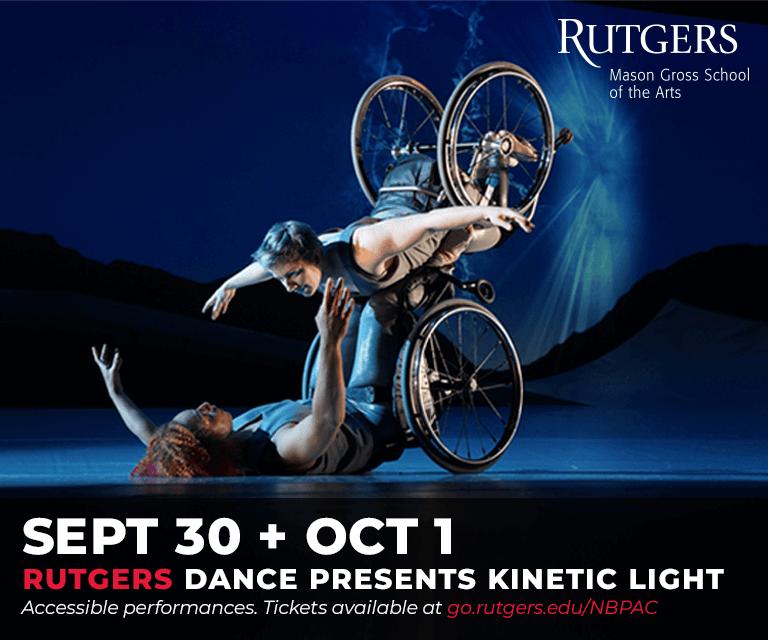 Image credit: Jay Newman/BRITT Festival. "Fetches" from DESCENT: Laurel Lawson, a white woman with short cropped teal hair, is flying through the air, with arms spread wide, wheels spinning, and supported by Alice Sheppard. Alice, a multiracial Black woman with coffee-colored skin and curly hair, is lifting from the ground below. They are making eye contact and smiling. A burst of white light appears in a dark blue sky.
Kinetic Light is an internationally recognized disability arts ensemble presenting a work titled DESCENT. Working in the disciplines of art, technology, design, and dance, Kinetic Light creates, performs, and teaches at the nexus of access, queerness, disability, dance, and race. The Kinetic Light artists and creators of DESCENT are disabled dance artists Alice Sheppard and Laurel Lawson, and disabled scenographer Michael Maag. Kinetic Light's work speaks to and emerges from disability aesthetics and disability culture. Performed on a custom-designed architectural ramp installation with hills, curves, and peaks, DESCENT explores the pleasures of wheeled movement and reckless abandon, inspired by the sensual writings and art of French sculptor Auguste Rodin to give the mythological characters of Venus and Andromeda new life as interracial lovers.
Please note: At the artists' request, masks are mandated for all Kinetic Light audience members, regardless of current State of New Jersey, Rutgers University, or NBPAC policies. This performance is accessible and is appropriate for high school age and up. Access: this performance will include accessible seating, ASL interpretation, haptic soundtrack interpretation, sensory kits, quiet space, and audio description via the Kinetic Light app Audimance. Audience members are welcome to exit and enter the theater during the show. 
Public $25 // Rutgers Alumni/Employees & Seniors $20 // Students $15. By request of the artist, all order fees have been waived for this event only. Purchase tickets for this event in a separate order from other events to assure order fees are waived. Up to two (2) free tickets per person are available for the disability community and/or those experiencing financial barriers. Contact Natalie Schultz-Kahwaty at ns1199@mgsa.rutgers.edu with access questions or to request free tickets and optional seat reservations.