Christmas in Carol and Song: A Virtual Celebration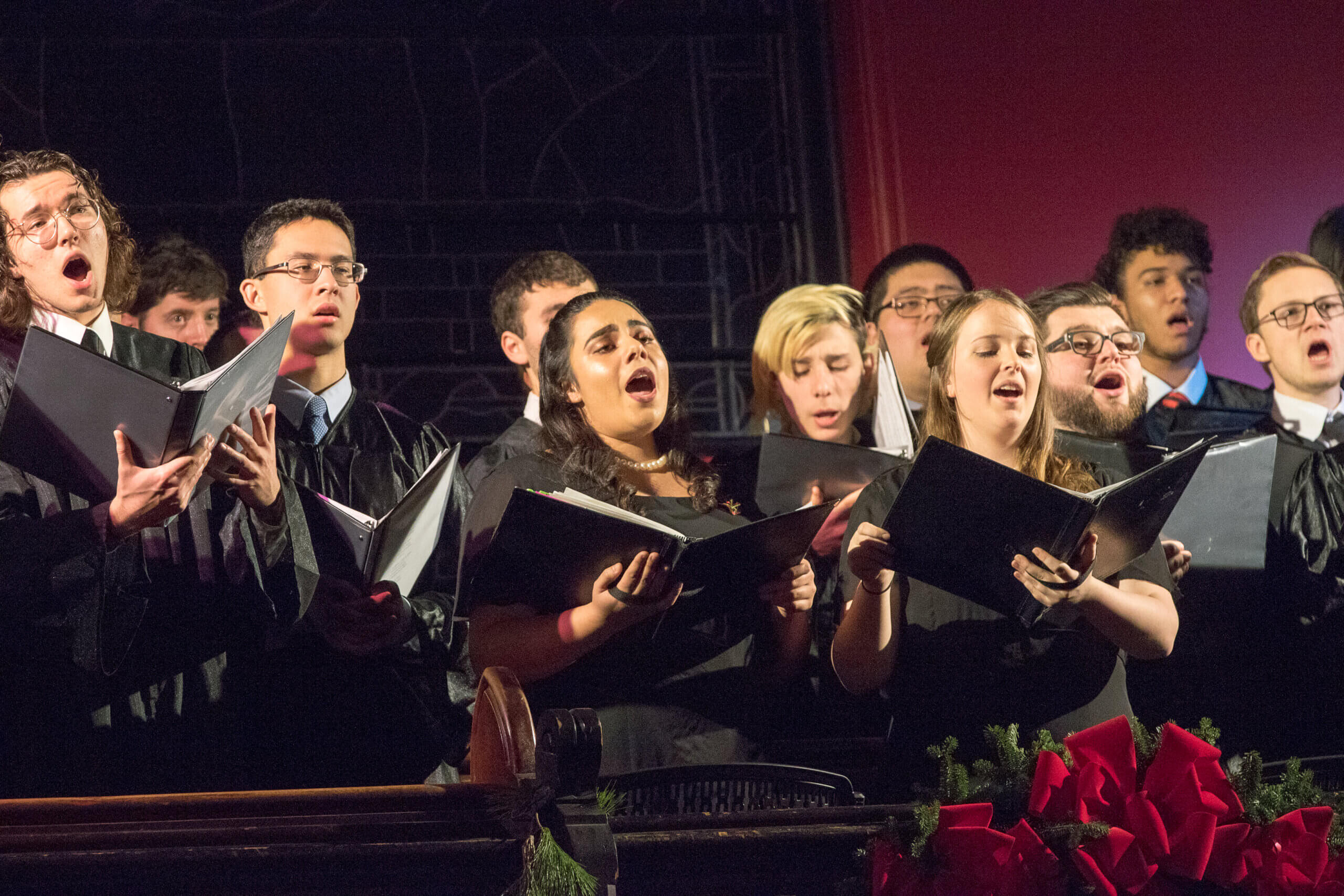 A virtual celebration featuring the Rutgers University Kirkpatrick Choir and the Rutgers University Glee Club. By combining footage of students sent in from across the country with imagery of the Kirkpatrick Chapel, the audience will be brought intimately into a space that would usually hold four sold-out crowds. Award-winning visual artist Camilla Tassi and Rutgers University graduate student Stephanie Tubiolo have created a beautiful compilation of individual concert videos alongside the process of decorating the chapel, evocations of the traditional processions, and footage of the chapel itself.
The program includes traditional performances of works from Es ist ein Ros Entsprungen to King David and Silent Night, all rehearsed in online classes during this purely remote semester. Other beautiful concert works from John Tavener, Cecilia McDowall, Will Todd, and others will bring seasonal cheer to these challenging times. Rutgers President Jonathan Holloway will address the audience briefly, and yes, the thunderous ending from the Honegger "King David" will hold its place–newly recorded by the 2020 students of the Rutgers University Kirkpatrick Choir and Glee Club.
Note: This event will be hosted on Facebook and YouTube. An account is not needed to view the event.
Personnel
Rutgers University Kirkpatrick Choir
Rutgers University Glee Club
Dr. Patrick Gardner, Director
Dr. Justin Bischof, Guest Organist
Stephanie Tubiolo, Video Production
Camilla Tassi, Video Production
Cameron Bowman, Chapel filming and additional footage
Thomas Young and Patrick Gardner, Storyboarding
Patrick Gardner, Audio editing
Sam Ward, Audio Post-production
Credits
AVE MARIA
Ancient Liturgical Text, Music by Franz Biebl
© Copyright 1964 Hinshaw Music Inc. (administered worldwide by Fred Bock Music Company, Inc.)
All rights reserved. Used with Permission.
'My Lord Has Come' words and music by Will Todd © Oxford University Press 2011. Licensed by Oxford University Press. All rights reserved.