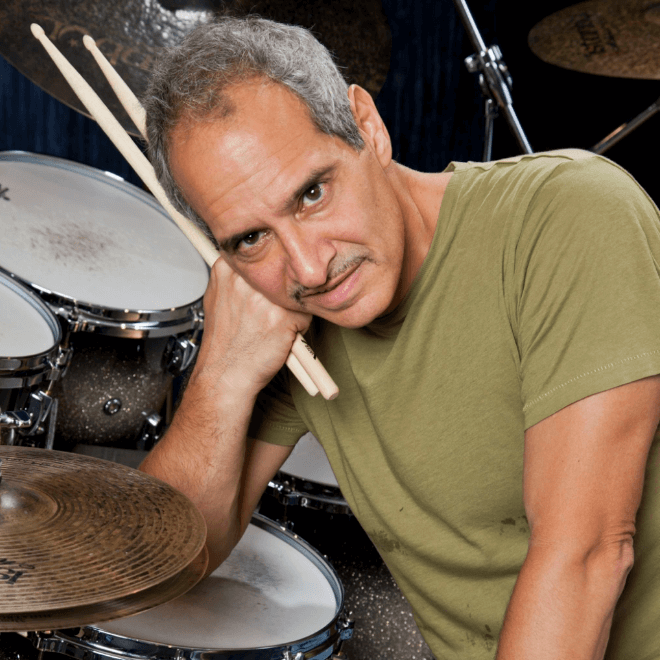 Lecturer, Percussion
Jazz Studies, Ensembles
Music
Biography
Grammy® Award-winning drummer Robby Ameen has compiled a recording career stretching from Dizzy Gillespie to Paul Simon. Although he is Lebanese, Ameen is best known for the Afro-Cuban jazz style that he has developed. Ameen has recorded with flutist Dave Valentin and jazz musician Rubén Blades. Ameen has toured and recorded extensively with Jack Bruce's Cuicoland Express band, and is also a longtime member of Conrad Herwig's Grammy®-nominated Latin Side of… band.
Ameen is an active clinician, performing at drum festivals including Modern Drummer Day, PAS, the Montreal DrumFest, FrankfurtMesse, and NAMM. Some of his various TV appearances include The Tonight Show, 60 Minutes, Amnesty International Concerts, Cinemax's A Latino Special: feat. Jerry Garcia, The Return of Ruben Blades film, Good Morning America, PBS' Legends of Jazz, Europe's Rockpalast, and Later with Jools Holland.
In addition, Ameen has done numerous jingles, TV music, and film scores with such composers as Dave Grusin, Carlos Franzetti, and Howard Shore. Feature articles about Ameen have appeared in magazines such as Modern Drummer, Drumhead Magazine, Rhythm, Latin Beat, Batteur, and Percussionisti, among many others. Ameen has been included in the New Grove Dictionary of Jazz.