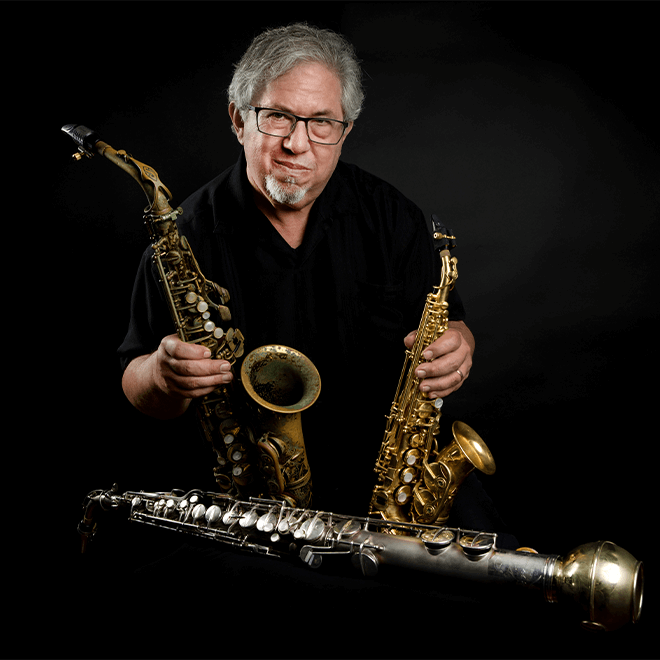 Lecturer, Saxophone
Woodwinds
Music
Topics of Expertise
Music as spiritual and personal enrichment
Finding lost or unknown music and bringing it to life
Biography
Paul Cohen is one of America's most sought-after saxophonists for orchestral and chamber concerts and solo recitals. He has appeared as soloist with the San Francisco Symphony, New Jersey Symphony, Richmond Symphony, Charleston Symphony and the Bergen and Adelphi orchestras.  His many solo orchestra performances include works by Debussy, Creston, Ibert, Glazunov, Martin, Loeffler, Husa, Dahl, Higdon, Still, Villa-Lobos, Tomasi, and Cowell. He has also performed with a broad range of orchestras, including the New York Philharmonic, Metropolitan Opera (NYC), American Symphony Orchestra, San Diego Symphony, Oregon Symphony, Hartford Symphony, and the Cleveland Orchestra.
Dr. Cohen has recorded three albums with the Cleveland Symphonic Winds under the direction of Frederick Fennell, and a CD of the music of Villa-Lobos with the Quintet of the Americas, as well as recordings with the Philharmonia Virtuosi, New York Solisti, Paul Winter Consort, North-South Consonance, and the New Sousa Band.
Dr. Cohen has rediscovered and performed lost saxophone literature, including works for saxophone and orchestra by Loeffler, Florio, and Dahl, as well as chamber works by Grainger, Ornstein, Sousa, Cowell, Siegmeister, and Loeffler. He has published more than one hundred articles on the history and literature of the saxophone in Saxophone Journal, The Instrumentalist, The College Band Directors National Association (CBDNA) Report, Clarinet and Saxophone Society of Great Britain Magazine, The Grainger Society Journal, and The Saxophone Symposium.  His seminal column, "Vintage Saxophones Revisited," was featured in Saxophone Journal from 1985-2002.
His recent CDs include American Landscapes (American music), Common Ground (chamber music), New York Rising (American music for saxophone quartet), Heard Again for the First Time (premiering lost music), and  Soprano Summit  (soprano saxophone).