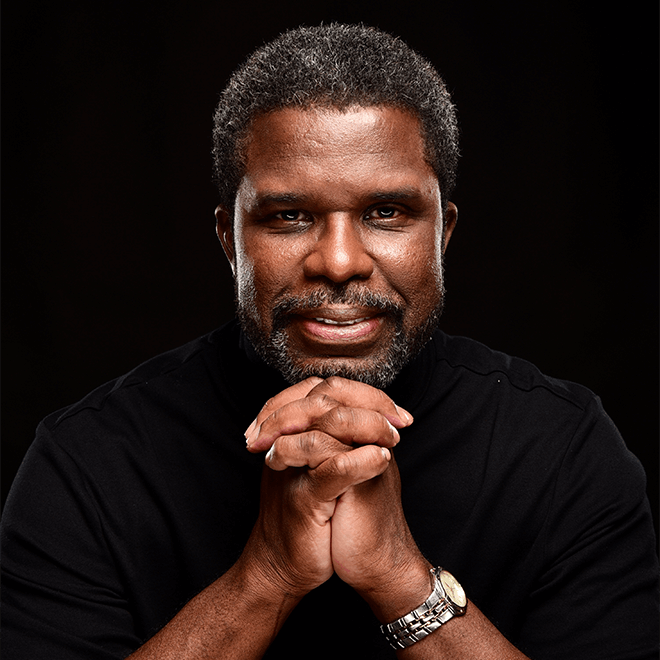 Associate Dean for Equity
Head of BA Theater
Director of Rutgers Community Arts Summer Acting Conservatory
Dean's Office
Theater
Degrees & Accomplishments
BA, Rutgers University
MA, New York University
Biography
After being on the faculty in the Theater Department as the Head of the BA Theater program at his alma mater since 2002, Professor Jones is thrilled about his appointment in the newly created position of Associate Dean for Equity for the Mason Gross School of the Arts. Dean Jones is eager to work with MGSA faculty, students, and staff, along with our partners throughout the university to ensure that Inclusive Excellence is instilled as an embedded, core value that permeates the school.
Throughout his career, Jones has been an advocate for racial equity and social justice. In 1998, he led a special Committee to Diversify the famed Radio City Rockettes; served as president for the Tony® Award-winning Alliance for Inclusion in the Arts (formerly the Non-Traditional Casting Project); co-produced the Coexistence Festival, a three-day outdoor celebration of music and culture in 2006; from 2010 to 2018, chaired the Diversity Committee for the Theater Communications Group (TCG), and since 2019, served as co-chair of Equity & Access Committee of the NJ Theatre Alliance, for which he also serves as president.
In 2003, Jones initiated the Rutgers Summer Acting Conservatory for high school students, a kind of boot camp for actors. This month-long summer residency program has trained over 700 students, and many alumni are working in different aspects of entertainment. For several years, Jones helped secure funding from the Geraldine R. Dodge Foundation, which provided scholarships to dozens of students who otherwise would not have been able to attend the program.
Jones has decades of theater producing experience in a wide variety of key executive positions at some of New York City's most prestigious venues, including the Apollo Theater, Madison Square Garden, Radio City Music Hall, and Disney's Broadway production of The Lion King.
For nearly 13 years (2007-2019), he was the producing artistic director for the Tony® Award-winning Crossroads Theatre Company, where he directed several shows including the New Brunswick Performing Arts Center's inaugural production, Paul Robeson. In 2014, Crossroads was honored by New Jersey First Lady May Pat Christie; the theater company received the NJ Stage Award "Best Theater for World/NJ Premiere" for three straight years.
Although he has years of producing experience, directing plays is Jones's first love. In the spring of 2018, he served as the Creative Consultant (replacement director) for the Off-Broadway production of Little Rock, about the famed Little Rock Nine of 1957, which was designated a NY Times Critic's Pick.
He recently directed the New Jersey premiere of MacArthur Genuis Dominique Morisseau's Mud Row at Premiere Stages (where he also directed a live, in-person critically acclaimed show about civil rights icon Fannie Lou Hamer starring veteran Broadway actress Rema Webb).
At the Gulfshore Playhouse in Naples, Florida, he directed a critically acclaimed production of August Wilson' Radio Golf starring Joseph C. Phillips (Cosby Show).
Selected additional directing credits at Crossroads include the 2019 production of A Christmas Carol – The Musical (a show he originally produced at Madison Square Garden from 1997 to 2000); the world premiere of Walter Mosley's Lift, which later played Off-Broadway; and Nikkole Salter's Repairing a Nation, which was recorded for TV broadcast on WNET's Theater Close-Up series.
Jones is a 2020 inductee into the Rutgers University African-American Hall of Fame.