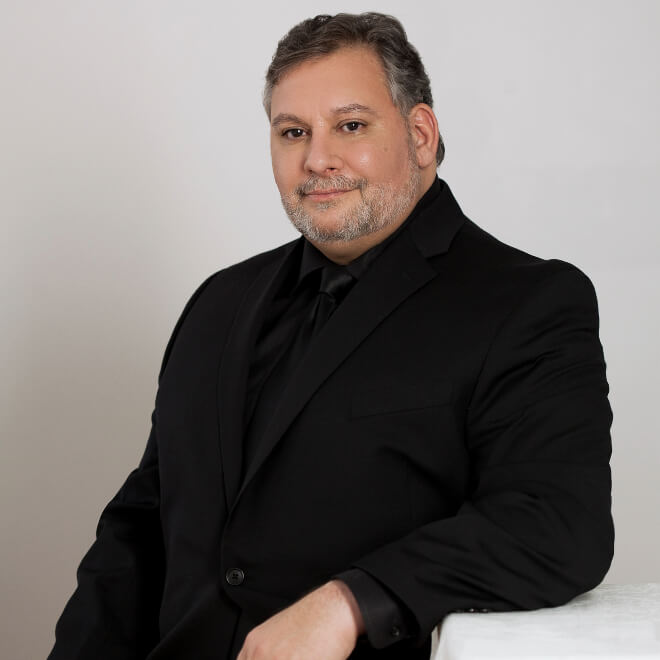 (he/him/his)
Lecturer, Composition/Music Theory
Music
Degrees & Accomplishments
MA, Theology, The College of Saint Elizabeth, Outstanding Theology Student Award
MA, Music Composition, Rutgers University
John E. Profant Award for Excellence in the Arts for 2004 opera "Antony & Cleopatra"
Staff pianist, original off-Broadway production of "The Fantasticks"
Topics of Expertise
Interdisciplinary exploration of theology and music
Biography
Gerard Chiusano began piano studies at the age of 4, and his professional work has spanned genres from television and theater to sacred music. He has worked for a variety of renowned institutions and individuals including New Jersey's Paper Mill Playhouse with Emmy Award-winning director Andrew Carl Wilk, Massachusetts' North Shore Music Theater, and the Westport Country Playhouse in Connecticut. His theatrical credits include pianist/conductor for the original off-Broadway production of The Fantasticks, co-musical director of Heart's Desire, by Emmy Award-winning conductor and composer Glenn Roven, and conductor for the musical Green Gables by Cincinnati composers Mark Friedman and Janet Vogt, in Dayton, Ohio. His work in music for television has included work for National Geographic Television, and he has made several appearances on "Sounds from the Spires," on Sirius/XM's The Catholic Channel. He has also composed opening music for PBS's mini-series Stars On Stage.
Chiusano's sacred music is published primarily by OCP of Portland, OR, and his recordings are available on all streaming services.
He is currently working on his PhD dissertation exploring the intersection of theological and musical themes in a specific American opera while also working on his own opera, Thirst, as part of the composition studio of Grammy Award-winning composer Dr. Robert Aldridge.