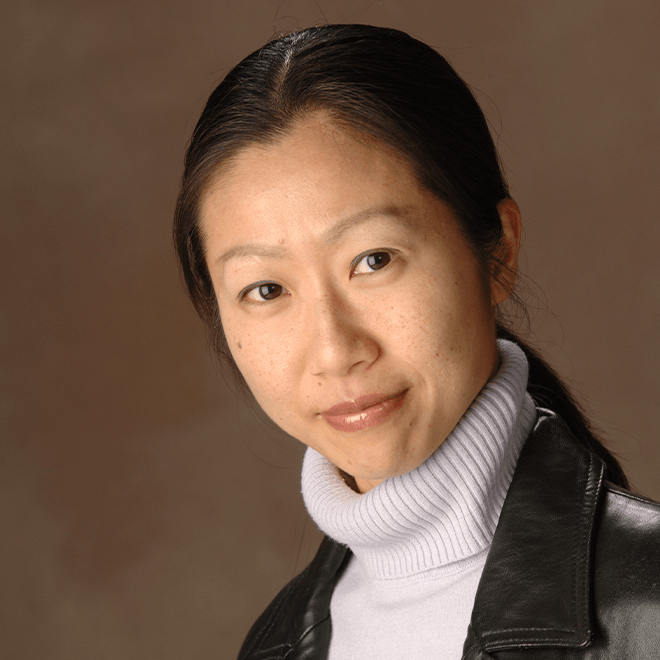 (she/her/hers)
Associate Professor
Dance
The body is the instrument of our art. Let it speak for our thoughts and ideas.
Degrees & Accomplishments
MFA in Dance Performance, The Ohio State University
BFA in Dance, Northern Illinois University
AA, National Taiwan Academy of the Arts
Finalist, Bogliasco Fellowship (Italy)
Biography
Evelyn Wang, a choreographer, dancer, filmmaker, and an educator, hails from Taiwan and is co-artistic director of OcampoWang Dance. She received her MFA degree in Dance from The Ohio State University. Wang was a soloist with Repertory Dance Theatre in Salt Lake City, Utah. Before coming to the United States, she danced professionally with Taipei Ballet Company and Joy Dance Company. Wang was a finalist for the Bogliasco Fellowship and recipient of the Mixtures Artistic Creation Grant from the Consulate General of Spain, Dance New Jersey Mini-Grant, and the Project Support Grant from Salt Lake City Arts Council. In 2019, OcampoWang Dance produced a sold-out performance in The Mark O'Donnell Theater at The Actors Fund Arts Center, Brooklyn, NY, entitled Come 2gether with major funding from YongLin Foundation (Taiwan). Her performing experience includes solo roles in several classical ballets, plus works by Isadora Duncan, Doris Humphrey, José Limón, Anna Sokolow, Yvonne Rainer, Lar Lubovitch, Lucas Hoving, Gideon Obarzanek, Zvi Gotheiner, Shapiro & Smith, Tandy Beal, Stephen Koester, Molissa Fenley, Douglas Nielsen, Victoria Uris, Susan Hadley, and John Giffin, among others. Wang has been commissioned by Ballet Philippines, Juedai Contemporary Dance Theater (Taiwan), Lustig Dance Theatre, Repertory Dance Theater, The Ohio State University, Boston Conservatory at Berklee, University of Virginia, University at Buffalo, National Taiwan University of Arts, TongJi University (Shanghai), and Beijing Normal University (China), among others. Her choreographic works have been presented at the New Brunswick Performing Arts Center, Dance New Amsterdam, Manhattan Movement & Arts Center, Ailey Citigroup Theatre, Gelsey Kirkland Arts Center, The Actors Fund Arts Center, Dixon Place, Judson Memorial Church and 92ndStreet Y in New York City, the Theatre at Beijing Dance Academy, Cultural Center of the Philippines, National Chiang Kai-Shek Cultural Center, Taiwan, and other venues. Wang's current research deals with the interfacing of live performance and video dance as well as screendance. Her films Slice of Life, In between, and Gaia's Whispers have been presented in multiple film and dance festivals. Wang is an Associate Professor of Dance at Rutgers University.