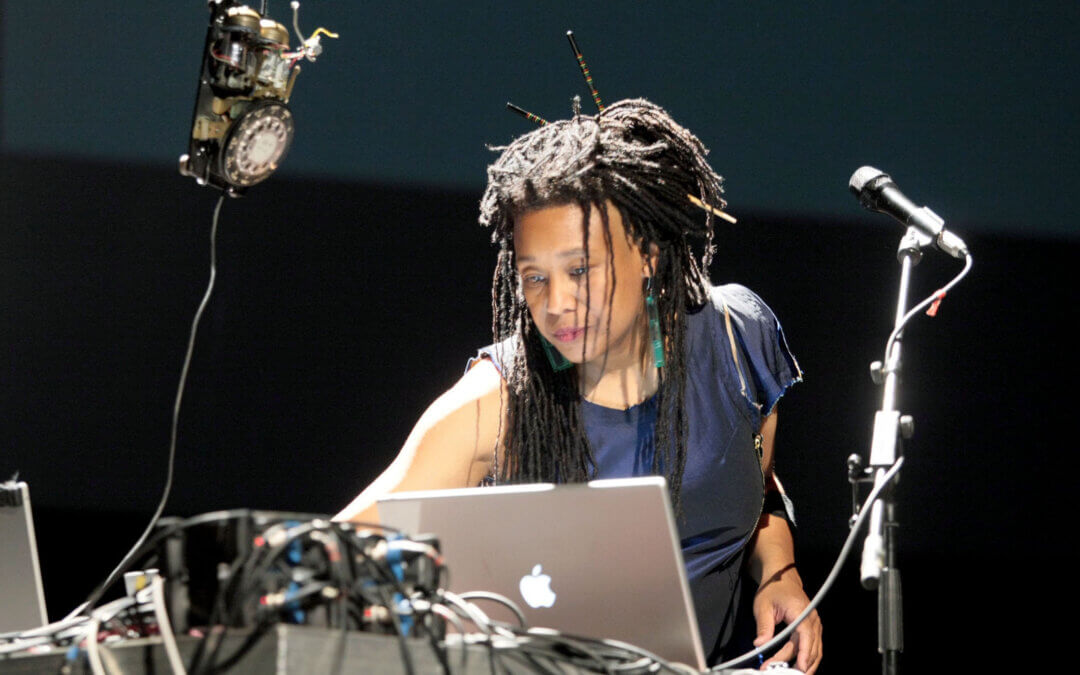 A Secret Code to feature works for solo voice and electronics
Pamela Z's sound contains multitudes: The composer/performer/media artist designs soundscapes, generating rich environments where the sounds of found objects such as a ringing telephone or trickling water might brush against the notes of a stringed instrument, a disembodied speaker administering directions, and an ethereal singing voice that veers into operatic territory.
None of it feels kitchen-sink random. On the contrary, with the help of a digital sound processor, Pamela Z manages to orchestrate an immersive experience, suffused with urgency.
"To this day, I consider the combination of the electronics and my voice to be my main instrument," says the award-winning artist, who has been harnessing the power of repetition and digital sound for four decades. She will perform a live concert of works for solo voice and electronics on Wednesday, November 18, 2020, at 7:30 p.m. via Zoom. The concert, A Secret Code, will feature voice, live processing done on the computer (delay, reverb, granulation, and pitch-shifting), sampled sounds (speech sounds, found objects, etc.), and sensor-based MIDI controllers that allow her to manipulate sound using physical gestures. The event is co-sponsored by the Douglass Residential College and the Mason Gross Music Department.
"The moment I started processing my voice [using a digital sound processor], I started on an entirely different path in composing and performing music," says Pamela Z, a recipient of the Rome Prize, the Doris Duke Artist Impact Award, and a Guggenheim Fellowship, among other honors. "To me, that always feels like the moment when I 'found my voice' as an artist. The device allowed me to make layers of sound in real time and create fairly complex and dense pieces with just my voice as the sound source. Very quickly, my whole compositional style transformed, and I began listening to sound in a different way."
Steven Kemper, head of music technology at the Mason Gross School, describes Pamela Z as "a true pioneer in the area of real-time electronic sound and video processing." She has toured internationally, and numerous renowned musical ensembles, including the Kronos Quartet, have commissioned her works.
"She is an inspiring artist—someone who has made unique contributions to our contemporary soundscape, and whose performances are virtuosic and deeply moving," adds Rebecca Cypess, associate director of the Music Department and a scholar of women in music.
Pamela Z admits that she finds inspiration in multiple places. The human voice, however, seems to serve as her touchstone.
"I love human speech sounds and the way that they are filled with rhythmic and melodic information that can be mined for composition," she says.
Ultimately, Pamela Z says, she hopes her work will provoke questions—and wonder, plenty of wonder.
"I like to make work that awakens imagination in people," she says, "and causes the listener to find things within the layers that I might not even be aware are there."
The event is free and open to the public, but registration is required. A moderated discussion will follow.
Special thanks to the donors to Douglass Residential College, the Douglass Fund, and the AADC for their contributions that have made this concert and program possible.