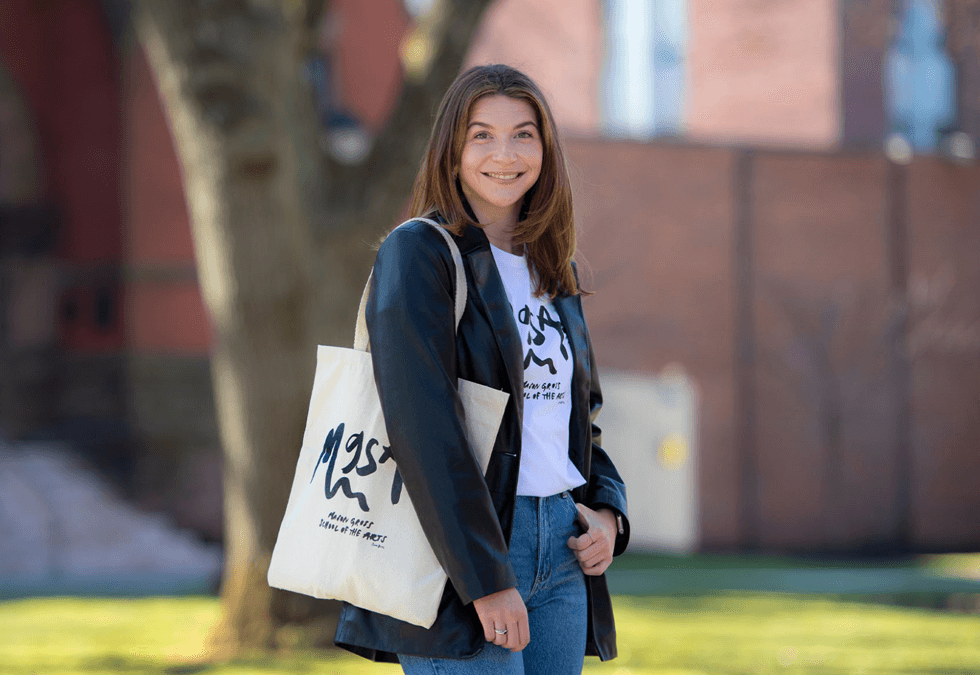 Emma Broggi is leaving her mark on Rutgers, literally, after designing President Jonathan Holloway's holiday card in 2022 and creating the artwork on a line of Mason Gross School of the Arts merchandise.
The senior, who will graduate in May, hopes to use her degrees in visual arts and psychology to become a therapist, working with children and using her art to help them open up.
"Art has always been my peace. I feel it's a calming activity for me," says Broggi, who is concentrating in print in visual arts. "I think going to Mason Gross has helped me look at my art in different ways and critique it and change it and make it an interesting thing to look at."
Broggi's first foray into designing for others was illustrating a children's book, Daddy Loves You. The author, Kieran Lenahan, was a family friend and Broggi's swim coach. During Covid, Lenahan would Facetime with Broggi to share his ideas for drawings with rudimentary sketches. "I'd say, 'I've got it. I know what you want,'" recalls Broggi. "It was really cool to talk to someone with their vision and bring it to life, versus it being all my idea. It was a life lesson in a way."
When Mason Gross staff asked her to create art for the first set of items for the student-designed Mason Gross Signature Collection, Broggi said yes. She was recommended by a school administrator in response to a call for an imaginative and vibrant student.
The T-shirts and tote bags she designed feature "MGSA" in an artistic script, with some items sporting a drawing of the Old Queens arch too. "Mason Gross didn't have a signature and more artistic logo, and we are an arts school, so I think that's important," Broggi says.
Read more on Rutgers Today.
Photo: Nick Romanenko/Rutgers University