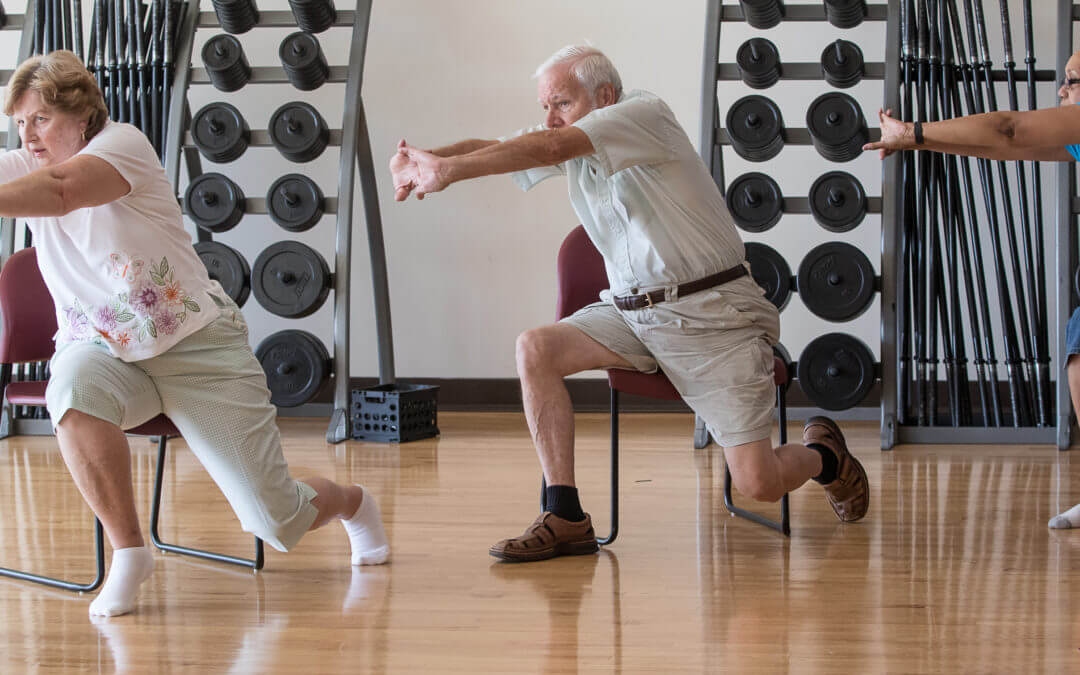 Participants in a free movement class offered to people with Parkinson's disease. Photo Credit: Keith Muccilli
By Stephen Whitty, Courtesy of Rutgers Today
"Too often we limit ourselves and our work to what we might call 'able-bodied dancers.' Other people become invisible. This is about creating a more sensitive approach, deepening our artistry to embrace all of life's challenges." – Jeff Friedman, coordinator of the Dance and Parkinson's program
A project by the Documentary Film Lab at the Mason Gross School of the Arts explores class that helps people reclaim control of their bodies
To be a dancer is to be in tune with your own physicality. To be fully aware of every muscle, in control of every movement. To be your body's master.
It is a feeling most people with Parkinson's disease can only remember.
A degenerative disorder of the central nervous system, Parkinson's can cause stiffness, shaking, and problems with balance.  It also may leave people self-conscious, and reluctant to leave their homes.
The Dance & Parkinson's program at Mason Gross, however, uses music and movement to empower them. And a new film from the school's Documentary Film Lab captures just how moving, and joyful, that process can be.
"Sometimes the class is hard to get started, the folks schmooze so much," jokes Jeff Friedman, director of the MFA dance program. "That's something I hadn't expected – the social connections this class creates. One man told me, 'This is the only thing I come out of the house to do.' "
The free classes are offered in partnership with the American Parkinson's Disease Association–NJ Office at Robert Wood Johnson University Hospital's Fitness and Wellness Center in New Brunswick as well as at the Mason Gross Performing Arts Center based on concepts developed by Pam Quinn. A dancer and choreographer, she was first diagnosed with the disease more than 20 years ago.
"It took me a long time to come to terms with it," Quinn admits. "My entire identity revolved around movement. But then I began to think, 'I know how my body works. My dance training gives me tools. I can thwart the reality of this.' "
Later, beginning with the PD Movement Lab in Brooklyn, Quinn started bringing her ideas to nondancers, too.
Moving Experience
With the help of instructors, and a playlist that ranges from Glenn Miller to Talking Heads, participants at the Rutgers sessions reclaim some control over their own bodies, stepping around the floor, moving in unison to the beat.
"Dance is particularly suited to treating Parkinson's," Quinn explains. "It involves music, which is part of what's called a cueing system, a prompt that facilitates movement.  It also involves visual cues, and an element of touch."
"Unlike regular physical therapy, which uses body parts in a mechanistic approach, it's a holistic experience," says Friedman, whose students often work with the enrollees. "You're using your mind and your body, challenging your whole neurological system."
The subject immediately intrigued the young filmmakers at the Documentary Film Lab, who chose it as their project. The topic, however, provided a variety of challenges.
"Whenever you're dealing with old age or disability, you are treading in delicate terrain," says Thomas Lennon, an Oscar-winning filmmaker and director of the lab. "You have to push to get into the nooks and crannies of people's private lives, but not push so much that you become this bullying presence. It's a balancing act, in the filming and in the editing, and it was my job to help the students navigate that."
The film, Dance | Parkinsons, runs about six minutes. In February, the documentary won first place in the Outstanding Documentary category at the Utah Dance Film Festival. It screened locally, at the Dance & Parkinson's symposium in downtown New Brunswick, on March 9. Student filmmakers who worked on the project were: Stephanie Bradli, Patricia de Jesus, Gina Lombardo, Kelly O'Neill, Andrea Pfaff, Christopher Rodriguez, Sam Spencer, Abe Urquilla, and Henry Wolfson.
Lennon says the film allows viewers to see these students "performing at the highest level." They see the program's participants doing the same.
Dance For All
As important as the emotional support or physical therapy it offers, however, this is still a dance class. It involves personal expression, performance, aesthetics. Quinn and Friedman find that artistic aspect particularly inspiring and liberating.
"I'm very interested in 'physically integrated dance,' " Friedman says. "Too often we limit ourselves and our work to what we might call 'able-bodied dancers.' Other people become invisible. This is about creating a more sensitive approach, deepening our artistry to embrace all of life's challenges. After all, we're all aging. We're all pretty much on our way to some sort of disability."
In addition to running workshops at Rutgers and teaching at the Mark Morris Dance Studio in Brooklyn, Quinn also creates dances for differently abled performers. In May, she choreographed a piece for 20 people, 14 of whom had Parkinson's. Another piece, this one featuring 50 dancers, was performed in June, at the opening night of the World Parkinson Congress in Kyoto.
It's all become a hugely fulfilling part of Quinn's life. And no one is more surprised than she.
"I was reticent at first to get involved in this sort of therapy," Quinn admits. "I thought, 'Do I really want to be surrounded by PD all the time? Is it going to be a downer?' But it's been more rewarding than I ever expected. And while there's a part of me that still rejects my disease, rejection has its benefits, too, because with that comes a certain defiance. Not denial – defiance. And that gives you the energy to fight on."
Watch the film below or listen to Mason Gross students and their experience working on the film in an episode of Work of Art: The Mason Gross Podcast.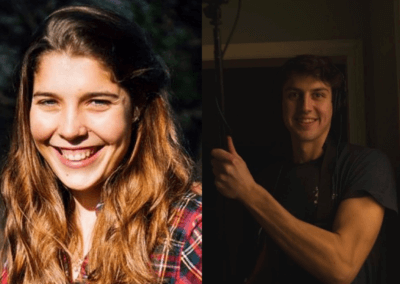 Film alum Andrea Pfaff and current student Sam Spencer were involved in the creation of the collaborative "Dance | Parkinson's... LISTEN NOW