Study Abroad
In the third year of study, BFA dance students are eligible to participate in study abroad programs through Rutgers Global.
DanceJerusalem
The DanceJerusalem program in Israel, facilitated jointly by the Rothberg International School and the Jerusalem Academy of Music and Dance, combines artistic training in dance skills and technique with academic exposure to Israel's social, historical, and cultural environment. Mason Gross BFA dance majors eligible for study abroad pursue artistic and technical training in classical ballet, contemporary dance (including Ohad Naharin's GaGa technique), choreography, repertoire, and improvisation. Master classes with Batsheva dance company members and guest artist residencies provide students with unparalleled opportunities to create, rehearse, and perform works with outstanding Israeli composers and choreographers.
Learn more about the DanceJerusalem study abroad program through Rutgers Global.
Trinity Laban
Trinity Laban Conservatoire of Music and Dance in London, United Kingdom, is recognized as one of the world's leading dance training institutions. Mason Gross BFA dance majors eligible for study abroad can expect to deepen their understanding of contemporary dance, while enhancing both technical ability and creative skills. State-of-the-art facilities include a 300-seat theater, studio theater, and outdoor theater; 13 purpose-built dance studios; and an extensive library and archive. Laban's links with the professional dance world, the local community, and other arts organizations in the United Kingdom and Europe afford students opportunities to expand their networks within the international field of dance.
Learn more about the Trinity Laban study abroad program through Rutgers Global.
Accademia dell'Arte
The Accademia dell'Arte program in Arezzo, Tuscany, Italy, is rooted in the European tradition of modern dance, German Ausdruckstanz and German dance theater. Mason Gross BFA dance majors eligible for study abroad can expect a program that features classical ballet, modern and post-modern performance techniques as well as somatic approaches with specific cultural movement traditions such as butoh or the traditional Italian tarantismo. Study abroad students in the Accademia's dance program will enjoy an enriching and challenging encounter with European dance culture in a truly inspiring environment. Accademia dell'Arte aims to create an atmosphere that encourages authentic and individual expression thereby cultivating artistic development and personal growth.
Learn more about the Accademia dell'Arte study abroad program through Rutgers Global.
Dance for the Community
Dance & Parkinson's Movement Classes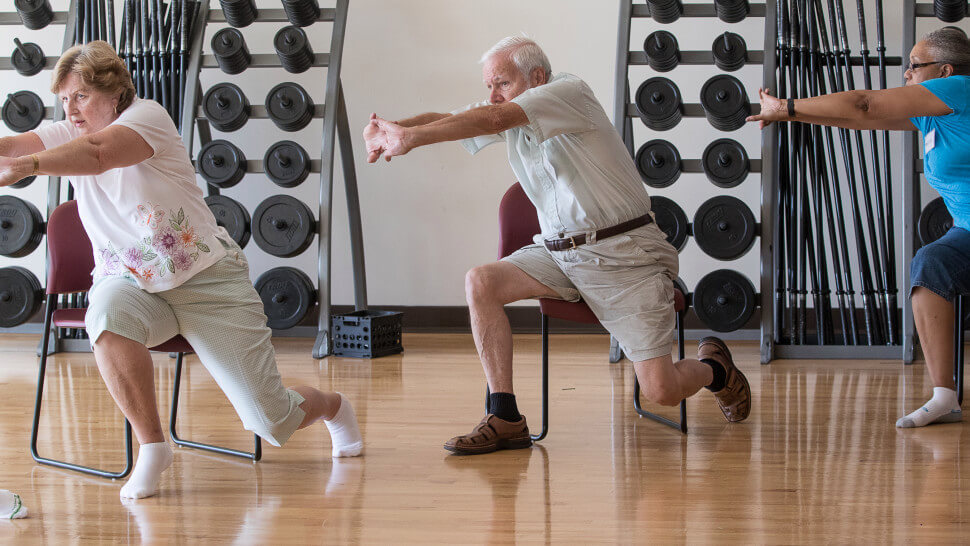 The Mason Gross Dance Department continues to partner with the New Jersey Parkinson's Disease Information and Referral Center at Robert Wood Johnson University Hospital to present a series of movement classes for people with Parkinson's disease. Spearheaded by Mason Gross Dance Department faculty member Jeff Friedman, the program is supported by a Community Grant from the Parkinson's foundation and funds from the Kenneth Aidekman Family Foundation.
Fall and spring sessions include 20 classes that take place on Saturdays at the Mason Gross Performing Arts Center on the Douglass Campus. Instructors guide participants through a series of gentle stretches, posture supports, and joint articulations, as well as balance, stability, and locomotion activities that are meant to be both challenging and fun. An annual schedule of classes is planned each academic year, beginning in the fall.
Under the supervision of director Thomas Lennon, students at the Mason Gross School of the Arts Documentary Film Lab created a film that explores the program and its participants. This film has been accepted for presentation into three national film festivals: the 2020 Utah Dance Film Festival, the 2020 Dance Camera West Film Festival (Los Angeles), and the 2020 Dance on Film Festival in Austin, Texas.
For more information on class dates, contact Program Coordinator, Colleen H. Klein.
Somatic Teacher Training
Mason Gross Dance offers two distinct somatic teacher training programs—in Pilates and yoga—which allow dance majors to enhance their career employment options through specialized content knowledge and skills.
Polestar Pilates
Polestar Pilates is an industry leader in research-based Pilates practice. In the training, participants learn how to embody, plan, and teach beginner, intermediate, and advanced Pilates sessions to meet the varied needs of fitness clients in private, semi-private, and group fitness settings. Topics include client fitness screenings; Polestar principles of movement (an online course taught by Polestar founder Dr. Brent Anderson); Polestar lesson design and sequencing; movement cueing (verbal, imagery, tactile); and movement precautions and their modifications for special populations.
For more information, visit Polestar Pilates or contact professor Frederick Curry.
RYS Lila Flow Yoga Teacher Training
Students participate in an immersive 200-hour training program designed to produce knowledgeable, inspired, and compassionate yoga teachers. The program provides students with a strong foundation in anatomy and embodied alignment, the tools to find their unique voice and individuality, and room for creative exploration and self-discovery. Built into the training is the opportunity to study with various guest teachers with expertise in yoga tune-up, harmonium, and Acro Yoga with Thai massage.
I completed the Lila Flow Yoga Teacher Training this past summer. It was the best thing I could've done for my physical and mental health during such uncertain times. The training gave me another type of physical and spiritual education that has allowed me to grow as a person and artist. I have practiced yoga since I was 10 years old, but this training has gave me a much needed and deeper understanding of what yoga is about. I'll be forever grateful for this experience!" – Leah Hansen, Mason Gross School of the Arts (2020) and Lila Flow Graduate
For information regarding the summer training program, contact Rutgers Community Arts.
Guest Artists and Scholars
The Mason Gross Dance Department often works with and invites guest artists and scholars to participate in performances, master classes, and guest lectures. Among the visitors are the following:
Affiliated Partners
The Dance Department collaborates with numerous organizations, both on and off campus, to broaden and diversify the dance experience for students, including: